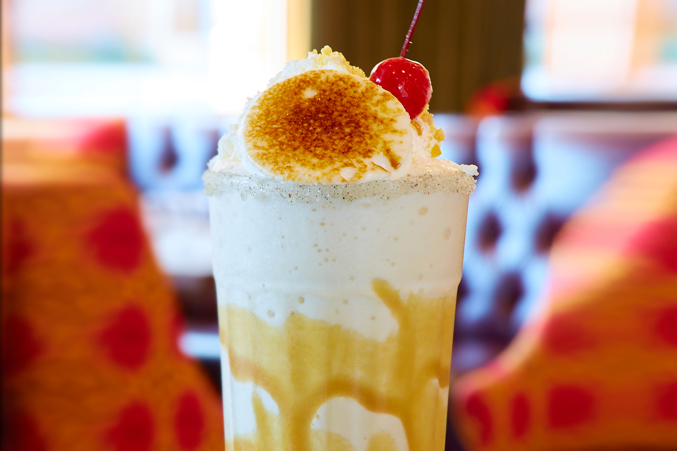 The Royale's Food Doesn't Live Up to Its Spectacle
Plano's Wes Anderson-inspired burger joint is a visual, if not culinary, delight.
The decor is decidedly Wes Anderson, with lamps in birdcages, retro-patterned banquettes, and wall clocks for esoteric locations like the Mariana Trench. The food, too, is a bit of a spectacle: onion rings come stacked on the neck of a metal giraffe, and desserts are candy-factory fantasies bombed with whipped cream. A menu of tongue-in-cheek superlatives (The Deviled Egg Marvel, The Fried Pickle Bliss) makes ordering pleasantly madcap. It's a tall order keeping the eating as fun. Order the lobster poutine and you may get a salty, taupe-colored bisque and a few overcooked pieces of lobster over a pile of fries that quickly turns soggy. A salted caramel sundae's size impressed; its pools of syrup were painfully sweet. Tricked-out burgers on fluffy brioche buns had issues with cooking consistency (medium came out rare and well-done). The under-seasoned namesake The Royale featured mushy tomato and overpowering truffle aioli; the bison was better. But the veggie burger! Beets, lentils, rice, and toasted almonds; pomegranate ketchup and cranberries (a tart punch); sautéed mushrooms and porcini powder (bulked-up umami power); and curry powder for depth. It lacked structural integrity (as did the flighty service), but on-point flavors made it a smart, rather glorious mess.