Dale Ham and his family gather in the living room of their two-story red brick home, which sits behind their Ham Orchards market, 3 miles east of Terrell. It's mid-March, and the shop and covered barbecue pavilion are closed. Behind the house, rows of peach trees covered in pink blossoms stretch to the horizon. In less than eight weeks, the first trees of the season to bear fruit will be pregnant with peaches. Customers will drive from all over Texas to buy fresh peaches, fruit breads, pies, cakes, jams, jellies, and—the biggest draw—homemade peach ice cream. 
Dale, 75, tugs at his light blue baseball cap with its bright orange Ham Orchards logo embroidered on the front, and he leans back in a recliner. His wife, Judy, relaxes with the Hams' two white Chihuahuas, Peaches and Cotton, at her feet. Their daughter Sharien and her husband, Richard, sit at the edge of their chairs. They are all talking at the same time. I've set off a family squabble by asking, "Which of the 50 species of peaches growing on your 100-acre orchard is the best?"
"I like the Loring," Dale says. "It's sweet, but it bruises easy. Bounty is probably the best overall."

Sharien says, "Don't y'all think that Dixieland is the best?" 

Richard plays it safe. "Look, any freestone tastes best," he says, referring to a number of varieties whose meat doesn't cling to the pit. "Once the first of July rolls around and the fruit gets sweeter every week, you just can't lose." 

Judy agrees with everyone. 

In 2014, Ham Orchards celebrated the best crop in its 37-year history, selling more than 300,000 pounds of peaches. "Knock on wood," Dale says. "This year looks even better. But you don't count your money until you get them in. Right now, we're still nervous. All it takes is one hail or wind storm, and we'd be wiped out."

Dale wasn't always a peach titan. He was a fireman in Richardson for 32 years. In 1979, he came home from work one day and told Judy he'd decided to plant some peach trees as a hobby. She thought he was crazy. 

Dale found 23 acres of high-elevation land near Terrell and headed out to find trees to plant. "I went to all of the Wolfe nurseries in Dallas and bought all of the peach trees they had for about a dollar apiece," he says. "I got 100 planted on 1 acre."

After the fruit ripened, Dale and Sharien, then 13, drove out and harvested them. Sharien and her sister, Karien, sold baskets of peaches from the front yard of their house on Patricia Lane in Garland. But they couldn't keep up with demand, so Dale planted more trees. "Sharien would help me pick them, but pretty soon we couldn't haul them all back home," Dale says. "So Sharien stood out on the highway here and sold them off a card table."

Years later, in the summer of 1985, Sharien went to visit her father at work and caught the eye of another firefighter, Richard Strange. When Sharien left, Richard asked Dale if he could ask her for a date. "The next day Sharien and I came down here to pick peaches," Dale says. "It was hot. She had on a raggedy old t-shirt. Richard just showed up wearing starched jeans." They were married in 1987. 

Dale and a friend built a small white house so he and Sharien would have a place to sleep on the weekends when they went to sell their peaches. In 1986, they put up an open-sided building to shield them from the hot summer sun.

Pretty soon, Dale realized his hobby was turning into a successful business. He and Judy moved to the orchard in 1993. Dale hired a small staff to help him plant, trim, pick, and bud the trees, the labor-intensive act of hand-picking 90 percent of the buds from the tree so that the peaches only grow every 14 inches. "It keeps them nice and big," Dale says.

By 2000, their market was so popular that they enclosed the building, added air-conditioning, and began selling homemade peach and strawberry ice cream. The structure was updated again in 2007. A bakery opened in 2008, and a covered pavilion with picnic tables and rocking chairs went up the following year.

Today, the 100-acre farm has 10,000 trees. Since peach trees produce fruit for only about two weeks each year, Dale figured if he was ever going to make any money, he would have to plant different varieties that ripen at different times. He now has a crop that's harvested over a 90-day period, and he says his peach stand stays open longer than any other in the state. 

Clingstone peaches kick off the season in mid-May. They are called clingstone because the meat clings to the pit. Springold, Regal, and Ezzie's Sweet are usually the first peaches available in the market. Ezzie's Sweet is a variety that Dale developed and named after his granddaughter Alexandra. Clings are not as sweet as the late-summer peaches and are difficult to cook with because of the time it takes to clean the fruit from the pit.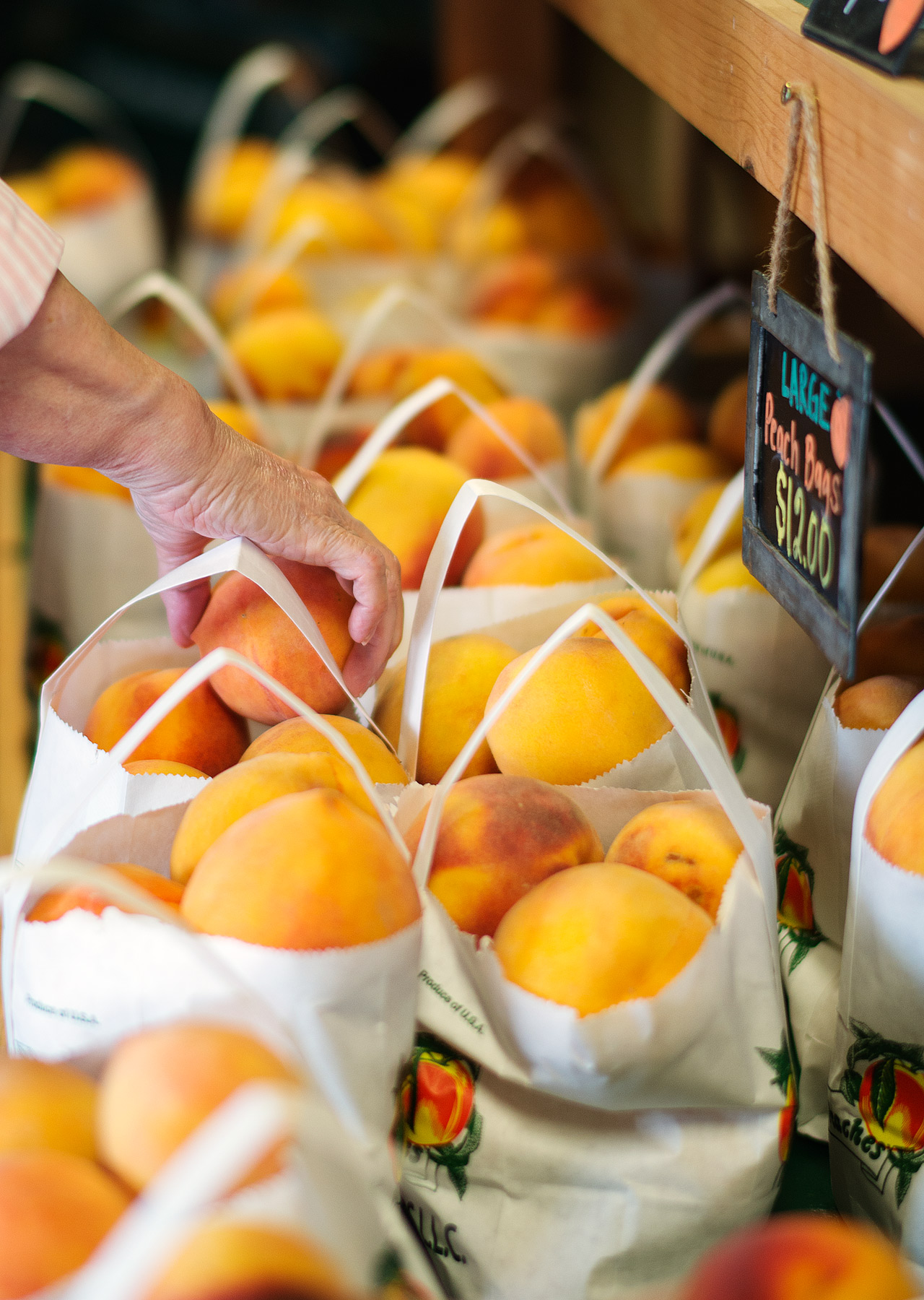 Clings are followed by semi-clings, such as Gala, Coronet, and Ruby Prince. By the last week of June, the freestone peaches begin to swell, and when the word goes out that the freestones—Sentinel, R.L. Special, and Early Harvester varieties—are in the market, it's hard to find a place to park at Ham Orchards. When you bite into one of these babies, the pit pops out, and your mouth fills with sweet, soft peach flesh. Each week the peaches get bigger and sweeter. The color deepens, as does the sugar content. Redskin, Dixieland, Red Globe, Cresthaven, Bounty, and Loring are the big names. So is Taylor's Treat, another variety developed by Dale, named after his grandson Taylor. The operation shuts down on August 15.

The future of Ham Orchards looks, well, peachy. The family recently purchased another 100 acres, and there are plans to plant peach and pecan trees and a large vegetable garden. Another pavilion is in the works, and there have been many family meetings about building a bigger store with a larger kitchen, because the current tiny space runs three shifts to keep up with demand, which included more than 7,000 pies last year. Or maybe they'll just add another shift. Sharien wants to open a restaurant. Who knows what scenario will get everyone's approval? I snuck out the side door while they were still arguing about it.
Get the SideDish Newsletter
Dallas' hottest dining news, recipes, and reviews served up fresh to your inbox each week.