The admiration he has for these masters is the feeling his cooks have for him. To them, he is that master, a source of savoir faire and tradition.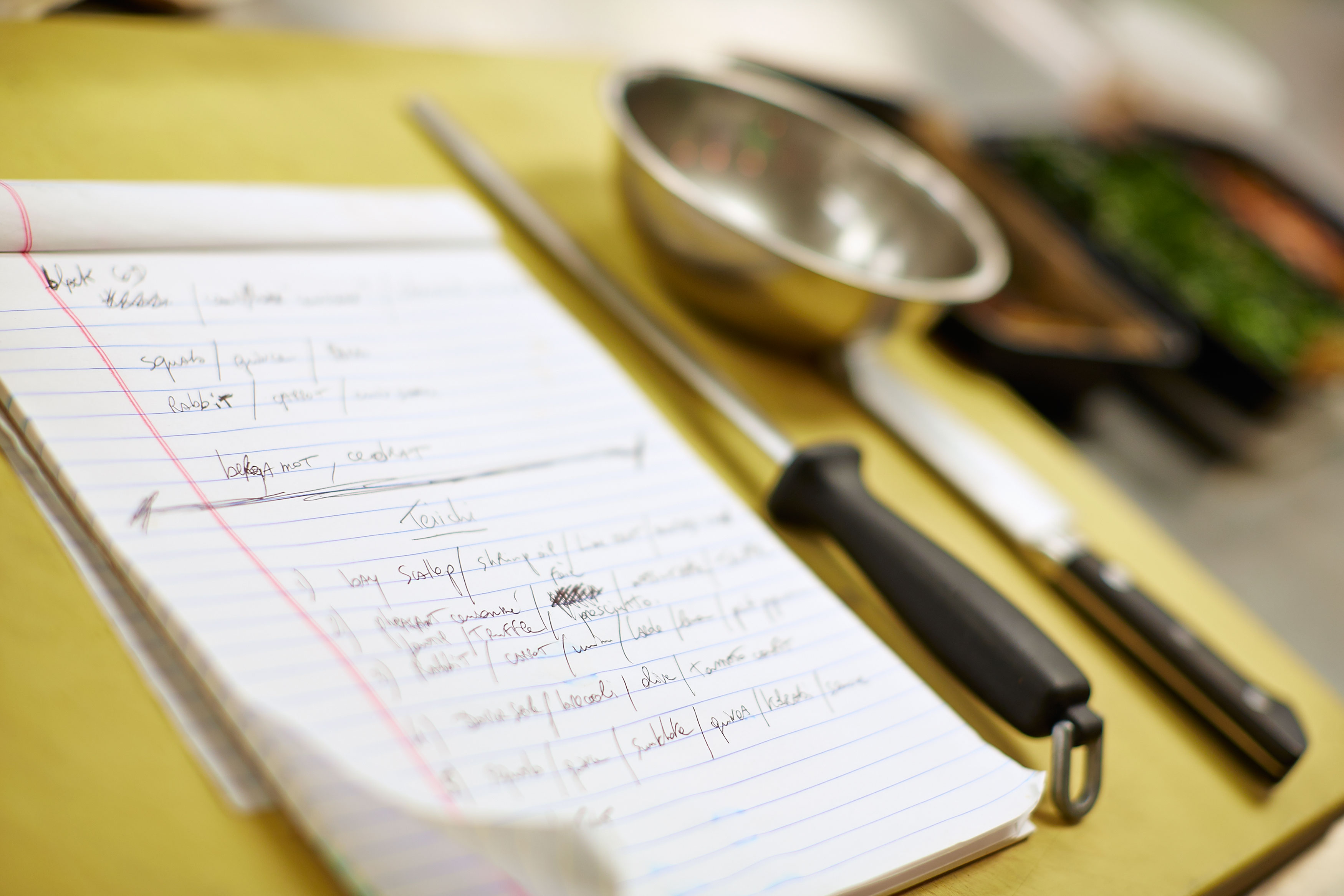 One of the first things he did when he arrived was appoint a full-time butcher. That's Liston, the man in red clogs who works to Davaillon's right. The two have a special mentoring relationship and share a sardonic humor. From his vantage point at the butcher's block, Liston works with a bemused smile, punctuating conversations with the occasional deadpan remark. He and Davaillon have a penchant for understatement and subtle sarcasm. As he pulls brisket from the smoker, Liston tells me about an earlier specimen, when he didn't have the brining and smoking times down. "Nice try," Davaillon told him. "Do it again." Another exchange overheard on the line captures, for him, Davaillon's style of ribbing: "Is this medium rare?" "Yes, chef." "If this is medium rare, I'm the Pope." Together, Liston and Davaillon have made blood sausage, rabbit terrine, chicken-liver mousse, foie-gras torchon, duck prosciutto. All charcuterie is made in-house. This is cuisine regionale, the recipes of deep France. 

"The way I see it, there are not many chefs in Dallas who can make patés, terrines," Liston says. "It's a lost art for the most part, especially here in America." 

It matters to Davaillon that he's imparting to Liston what many chefs won't ever learn. He uses the image of luggage again. This is what Liston will take with him.  

•••

Of course, he has his own teaching style. 

"Neil!" Davaillon calls out one afternoon, calm but authoritative. He is deep into recipe development. Things simmer on what I've come to dub the "experiment" stove. At his usual counter, he is stuffing rabbit thighs with a mixture of spinach, onion, liver, and tomato, wrapping them in caul fat, and delicately tying them into neat bundles that will be cooked and cut into roulades for tonight's new rabbit dish. Liston, butchering aged ribeye on the block beside him, has been watching out of the corner of his eye. The summons comes, then, "I do another one." This is all the preparation Liston gets before he is expected to take over. "He likes the element of surprise," Liston tells me later. Davaillon ends the demonstration, like many others, with the word "simple," like a period at the end of a sentence. 
It means a lot to the cooks that a chef of his stature would work alongside them. "He's right here, not hiding out." 
Chastain, formerly opening sous chef under Stephan Pyles, essentially took a demotion to work with Davaillon. He wanted to learn from Davaillon's clean, minimal style and impeccable technique. But he expected a traditional French chef, throwing pans. Davaillon does not throw pans. Nor does he want to re-create the intensity of the French-apprentice experience, traditionally fraught with self-doubt and fear. It was frustrating, he says. Chefs were stingy about sharing recipes; no one showed you anything. New cooks chased down what they could, learned by whatever means possible. He has disdain for people who don't try to "
debrouiller
," figure things out, but he gives his own crew what he himself didn't have. 
"People have to want to learn," Liston says. "He only gets mad at people who don't care." 
The care and respect are pervasive. Harms and Chastain model it at the top, each in his own way. Chastain, brusque and bear-like, will send ice crashing into metal pans or squeeze a mountain of lemons, blinking away juice spurts. But when Davaillon develops a dish, Chastain sets up ingredients, anticipating his chef's needs and gestures. There's an intimacy in the way he bends close to catch a word or notice a raised eyebrow. Especially because Davaillon is soft-spoken, Chastain says, "he's not going to be the one out there controlling everything, directing everyone." You have to pay attention.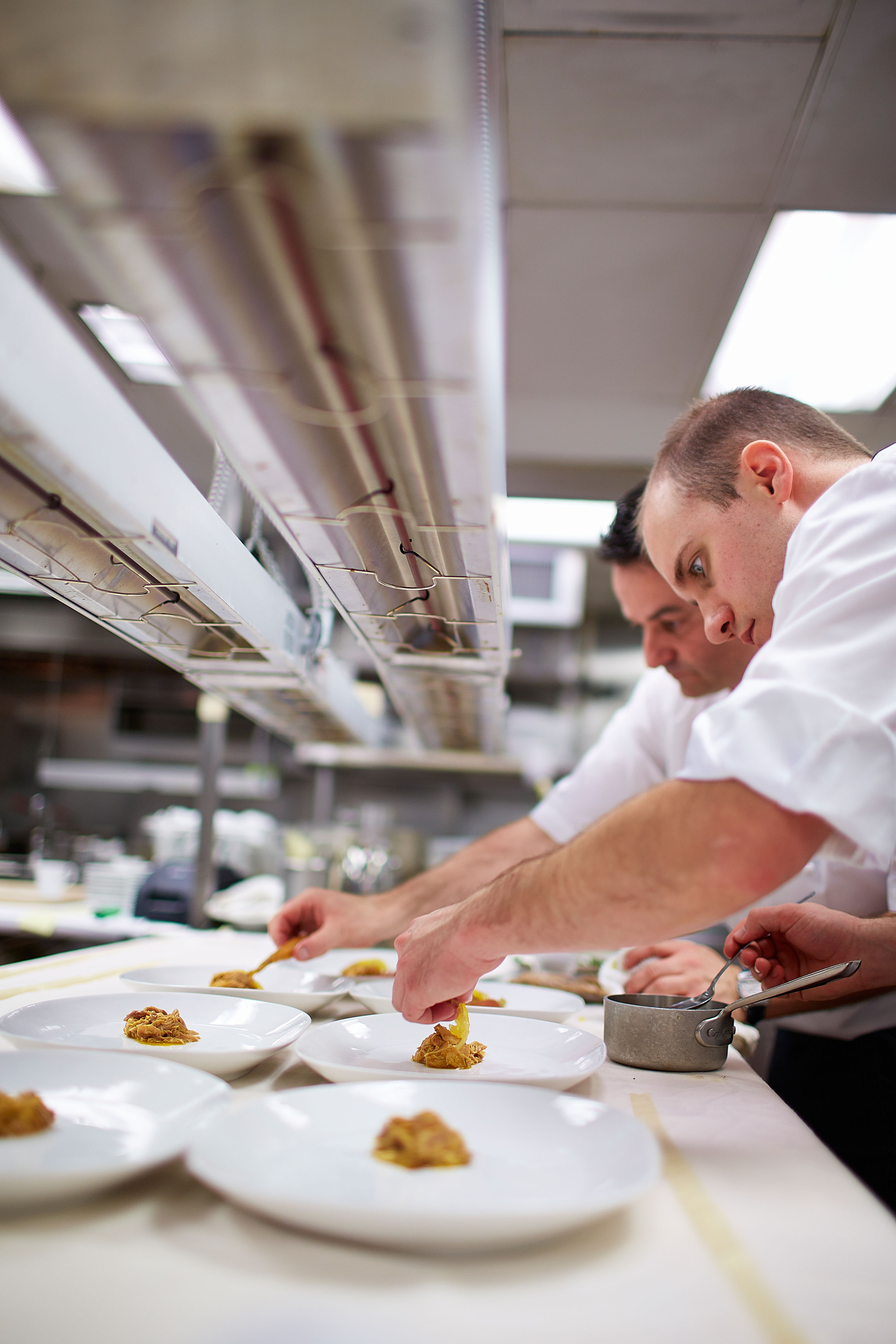 When Davaillon shows a new dish, the cooks gather in silence. When the duck dish debuts, he cooks it and plates it in the exact order he wants it done: pool of red sauce, tangle of mushrooms, one pearl onion, three slices of meat, seared foie-gras, pickled cherries, turnips in butter. "Pickled, around," he says, of the cherries, the only comment he makes as he works. "The sauce?" someone asks. "Cherry," he says. He slides the plate across the window to a server: "You call your brothers and sisters?" They must see and taste to sell the dish through their descriptions, satisfy the curious. The cooks lean in, comment to each other, take pictures.   

"If you don't have a team behind you that understands what you're doing," Davaillon says, "you go nowhere." 

•••

When service starts, it's time to expedite. Davaillon stands with one hand on the counter and one hand on his hip, eyeing each dish as it's slid across from a station. The cooks watch Davaillon intently, mostly his hands. He spies a problem with the white asparagus from across the room: "Put three. They are too small." The corn pudding for the pork isn't right: "Way too liquid." For another dish: "Not enough foie." As Harms walks by with a plate, Davaillon notices there's a single cherry tomato missing. Harms shakes his head, frustrated with himself. 

"He's always watching," one cook says. Sometimes, when a ticket comes in for a new dish, Davaillon shows up at the station and executes it wordlessly for the cook as an unsought reminder. "He's like Houdini,"
Chastain says. "He just vanishes and
reappears."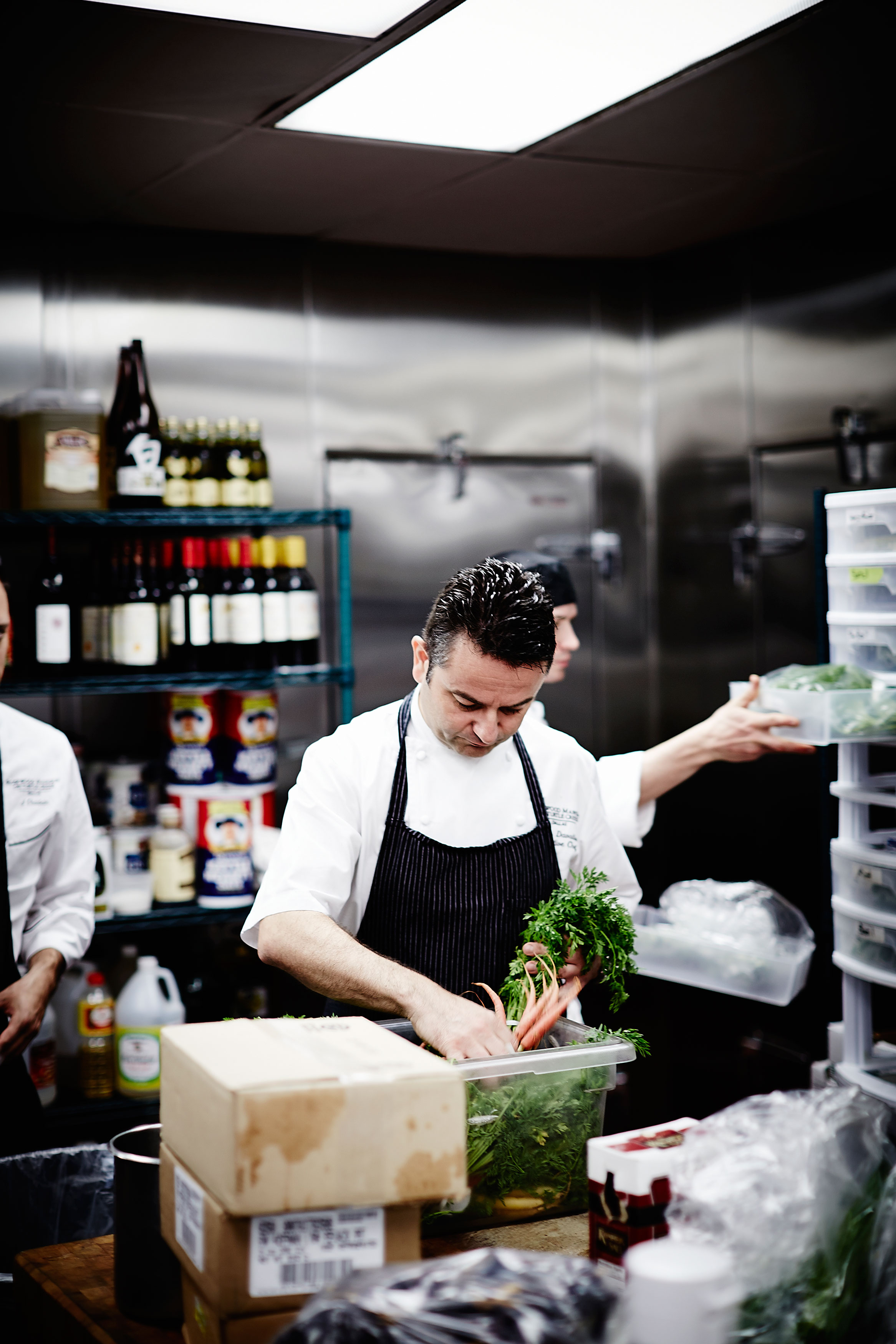 When the pace picks up, orders come fast. The cooks repeat the orders. Those who have been there longer sometimes translate for the newer ones, who have trouble with Davaillon's accent. "One small?" one cook asks. "He just called a 'bowl,' " says another, two stations over. "That was 'lobster,' not 'oyster,' " Davaillon commands when the wrong appetizer comes out. "Sorry, Chef." If it doesn't go out right, the mistranslation matters. He's speaking through his food.

Davaillon finishes each dish. A dot of infused oil, a sprig of green, a paper-thin crisp—every dish has its accoutrement, calculated for taste, color, and texture. When the dish is finished, he gives it a final, hard stare, as though registering the picture it makes. It's a contemplation, a confirmation, like a "yes" you can almost hear. 

"I trust him," says Susan Johnson, a server. This means a lot for her front-of-house position as liaison between the chef's vision and the diner. "I know he's thought a lot about each dish," she says. "I know if there is one dollop of sauce, he wants the guest to have that flavor." 

Davaillon says he enjoys the possibility he has, in Dallas, to introduce people to new things. He does so gently, always careful not to alienate. The dynamic is sometimes poignant and funny. Some of the things that are second nature to him are the most foreign to others.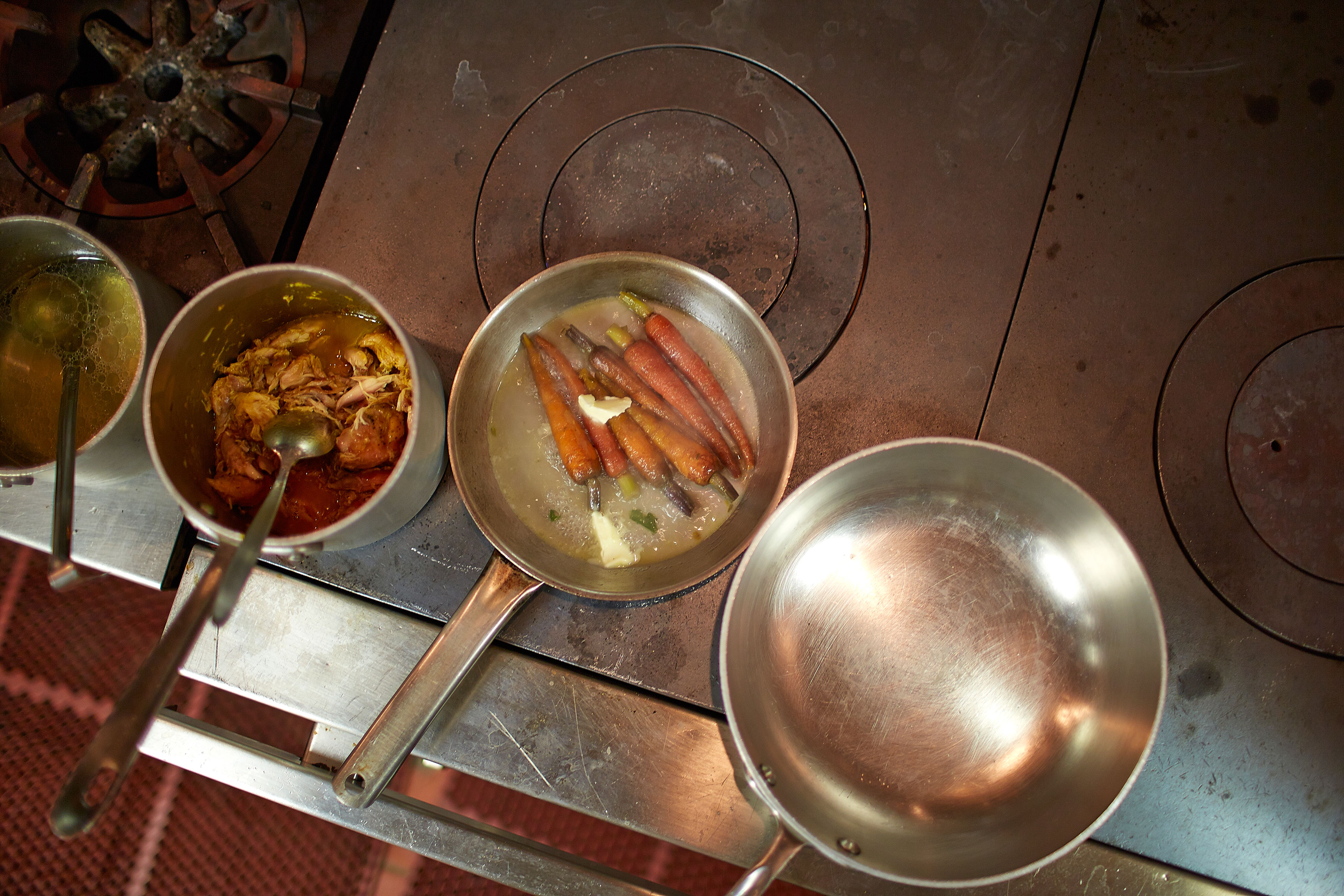 "Y'all saying 'head-cheese' or y'all saying 'pork paté?' " one server asks Chastain as they discuss that night's amuse-bouche. "Best to say 'pork paté,' " comes the answer. The sweetbreads? "Just say they'll really like it," Chastain says, only half joking. They all know that the crowd can be squeamish, though once things are past their lips, the flavors usually win them over. Sometimes it's best if they don't think about it too much.

Some of the regulars give the impression that they see the Mansion as an extension of their living room. One evening, a ticket comes in for blackened chicken, carrots, and white rice with a supplement of black truffle shavings. Harms shakes his head and chuckles about the absurd order, which resembles the menu line only in that it includes chicken. He anticipates that Davaillon will roll his eyes. "He basically walked in here and created his own dish," Harms says of the patron. At $38 for the dish and $25 for the supplement, it's a pricey folly. Davaillon still hasn't gotten over the behavior, he says. It wouldn't occur to him to change a chef's idea for a dish. But he will always oblige, if he can. Ultimately, it's about the diners, not him. "He thinks about the people," a cook says. This does not, however, mean meeting and greeting. When Caroline Rose Hunt, the Mansion's former owner, dines one evening, they nudge Davaillon once, twice, to leave the line and go visit. Then it's all so brief that I miss it. Lingering table-side is not his thing. Lingering at the table is a different matter.  

•••

At the end of my 10 days, i dine with Davaillon in this room of brocade and linen where he spends so little time. I'm nervous, but it's the only fitting way to end, to circle back to my question and see where we've arrived. He is not in his chef's whites, but a crisp white shirt and dark jeans.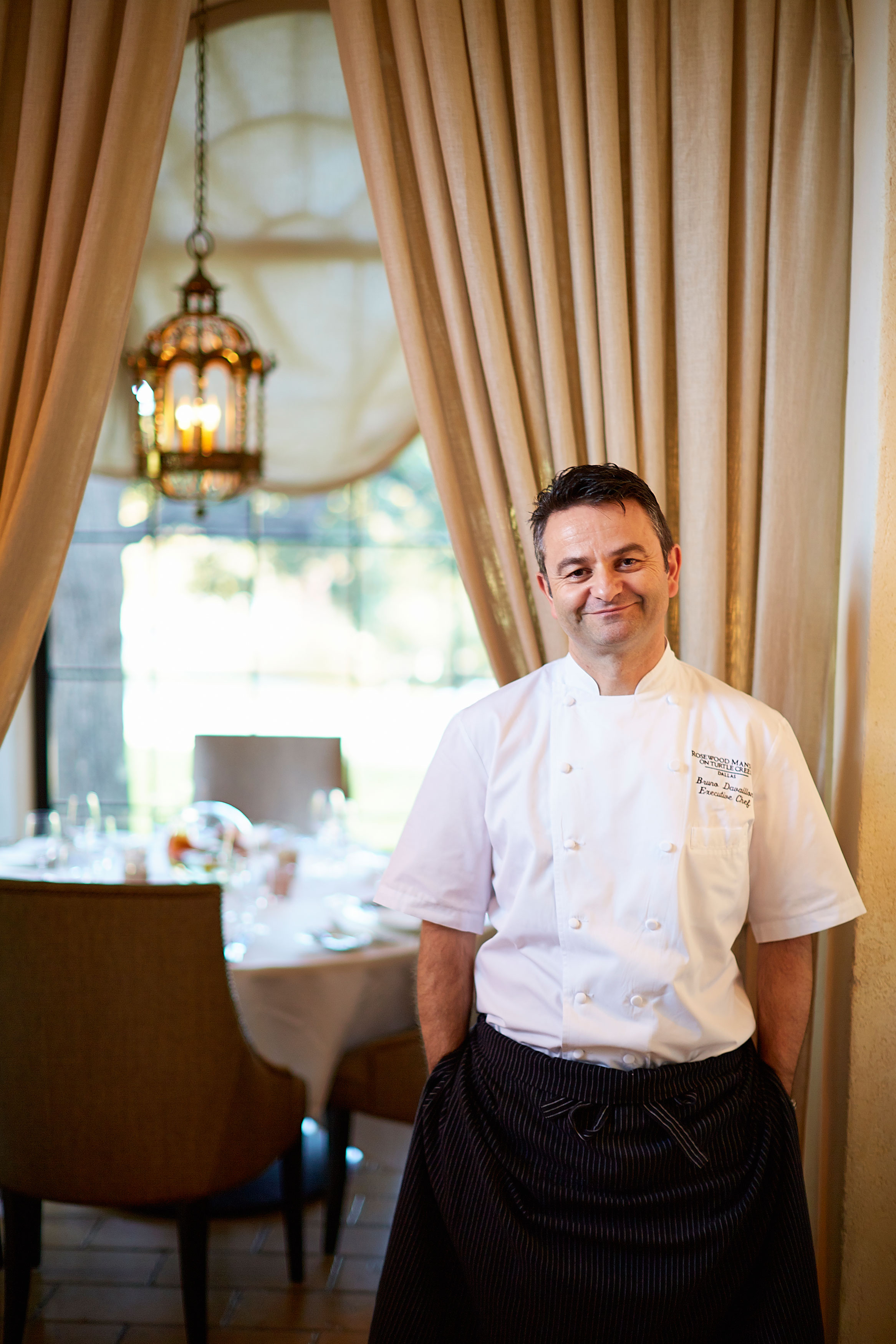 We talk about his wife; his son, whom they are trying to raise in the French way, without ridiculous over-scheduling; his cat, which he got from Sakurai; his brother-in-law, a professional watch photographer who made Davaillon fall in love with the beauty and precision of high-end watches, like the Swiss Certina he is wearing. Days ago, I noticed it was the same color as the carrots he was chopping. 

We talk for almost three hours. Since he was young, Davaillon says he knew he wanted to create, and he knew it would be food. "I feel lucky that I've been doing what I love since I was 16 years old," he says. He promises to send photos of his father's four-acre garden.

None of the other diners pay us any mind. I wonder if they recognize him, suspect they don't. Davaillon dines here approximately once a year. Johnson, our server for the evening, has a twinkle in her eye as she makes a show of treating us like anyone else. She explains the dishes, as though we haven't seen them from their inception. I order two I haven't tried: an egg over corn pudding with chanterelles and black truffle; halibut with mussels and lemongrass-curry foam. And Bruno's there—in the forthrightness of flavors, the way the dish sounds a chord. 

In some ways, I've answered my question: Davaillon speaks, unmistakably—in a way that feels like both recognition and revelation. The other answer is in the plate, too: why everyone would want to be in his kitchen. If he's here with me at the table, then his cooks are the ones who have made this food, translated a vision that's delicate and exacting. Over a glass of Loire-Valley wine, Davaillon explains why he so rarely visits the dining room. The front-of-house told me he's painfully shy. The back-of-house told me he'd rather be with the food. Davaillon gives me another reason: not shyness, he says, but what the French call pudeur, a modesty and restraint exercised out of respect. It's the diners' occasion, he says. He doesn't want to intrude. In the best French tradition, Davaillon, at his most quiet and subtle, is a radical.
Get the SideDish Newsletter
Dallas' hottest dining news, recipes, and reviews served up fresh to your inbox each week.