It's 5:45 pm, and the front-of-house staff has fanned around the main dining-room fireplace for its pre-shift meeting at the Rosewood Mansion on Turtle Creek. Ten or so servers in brocade vests chat and make jokes at the tables they've impeccably set. Behind them, in what used to be the library, stained-glass crests bear names such as Robert de Ros and Richard de Clare, accompanied by lions rampant, crosses, and crenellations. The general manager, dapper in his bow tie, takes a breath and plunges in with marching orders for the night. 
So-and-so will be here: remember, he can't abide square plates. A certain $300 half-bottle of wine is temporarily unavailable. We have one engagement, one anniversary, and an 80th birthday—rose petals already deck a table. Mrs. X has been waving away her martini, so let's try the wine list. 
The servers duly take note, nodding at the requests of regulars whose whims they know well. Regulars make up about half the clientele.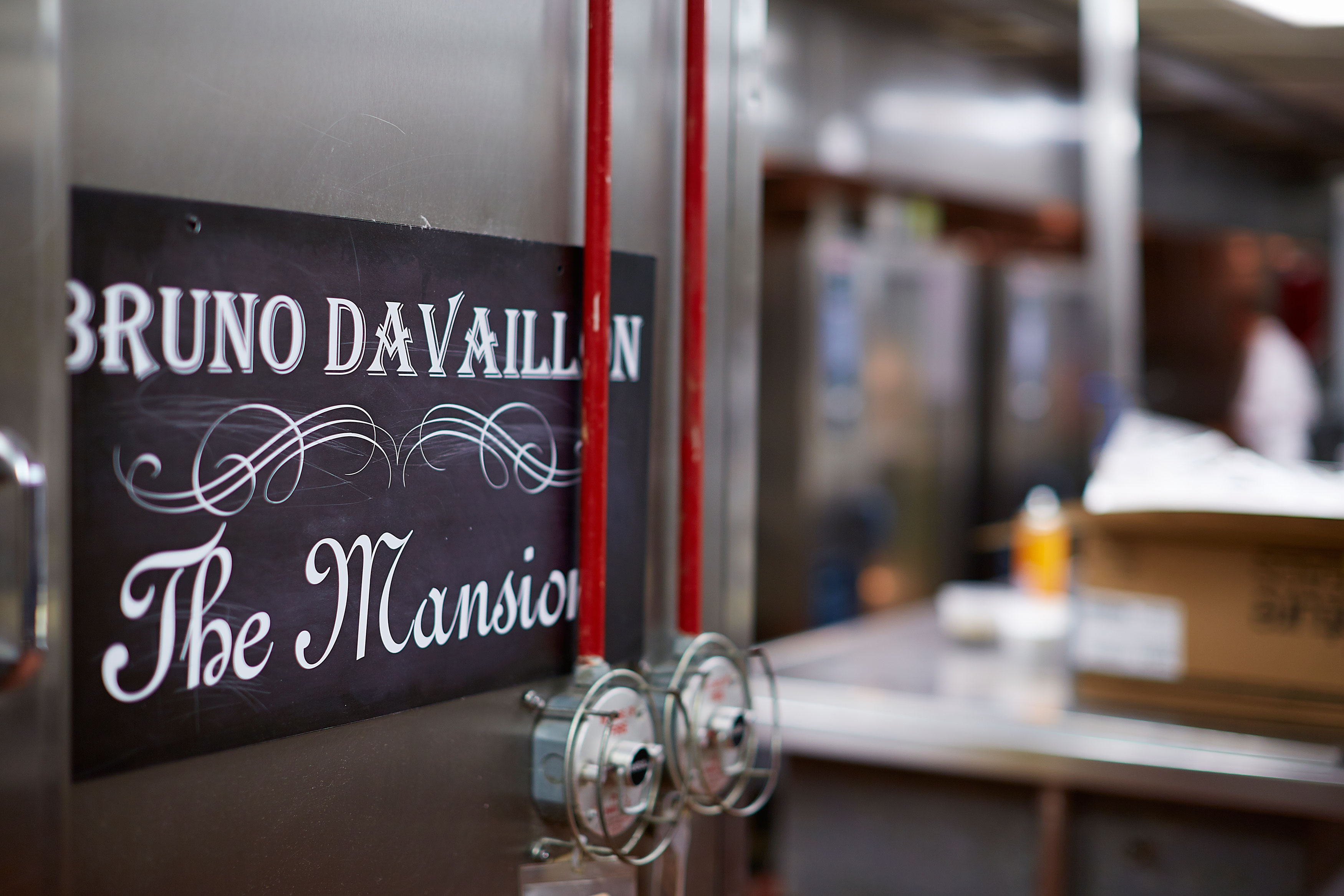 The most important person, though, is nowhere in sight. To find him, you must enter the kitchen through the double doors at the end of the room. First the stainless-steel counters of the expediting line, where servers lift finished dishes onto silver trays. Then the narrow, galley-like space where line cooks sweat over stoves worn from use. Behind them, a prep space with more stoves, ovens, and long tables where vegetables are chopped, fish scaled. The room is quiet now, the rush of prep finished. Remnants remain—littleneck clam shells, an upended sieve, juice pools from the pitting of cherries—and the air smells of fennel and garlicky ramps. In the farthest, dimly lit corner, next to a bubbling stock cauldron, executive chef Bruno Davaillon stoops over a waist-high mixer, scrutinizing as a paddle whips pork shreds and pork fat. He stops it periodically to add braising liquid. The rillettes he's making—traditional French charcuterie from his region of Touraine—are creamy and fine, seasoned with bay, thyme, onion, and white wine. While people worry over square plates in the other room, I stand with him and watch the mixer paddle whirl. "Where did you learn to do this?" I ask in French. "Mon pere," he says—his father. 

His story sounds like the classic French chef's tale. He comes from a family that, every January, killed a pig from his great aunt's farm and, in a communal affair that lasted four or five days, put up blood sausage and bacon and the rillons and rillettes of Touraine. The first restaurant where he worked, at 16, was Michelin-starred. At 18, in Paris, while living in a tiny garret, he worked at Restaurant Lasserre, a temple of classic French gastronomy near the Champs-Élysées. Back home, he'd tell people about his view of the rooftops and the Christian Dior boutique, leaving them to fantasize about his Parisian life. The real working conditions were harsh. "Ça forme," he says—it forms you.  

Like a wine, he has terroir. That is, he is shaped by the place he is from. Among his most vivid taste impressions are the tarts and raw milk at his great aunt's farm. He has childhood memories of three-hour-long Sunday lunches there: a midday meal in the garden, several large tarts, a lake nearby where people fished afterward. That is partly where he learned the ethos of taking one's time. In his great aunt's cellar, they churned butter and spun cream. What he misses most in the States is the quality of ingredients. "I didn't see the luck I had," he says.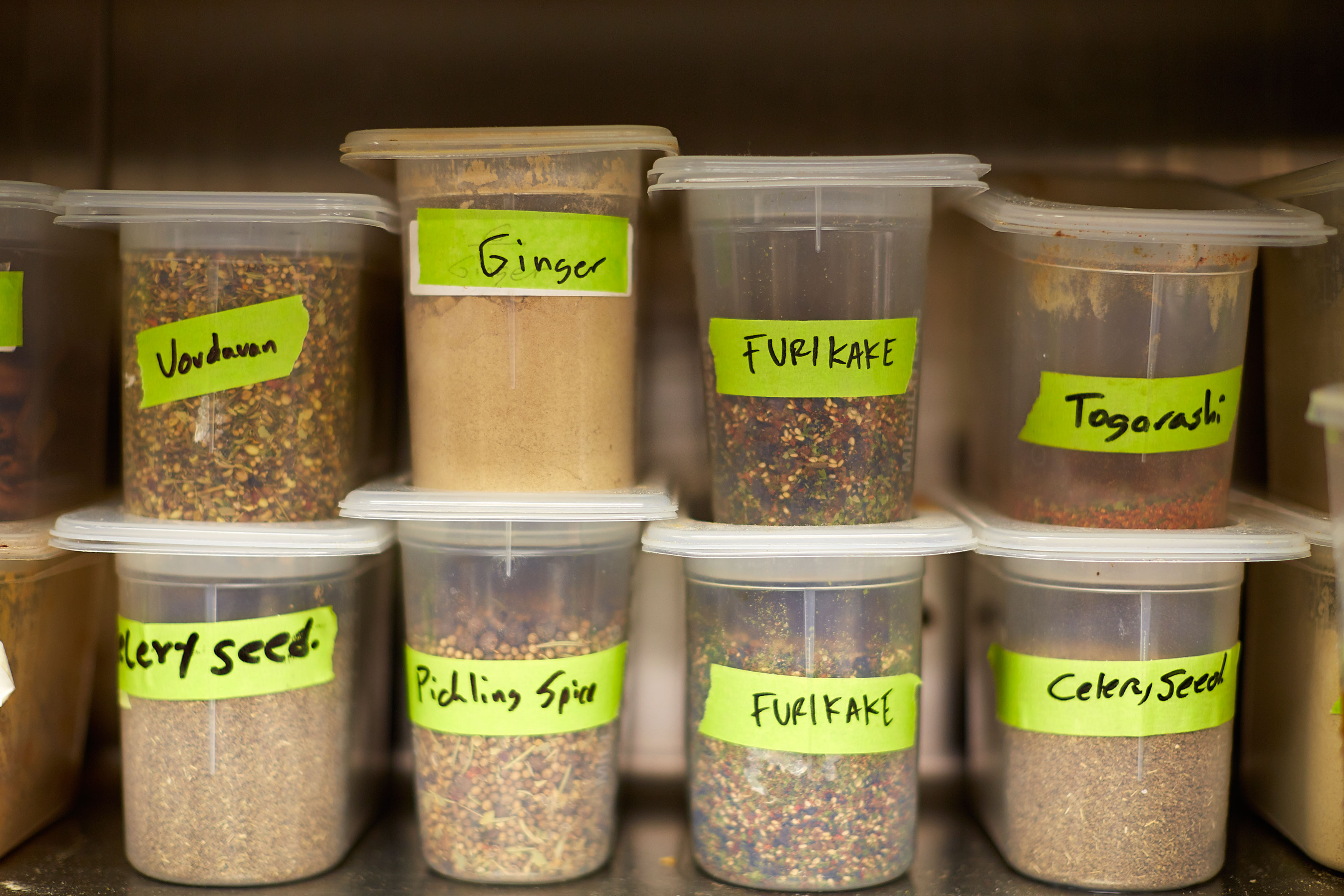 The cooks at the Mansion don't know any of this—except maybe a few who are closest to him. If he tells you about his family, pay attention, one tells me. It's precious and rare. Most have only the vaguest sense of his personal story. One cook who has worked with him six months thinks, maybe, that he has a wife (he does), knows nothing about his 12-year-old son. Few hazard pronouncing his name. For them, he is Chef. They know he takes Sundays off to be with his family. And they all know where he was before the Mansion: in Vegas, working for France's biggest chef, Alain Ducasse. 

When Davaillon became executive chef at the Mansion in 2009, he came straight from Mix, which he had been hand-picked by Ducasse to open and run. With 20,000 square feet and 240 seats, the restaurant did 100,000 covers a year, 400 to 500 a night on weekends, Davaillon says. Mix earned a Michelin star under Davaillon in 2008 and again in 2009. Then he came to Dallas and to the Mansion. There, he was preceded by Dean Fearing, famous for his cowboy boots and Texas-size welcome and, briefly, by John Tesar, a man known for his temper. From the start, Davaillon was known, in contrast, for his reserve and his absence from the dining room. When I moved to Dallas one year after him, I had more than one reason to be curious. 

When it came to the crop of new talent in Dallas, paths seemed to converge at the Mansion and this chef of top culinary distinction. Chefs like Jason Maddy and Brian Zenner, line-mates in Davaillon's kitchen, opened Oak, which quickly became the hottest new restaurant in town. "If Bruno called me tomorrow, I might go flying back," Zenner told me last year as he was poised to open Belly & Trumpet. "Those 15 months were as important as the last seven years together. He's the real deal." Zenner and others tell their ambitious young cooks to learn from the laconic Frenchman if they can.

My second motive was more personal. I know the Loire Valley, where Davaillon grew up and where my French grandmother had a home I still visit. I wondered how he would translate France into Texas, the France of my youth. To satisfy that curiosity, I arranged to spend 10 days in the Mansion kitchen last summer, watching Davaillon at work. I had two main questions: how does this quiet man speak through his food? And why does every chef in Dallas want to work in his kitchen? 


•••

The first thing to understand is how he thinks about flavors. When I ask the cooks to tell me what is "Davaillon" in a dish, they point to specific things. They know exactly, without hesitation: clean lines and flavors, a crunch, a surprise. Yet to fully understand what they mean is not so simple.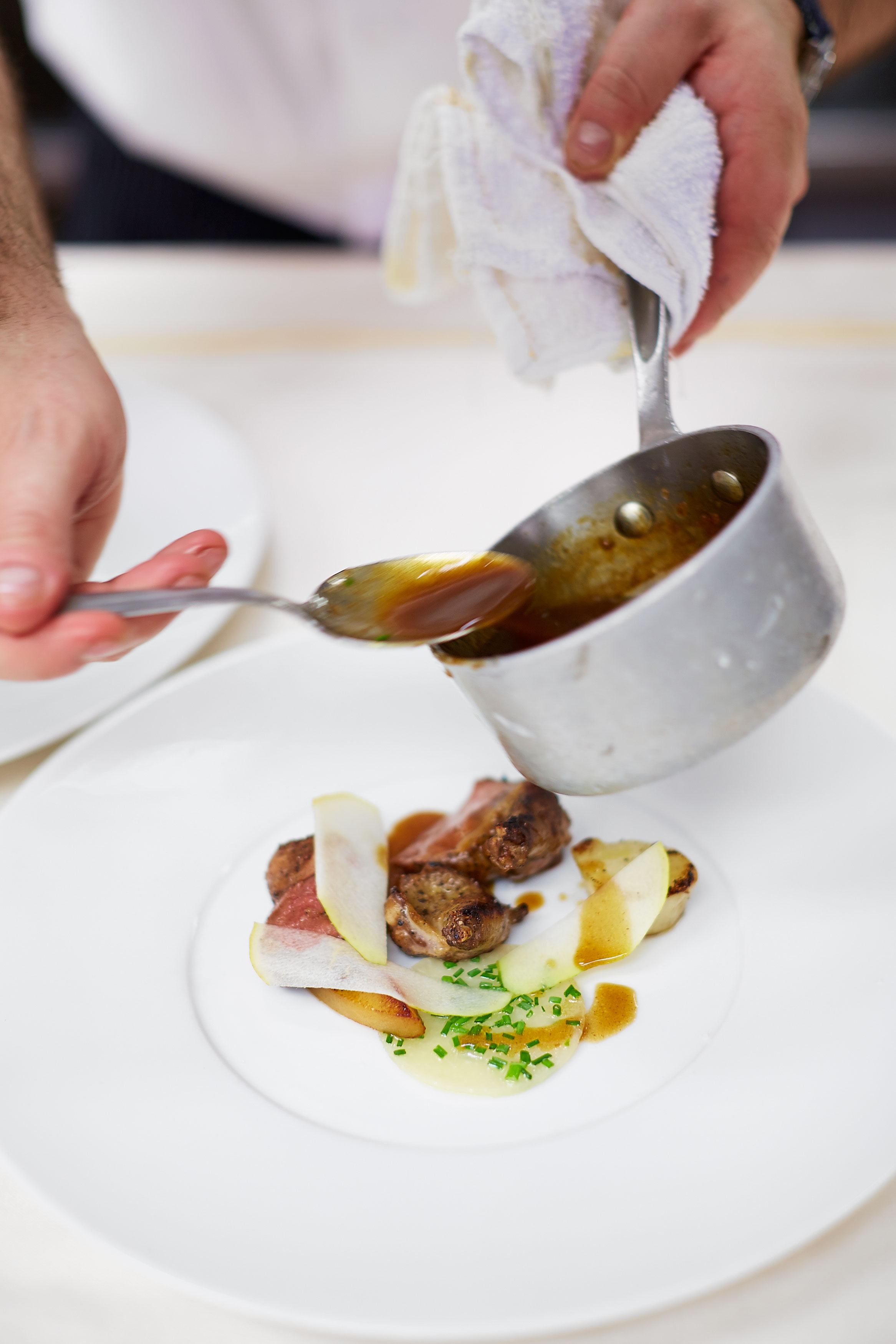 His distance from classical French cooking can be measured in his sauces. No heavy cream sauces, which he says mask flavors and needlessly gussy things up. Instead, he'll have a carrot purée accompany lamb, the flavor deepened with Vadouvan, an obscure French-Indian spice blend. Only one of the tiny saucepans at the meat station contains a nut-brown jus. The other sauces are crimson, yellow, ruby: purées of tomato, corn, cherry. Davaillon loves lightness and what he calls "direct" flavors. When I marvel at a risotto that's brilliant green from asparagus purée (with asparagus tips and slivers of roasted asparagus on top), he shrugs, amused at my reaction. Things should taste of themselves. An avocado foam to accompany bass is made of just avocado and lime. He cherishes vegetables and uses their "water" as a magical exponent of flavor—as with a tomato-fennel-basil poaching liquid for eggplant, or rhubarb poached in pomegranate and beet juice. He once thought of opening a restaurant with just vegetables and finds their possibilities endless. 

He also has an "esprit voyageur"—a palate for flavors from elsewhere. The spice rack contains plastic vats labeled with masking tape and Sharpie: shichimi togarashi, harissa, hickory, saffron, serrano, aji amarillo, juniper. "I've always had this spirit of travel," Davaillon says. "To travel in the plate." Part of the impulse that made him leave France is also what makes his cooking creative—more so, he thinks, than those who stay where they are. The best thing for Dallas or for any city, he says, is to have the chefs go elsewhere. "When you come back, you have a much more interesting luggage," he says, the French metaphor conjuring an image of real suitcases. "It's not the same products, not the same recipes. You take the best."
Like a wine, Davaillon has terroir. That is, he is shaped by the place he is from.
Every dish starts as an entry in a plain little notebook, where he jots ideas that may have germinated for weeks. Some of the staff catches glimpses, makes guesses, tries to imagine the thinking. A new dish looks like this: ____/____/____/____, ingredient names separated by slashes. From these markings arise complex magic. The cherry sauce made to accompany duck—cherry purée, red verjus, pepper, shallots, and a dash of kirsch—is simple, but the flavor shifts from sweet to spicy to tangy on the tongue. With each component so conceived, the effect could be overwhelming, but isn't. If each element tells a story, the finished dish is a chord, where every note is distinct, but the effect is a single sound. "Clean" is the way some of the cooks describe it. "The focus of the dish," one says.  
Then-sous chef Jared Harms, who has since been promoted to chef de cuisine, describes flavor pairing as a muscle chefs must develop with experience, particularly when it comes to blending the bold in harmonious marriage, a Davaillon forte. "It's going to take me a long time before I'm comfortable doing it on my own," says Harms, who has been watching the chef do it for three years. Harms comes from a family of teachers; he understands patience and thoroughness.
If it's a muscle, Davaillon doesn't flaunt it like an egocentric bodybuilder. He's modest about his goal: "to highlight the food, keep the beauty of the food. A lot of people say that," he says, "but then they get in the way." On the other hand, how do you account for the fact that each dish is unmistakably his? 
•••
Late mornings, Davaillon arrives, makes his rounds, greets Harms and then-chef de cuisine J. Chastain (now executive sous chef), then gets to work at the prep tables, his back to a sink and the tall shelf of spices. With his high forehead and black hair and eyebrows, his look is severe, all sharp, clear lines—very French. His long black apron skims his shoes, and the black piping on his chef's coat is about the only distinction from the other cooks. To his left, Pedro Medel guts and cleans fish. To his right, Neil Liston is at the butcher's block. In front of him, several cooks work at the prep table, readying the ingredients they'll need at their stations. It means a lot to the cooks that a chef of his stature would work alongside them.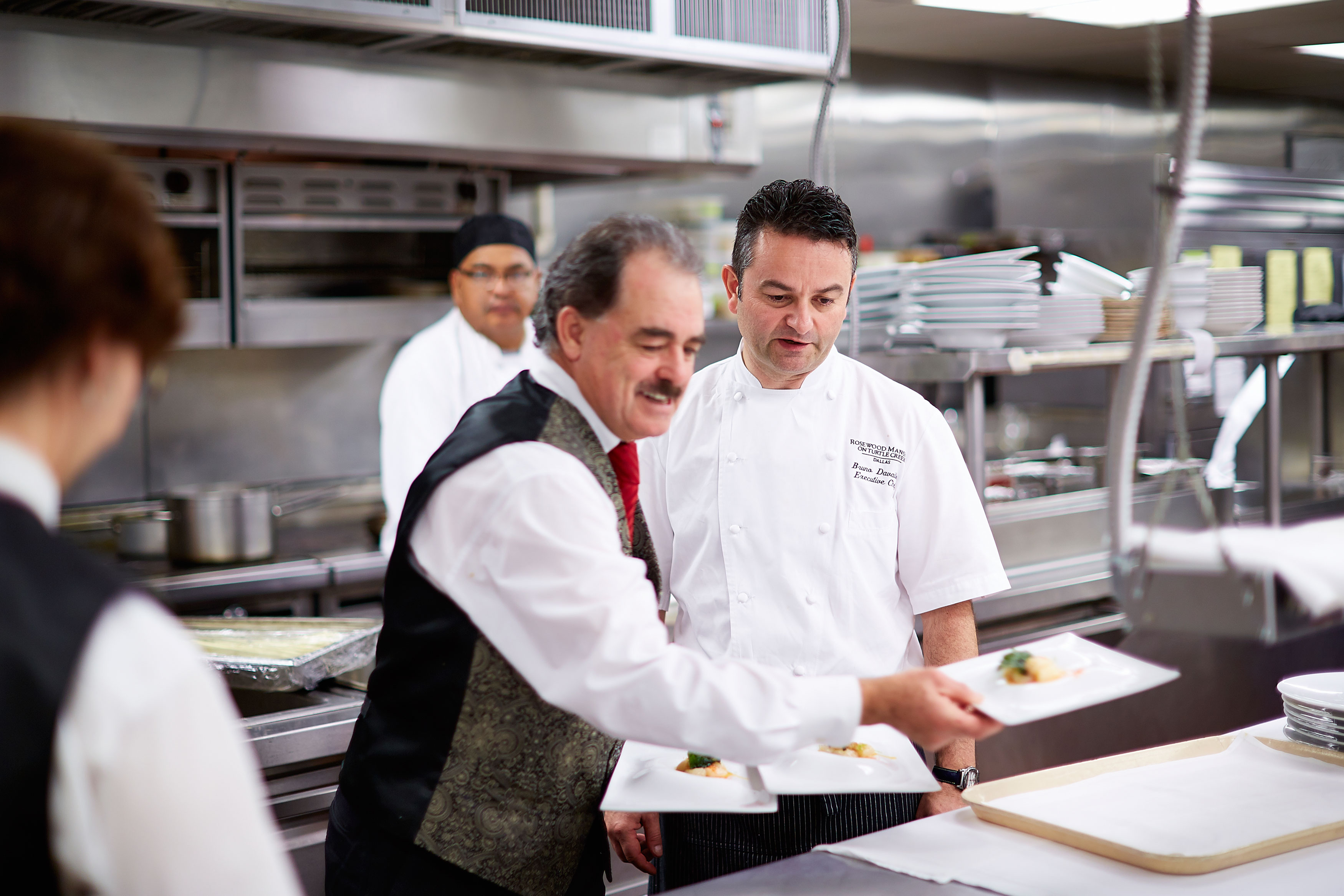 The first thing the cooks say is that he cooks. "He's right here, not hiding out," Liston says. As one cook who trained at the Culinary Institute of America and interned at high-end restaurants in New York, puts it: "The chef's in the kitchen, actually cooking." For his team, the difference is profound. To Davaillon, being a chef is not about celebrity, but craft. One afternoon, I watch him peel a vat of pearl onions, methodically, one by one, for a dish he is developing. I clock a full 10 minutes. "It doesn't bother me," he says.

Another day, he pauses between the tasks to show me photos on his iPhone of a recent trip to Japan with his friend and fellow Dallas chef Teiichi Sakurai. He describes restaurants, narrow as closets, where chefs master a single ingredient over a lifetime. There's the man who has perfected eel over 37 years, and the one who has worked the poisonous pufferfish, fugu, for 40. For Davaillon, it seems to verge on the spiritual. Silent, we watch his footage of soba-noodle dough being expertly rolled and flipped and cut, in the half-light of somebody's kitchen. Davaillon exhales with a shake of his head. 
Get the SideDish Newsletter
Dallas' hottest dining news, recipes, and reviews served up fresh to your inbox each week.