The door opens, and two Mexican kids stand there, a boy and a girl, maybe 7 or 8, each holding a bag of their old toys. The toys are meant for two of the Liberian kids who live here, the two shyly stepping toward the door, a boy and a girl, roughly the same age as their benefactors.
None of them really speaks the same language. Even their respective versions of pidgin English are too different to overlap on a lingual Venn diagram. They get by with nods and smiles, but this act of kindness alone is enough to bridge the language gap. One family reaching out to another, for no other reason than because they know what it's like to live in a country that will never be home.
This kind of thing has been happening for two decades in Vickery Meadow, a former singles' community that now houses a crazy quilt of refugees (like the Liberians) and immigrants (like the Mexicans) from all over the world. It is humanity reduced to its most fundamental, where language and culture and history can't get in the way.
"I think we're the best-kept secret in Dallas," says Debi Wheeler, executive director of the Dallas branch of the International Rescue Committee. "I don't know that people realize that there's this vibrant community of people who have come to the United States to start their lives over."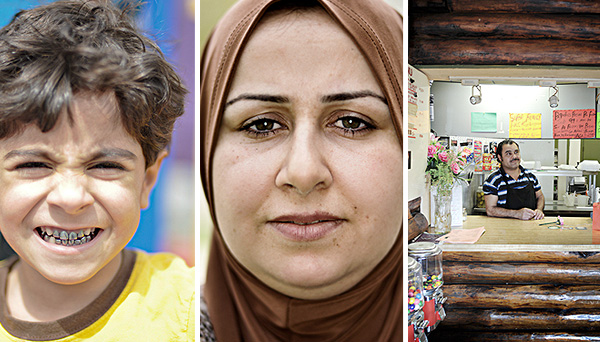 Wheeler and the IRC resettle nearly 650 refugees in Dallas every year, many of them in the Vickery Meadow area, where there are already thousands. It might sound like a large number, especially since the warren of apartment complexes at Vickery Meadow's core—where most of Wheeler's families end up—is squeezed into slightly less than 3 square miles. But Wheeler says only one half of 1 percent of the world's refugee population gets resettled.
Why they get resettled in Vickery Meadow—why so many families from other countries wind up in the area, refugee or otherwise—is not a mystery. There are lots of apartments, rent is cheap, public transportation is nearby, and, as much as anything else, other immigrants live here. It's a beachhead. But it wasn't supposed to be.
Vickery Meadow was born as a sort of twin to The Village, a product of Dallas' building boom in the 1970s. Bordered, more or less, by Northwest Highway, Royal Lane, Skillman Street, Abrams Road, and Central Expressway, it was built—overbuilt, really—as a community for young people living young lives. No kids, not many married couples. But things changed. An amendment to the Fair Housing Act in 1988 meant families with kids could no longer be discriminated against, and a depressed rental market meant the property owners no longer cared to.
Within a few years, the demographics of the area had completely flipped. It became, and remains, a jumble of races and cultures. There were immigrants from Mexico, and then came refugees from every war-torn country on the planet—mostly African at first, now mostly Burmese and Bhutanese. Apartments built for one or two people were packed with four or five or more. More families than not had kids. The 100 or so complexes in the neighborhood were not designed for this. Families were crammed into small apartments, which were crammed too close to one another. They were built parking lot to parking lot, with almost no green space to speak of, let alone playgrounds. That's how it was, and that's how it is.
Over the course of a couple of decades, the neighborhood has changed to meet the needs of the residents it never expected. There are more schools in Vickery Meadow now, for instance. But it is still largely a hand-me-down neighborhood, ill-fitting and fraying at the seams. It should be depressing for an outsider, and it can be. But that's the environment, the apartments, the situation. It's not the people. Even though some have lived lives most of us can't imagine, through torture and camps and more, you wouldn't know it. There is a joy there that can't be taken. They are alive and they are together, and that is enough.
But even the area itself is not all depressing. If you think so, drive down Ridgecrest Road, straight through the heart of the neighborhood, and find the Vickery Meadow Learning Center. If Vickery Meadow is a microcosm of Dallas' refugee and immigrant community, a sort of United Nations in miniature, then Vickery Meadow Learning Center is a microcosm of that microcosm. It's the entire enterprise reduced to a cluster of small buildings nestled between complexes.
Vickery Meadow Learning Center is where people can learn English (there are four levels in the literacy program) and study for their GED and citizenship tests. There is also an early childhood program, which has a dual function: the parents have someone to take care of their kids while they are in class, and the kids, ranging from 4 months to 5 years old, get ready for their own schooling. But beyond its designed utility, the Vickery Meadow Learning Center is one of the places where people can make those important first steps toward building a life here.
"You feel very isolated and lonely," says executive director Sarah Polley. The center opened in 1997 in the clubhouses of the apartments, and bought a building two years later. It is all privately funded. "You don't know who is safe to reach out to. You're kind of living in this neighborhood, which has a lot of stuff going on that isn't great. By coming here, it's a great place to develop those social networks. We have people who are able to find friends, like, 'Hey, can you watch my kids?' "
When I arrive early on a Monday afternoon, you can feel those connections as much as see them. It's humming with activity. Even without any advertisement other than referrals from the agencies who work with refugees and immigrants (see the infobox below), the center never lacks for students. "There's always more demand than we can fulfill," Polley says. That pretty much applies to everyone working with these families. There is never enough room, never enough volunteers, never enough money.
Today is everyone's first day back after spring break, and the language classes are just beginning. I follow Polley from room to room, and it is almost a parody of diversity. It is an object lesson in hope. There are women—and most of the students here, today anyway, are women—in traditional hijab or scarves and bindis. One woman wearing a dress made from kente cloth with a matching hat reads with a magnifying glass.
They are African and Asian and Burmese and Mexican and Iraqi and who knows what else, and they are here together, and they are all smiling. And not in the timid way the outsider smiles his or her way through an unfamiliar situation, the way the Mexican kids talked without talking to the Liberians. No, they are beaming. They are absolutely delighted to be here. Happy to be moving forward, grabbing a little bit more of their new home every day and hugging it close to them. They are united in a way, bound together in their similar circumstance. Not from the same country but from the same place.

Write to [email protected].
Get the D Brief Newsletter
Dallas' most important news stories of the week, delivered to your inbox each Sunday.