Dallas' Ultimate Healthy Home Guide
From chemical-free cleaners to non-toxic cookware, healthier living starts at home.
If cleaning up your act is on your list of New Year's resolutions, try these expert tips and product swaps to enhance your mind, body, and home—one room at a time.
Clear Your Mind
Though all of your lingering holiday houseguests have (finally!) packed their bags, they may have left some baggage behind—in the form of bad energy. Start the year off with a clean slate by burning a sage stick, otherwise known as smudging. "The goal is to get rid of negative energy, whether in your home or your life," says Molly Mathias of Oak Cliff's Magic Hour shop, which sells a selection of saging sticks. Mathias says there's a method to the sacred art. First, start off with an intention. "You can say it out loud or just repeat it in your head as you are smudging," she says. After you light your stick, blow it out and walk in a clockwise direction, making sure the smoke permeates the room. Once you're finished, place the stick in a fire-safe bowl. Then, sit back, relax, and let the good vibes roll. 
Bed/Bath
*Just Breathe
It's hard to argue with the benefits of an air purifier. It captures pollen, pet dander, allergens, and dust, making the air you breathe in your home healthier. But the products are often clunky, complicated, and don't necessarily fit with your zen master bedroom's design scheme.
Enter The Pure Company, a Dallas-based startup that designs aesthetically pleasing air purifiers. "It became clear to us that people needed products that were easy to use and also looked good in their well-decorated homes," says president Cortney Carroll. As an added bonus, their purifiers also have an aromatherapy function. "Many people don't realize that freshener sprays release harmful chemicals into the air, so the aromatherapy feature provides a way to make your home smell great without sacrificing the health of your family or pets," Carroll explains.
The Pure Company purifiers come in two models—a standard size as well as a travel option (which fits comfortably on a desk or side table). You can finally take a deep breath. 
*Squeaky Clean
Inventor and entrepreneur Suzy Batiz may be best known as the founder of Poo-Pourri, the before-you-go toilet spray that saves us the embarrassment of leaving bathroom odors behind. But with the recent launch of Supernatural, her new natural cleaning product line, she may end up saving us from exposure to dangerous chemicals, too. For more than 15 years, Batiz has used natural cleaning alternatives like apple cider vinegar in her own home—partly because her mother passed away from a blood disorder Batiz believes was caused by exposure to chemicals contained in household cleaners. "We are trained to believe the chemical smell is clean," she says. "But that's not what clean is." Batiz became determined to create a product that was as natural as it was effective—and of course, it had to smell good, too. After several years of formula and packaging development, she's proud to say Supernatural meets her incredibly high standards—and comes in recyclable glass bottles to boot. "There's no losing here," she says. "You win on all fronts: Your home is safe, your home is beautiful, and it's also getting cleansed." 
*Glow On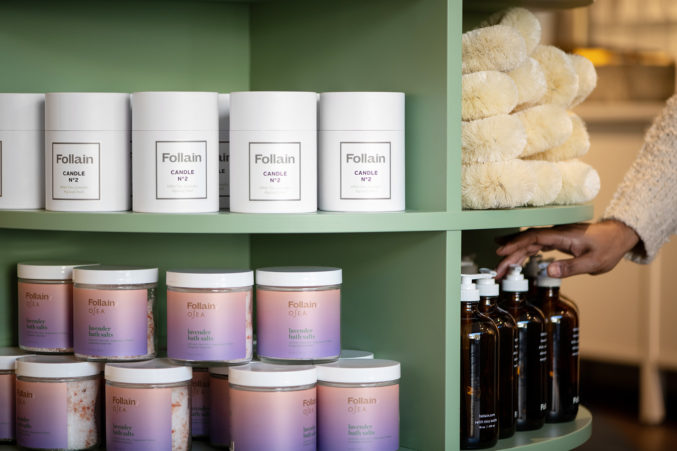 With little to no regulation in the beauty industry, knowing how to shop for skincare products has become a necessity to living a nontoxic life. (Fact: Your skin absorbs up to 60 percent of what you slather on it.) We chatted with Tara Foley—natural beauty pioneer and founder of Follain, the Boston-based beauty retailer that opened its first Dallas location last October—about how to swap your beauty and skincare products for safer options.
Labels can be misleading.
"There is no government or third-party-certified definition stating what qualifies as 'clean' beauty and skincare," Foley says. "The same goes for words like 'natural,' 'nontoxic,' and 'green.' " Base your selection on what's inside (see her approved ingredient list below) rather than flashy packaging.
Clean out your medicine cabinet.
Do a sweep of your existing products, prioritizing those that sit on your skin the longest, such as moisturizers, deodorant, and makeup.
Say no to parabens.
One of the worst offenders are parabens, antimicrobial agents linked to cancer and endocrine-system issues. "They're added to personal care products to delay decomposition and can be found in all types of hair products," Foley warns.
Don't forget synthetic fragrances.
Synthetic fragrance formulas are considered "trade secrets" so ingredients remain undisclosed. In addition to skin and respiratory irritation, "They also contain potential carcinogens and endocrine disruptors and have been linked to neurotoxicity and birth defects," says Foley. Instead, shop for scents made with essential oils.
Kitchen
*The Trouble with Teflon
We all love the ease of a nonstick pan, but if you've got older Teflon cookware hanging around, it's time to toss it. (Banned in 2015, perfluorooctanoic acid or PFOA—a substance once used in nonstick coating—is believed to cause adverse health effects.) Post-ban Teflon products are largely safe for use, though when heated above 600 degrees, the slick coating releases fumes that can cause flu-like symptoms. Your best bet is to switch to cast-iron cookware—season well for best results—or ceramic pans. We especially love these pans (cast iron skillets by Smithey's, Butter Pat Industries, Iwachu, and Greenpan) that look as beautiful as they perform. 
*Can You Dig It
Since Lauren Clarke became a mom, the Lakewood resident grew more and more interested in finding ways to protect the environment for the sake of her children. After years of brainstorming, an idea finally clicked. Clarke combined her training as a chef and Dallas County Master Gardener to form Turn Compost, a residential and commercial environmental service that helps locals reduce and recycle food waste. "In a nutshell, I'd say we are a green concierge service," Clarke says. For a monthly subscription of $35, Turn will deliver a five-gallon bucket with an industrial lid. Fill it with foods on the "allowed" list and leave outside. Turn will pick up the bucket weekly and leave a clean one in its place, then deliver the scraps to local farms and community gardens, which repurpose them in their own compost bins. In return, subscribers get a monthly perk from a local farm or vendor, such as honey from Bonton Farms or fresh herbs from Blue Label Herbs. 
Extra Spaces
*Toy Story
Playroom
Going chemical-free in kids' spaces has never been easier with the launch of socialite Nasiba Adilova's Dallas-based The Tot. Peruse the children's shop's website or pop into one of the two area brick-and-mortars to outfit your playroom or nursery in nontoxic and organic selections. Choose from a variety of toys, clothing, furniture, and skincare products that are free of BPAs, lead, parabens, artificial colors, and more. And though each item is free of chemicals, they're still full of charm and style thanks to Adilova's discerning eye. 
*Plant Based
Whole Home
You don't have to be a green thumb to reap the benefits of indoor plants. There are many household varieties that are easy to maintain, each working to clean the air by absorbing harmful contaminants like formaldehyde, xylene, and benzene. "Plants have the power to bring life to any space and also have major health benefits," says Hannah Street, owner of Oasis Plant Shop, who recommends bamboo and the areca palm for their powerful absorption qualities, as well as sansevieria, dracaena, and aloe vera. 
*Fresh and Clean
Laundry
Every time you wash and dry clean your laundry, you could be covering them in chemicals. Toss detergents that include sodium lauryl sulfate (SLS), phosphates, linear alkylbenzene sulphonate (LAS), and artificial fragrances in favor of products by clean lines like Mrs. Meyer's, The Honest Company, and Seventh Generation. Take dry-clean-only items to cleaners that use Green Earth Cleaning, a liquid silicone solution that is free of petrochemicals yet is gentle on clothes. Swiss the Greener Dry Cleaners (3030 Mockingbird Ln.) and OXXO Care Cleaners, with multiple locations in Frisco and Plano, are good options.
*The Grass is Greener
Outdoors
Enjoying the sunshine is good for our health. But rolling around in the grass with kids or pets exposes us to the chemicals in pesticides and lawn care products. Texas-based Nature's own weeds out the bad stuff with a line of indoor and outdoor products that utilize EcoSMART's botanical pesticide products. The solution is a patented blend of essential oils that include no synthetic toxins. You can spray and then play without worry. 
"Dirt Doctor" Howard Garrett—radio talk show host, columnist, author, blogger, and natural gardener—offers ways to grow your garden without harmful pesticides and chemicals on his website. For a natural and DIY-able fertilizer, he recommends mixing a batch of his eponymous formula, Garrett Juice. 
Garrett Juice: Mix the following in a gallon of water: 1 cup compost tea, 1 ounce molasses, 1 ounce apple cider vinegar, and 1 ounce liquid seaweed. For more fertilizer value, add 1-2 ounces of liquid fish per gallon of spray.