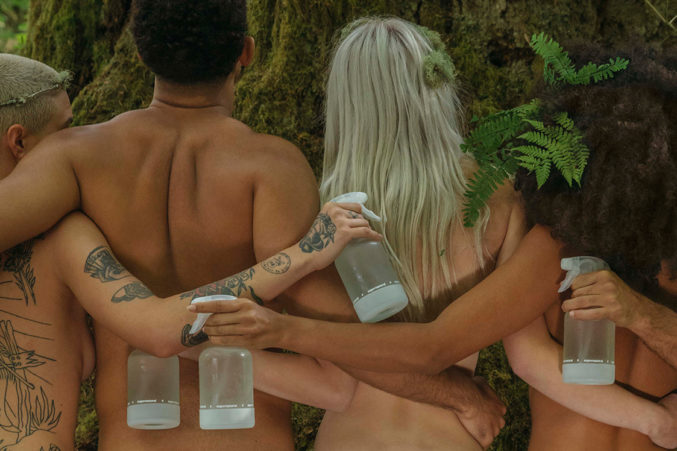 The Poo-Pourri Founder Just Made Cleaning Sexy
Suzy Batiz's newest products, which sold out in less than two hours on Goop.com, are sensual, eco-friendly, and completely natural.
Suzy Batiz, creator of Poo-Pourri (a brand that has surely produced the wittiest scatological-related commercials of our time), recently spent an entire weekend sniffing her bathroom cleaner. That would normally be cause for alarm, but in this particular case, it's perfectly fine, and understandable.
The bath cleaner in question is one of the first products (alongside a wood, countertop, and glass cleaner) in Batiz's new brand, Supernatural, which launched online this week, and, in addition to being all-natural, is made with essential oils such as fir, eucalyptus, palmarosa, and basil. So, you see, perfectly understandable.
Along with its founder and essential oils base, Supernatural shares some DNA with Poo-Pouri. "What's very similar to Poo-Pourri is that I didn't know if I could actually create it. Can this even work?" says Batiz. "And then once we made it, of course I want to share it with the world."
And just like Poo-Pourri was designed to be aesthetically appealing, everything about Supernatural — unburdened from the ordure of it all —  is equally attractive. "I really strived for Supernatural to be a brand that's beautiful no matter where you look," says Batiz. That beauty also extends to the brand's sustainability. For each Supernatural box issued, two trees are planted, and the reusable spray bottles are 100 percent recyclable.
Of course, it wouldn't be a Batiz product if there weren't a little provocation. "Clean Butt Naked" is the tagline for Supernatural, which replaces Poo-Pourri's elevated toilet humor with New Age vibes and visuals, while the packaging on one bottles teases, "then turn me around and open gently."
Supernatural also has Gwyneth Paltrow's discerning seal of approval. The products are currently carried at the Goop pop-up in Highland Park Village, and sold out within two hours after launching on Goop.com. (It should be restocked soon.) The partnership came about as a result of Paltrow's wellness summit, In Goop Health, where Batiz was a panelist. "After speaking, I started walking around and looking at all the brands. The integrity was incredible. I've been into natural products for at least 15 years, and I was so impressed that it wasn't an LA faux show," says Batiz. "That was the bar I set. If I could partner with Goop on this, and if they could love and accept it, then I'd know I've really got something actually perfect. And I don't use that word easily."
For those who did get their hands on the now sought-after Supernatural, feel free to close all the windows, go rubber glove-free, and sniff away the next time you clean. It's basically aromatherapy.