It's a beautiful thing when your career aligns with something you love, and such is the case for Tony Goodman, the CEO and founder of PeopleFun, one of the world's top mobile game developers. We're meeting for lunch over Zoom, both OK with avoiding the risks of dining in person while COVID-19 still lingers in the air.
As he unpacks his tortilla soup from Mena's Grill Tex-Mex Cantina (a personal favorite due to its "solid Tex-Mex fare" and because it's close to his office), I brag about my third-place finish in a Wordscapes tournament the previous weekend.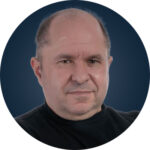 The mobile game is one of about 10 developed by PeopleFun. Other titles include Word Stacks, Word Chums, and Wordscapes Search. More than 120 million people have downloaded Wordscapes, which has about 4.5 million daily active users and 14.8 million monthly active users. (Don't be impressed by my third-place finish; weekend tournaments are divvied up into groups of about 100 players.)
Launching PeopleFun was a departure for Goodman, who in 1995 co-founded Ensemble Studios with his brother Rick Goodman and John Boog-Scott and developed the wildly successful Age of Empires franchise. He sold Ensemble Studios to Microsoft in 2001 but continued to run it until the late 2000s.
Goodman then co-founded Robot Entertainment. He left in 2010 to segue into the casual mobile segment—a category that has seen explosive growth in recent years, with phenoms like Candy Crush.
Goodman was a big gamer growing up, starting with board games like Risk and moving to video games in the 1970s. But by 2011, he was no longer interested in setting aside hours every day to play a war or strategy game.
"Like everyone else, it went from that to playing when you have 20 minutes standing in line or something," Goodman says. "We had changed, in the type of gamers we were and decided to [develop] the types of games we now wanted to play."
By we, he's referring to his partner in the business, Boog-Scott, the company's COO. The two have been friends since they both attended Lake Highlands Junior High. Switching to casual mobile has meant an exponentially larger market for the developers.
"It's not just 20-something gamers anymore; it's everybody," Goodman says. PeopleFun has experienced tremendous growth due to its popularity and spikes in playing time because of the coronavirus.
Also instrumental has been a 2018 affiliation with AppLovin, a marketing technology company that's based in Palo Alto, California. Since becoming an AppLovin studio, PeopleFun has seen its revenue increase nearly seven-fold, its EBITDA increase 27 times, and its headcount grow from 16 to more than 60 people. AppLovin also helped Wordscapes become the No. 1 grossing title in the word game category.
The strategy moving forward is to "make sure we provide a great game in every word category," Goodman says, then expand into things like a Boggle-type game, crossword puzzles, and perhaps a match game: "It's wide open. We're experimenting with a lot of different things."   
Get the D CEO Newsletter
Stay up to speed on DFW's fast-moving business community with weekly news reports, interviews, and insights.