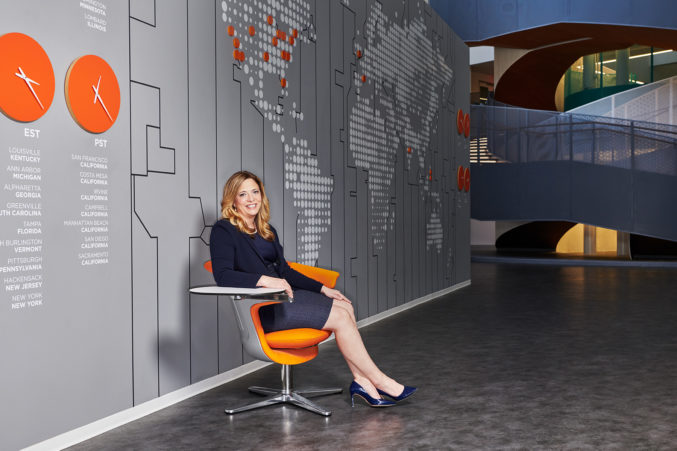 Meet the Heir Apparent at One of DFW's Fastest-Growing Companies
Ashley Glover has acquisition-hungry RealPage hitting on all cylinders.
Why you need to know her: Because Ashley Glover is the heir apparent at RealPage Inc., one of the nation's largest and fastest-growing tech companies. What began as an apartment property management software company has become an industry behemoth that handles everything from background checks and rent payment processing to predictive analytics leveraging the data it collects.
In the past two years alone, RealPage, which occupies a massive headquarters off North Central Expressway in Richardson, has made eight significant acquisitions. Back in 2010 when the company went public, it was generating about $50 million in annual revenue. This year it expects to rake in $1 billion.
As chief operating officer, Glover is tasked with keeping everything humming in the midst of transformational growth. It's a formidable task, but she takes it in stride: "I don't know that there's any secret sauce to it. I don't think it's magic. I just think it's work."
RealPage expects to generate $1 billion in revenue this year. It's targeting $1.5 billion by 2022.
Glover, a big bluegrass fan who says she makes a mean bourbon-pecan pie, grew up in the Arkansas countryside. She came to Texas to attend Southern Methodist University, where she graduated magna cum laude with a degree in computer science—the first in her family to get a college education. Glover took things to the next level with an MBA from Harvard. Post-post-grad, she began her career in consulting, mostly for tech clients at McKinsey. She then rolled off to start her own firm, working for private equity and venture capital firms with the intent of owning or operating one of the businesses she would evaluate for them. Glover did that until 2004, when she was recommended to RealPage Founder and CEO Steve Winn. He was in the process of buying a small company that would become the utilities division at RealPage, and recruited Glover to make the acquisition go through.
"He said, 'If this works out, maybe you could run it. And if it doesn't work out, then I've had help doing an acquisition,'" Glover recalls.
At the time, she was six months pregnant. She told Winn the deal would need to go through quickly for everything to work. Winn told her not to worry, saying, "Oh, it's going to be done in a month."
The deal was not done in a month.
Glover crafted a 100-day integration plan; she accomplished it in a little under 90 days. "I just basically used my due date as the integration date," she says. Whenever people would try to put her off, Glover would point to her growing belly. "As I got bigger and bigger, people began to take it more and more seriously," she says with a laugh. "It was a fantastic negotiation tactic."
Glover executed the acquisition, and joined RealPage as the head of the utilities division in early 2005. Before long, she was working her way up the ranks. By the time of the company's IPO, she was overseeing multifamily operations. A year later, Winn tapped Glover to integrate a host of companies RealPage had acquired between 2009 and 2011. She fortified sales and marketing operations to create a unified product offering to bring to customers.
But the pace took its toll. Feeling the need for a break, Glover hired and trained her replacement in 2013 and took a sabbatical to spend time with her three children and run her own real estate business. It didn't take long before Winn began trying to woo her back. He was ready for RealPage to get even bigger, and trusted Glover to make it happen. He shared with her his goal to make RealPage a $1 billion company by 2020. This got Glover excited, and in August of 2016, she rejoined RealPage as its chief revenue officer.
Two years later, Glover was named to her current post, where she plays an integral role in crafting and executing RealPage's strategic goals. With its 2020 revenue goal likely to be accomplished a year early, RealPage has set its sights on $1.5 billion by 2022, along with new product targets and continued forays into global markets.
The long-range planning, the vision casting, the puzzle piece-placing—it's pretty heady stuff. But Glover learned from her first job as a commercial construction site cleaner that these big picture items are built upon exacting attention to detail. At RealPage, she regularly wanders the floors of the office and listens in on customer service calls or checks on the flow of day-to-day operations. The goal of her in-the-trenches leadership style is continual improvement: "When there's a thousand points of interaction with a resident or a customer, we're having to look at those thousand points of interaction and say, 'What can we do to remove the friction in all of them?'"
And as companies continue to be brought under the RealPage banner, Glover is the one tasked with integration. She has created a merger bible, and her team continues to add to it with each new acquisition.
"We are not perfect," she says. "My goal is to be better than the last time. Every time we do a deal, I say, 'We're going to do it better than the last time we did it.'"