From D CEO May 2018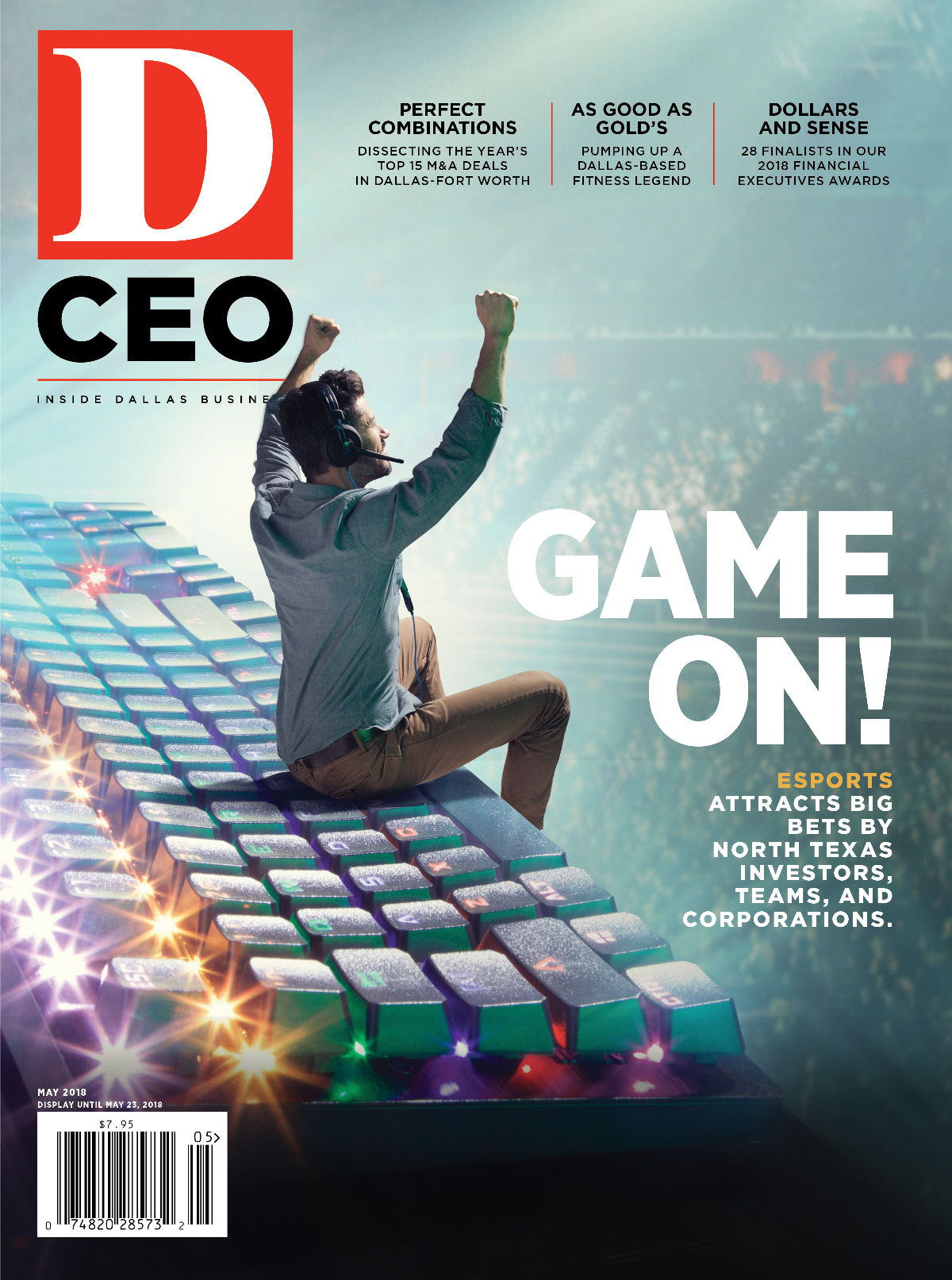 Subscribe
Michael Stitt, CEO of Haggar Clothing Co., has been fascinated with Asia, and particularly with the developing world, since college. After earning an MBA from York University's Schulich School of Business in 1991, he spent six months backpacking through Indonesia, Nepal, China, and Thailand, living on $6 a day.
I'm sitting with Stitt, who's wearing a dark blue J.M. Haggar suit, at Dover's Grille in the Omni Dallas Hotel, not far from Haggar's headquarters. We're at a booth so big that I have to scoot closer to hear his travel tales.
"Trekking in the Himalayas was probably the highlight of my life," he says.
We both order Southwest Salads. Later, Stitt tells me he eats lunch at his desk about 95 percent of the time—and that, he concedes, might be a generous estimate.
While we tuck into our lunch, the topic of aging is on Stitt's mind (though he wouldn't disclose how old he is). He extolls the anti-aging benefits of exercise. He knows quite a bit about blue zones—geographic areas where people live a long time—and is quick to recommend "Younger Next Year" by Chris Crowley, a book that claims to help readers "turn back" their biological clocks.
"Innovation over the last four years has resulted in guys buying more pants, more frequently."
When Stitt came back from his backpacking trip in the '90s, he still wasn't sure what to do with his life, but he knew he wanted to spend more time in Asia. He decided to pursue a career in the apparel industry, hoping it would give him the chance to travel overseas. He started out in Toronto, where he worked for a clothing company called Mister Leonard. When Mister Leonard closed, Stitt was approached by Joe Haggar III of Haggar Clothing Co. Stitt wound up heading the company's Canadian division until 2012, when he moved to Dallas to become its CEO.
Over the last two years, Haggar has had the greatest department store market share gain—from 10 to 12 percent­—in men's non-denim pants. Right now, Stitt tells me, Haggar has the top-selling dress pant—the E-CLO, a pant made from recycled plastic bottles. "It's incredibly comfortable," he says. "And so far, we've saved 130 million plastic bottles from landfill sites by turning them into pants and suits."
Innovation has been at the heart of Haggar Clothing Co. since its founding in 1926. (The Haggar family sold the company in 2005, and it's now owned by Taiwan-based shoe corporation Pou Chen.) Haggar's history is dotted with many first-to-markets, from pre-cuffed pants to washable dress pants. Stitt stresses the importance of continuing that precedent of innovation, and points to developments like comfort waistbands and stretch fabrics—the latter of which now account for about 98 percent of Haggar's product offerings. These days, he says, dress pants and suits lean closer toward athletic wear in terms of comfort.
"If you're a guy who's been wearing rigid fabrics your whole life, and you try a comfort stretch fabric with a comfort waistband—you can't go back," Stitt says. "Innovation over the last four years has resulted in guys buying more pants, more frequently." Haggar sells a pair of pants in America every three seconds, Stitt tells me.
And as for his fascination with Asia, Stitt tells me he's just come home from his 60th trip there. "It's interesting how things play out when you follow your passion," he says.
Get the D CEO Newsletter
Stay up to speed on DFW's fast-moving business community with weekly news reports, interviews, and insights.