Rick Matros sounded irritated. The chief executive of Sabra Health Care REIT Inc., a publicly-traded real estate investment trust, had spent much of this Q2 earnings call in August discussing a single troubled property: the Frisco outpost of the Dallas-based Forest Park Medical Center luxury hospital chain, whose operators hadn't paid Sabra any rent in eight months. 
As an anchor of the fast-growing suburb's shiny Frisco Square development, the hospital occupies one of North Texas' most enviable commercial addresses. Millions of dollars were spent adding spa-like touches throughout, in an effort to decrease patient anxiety before surgery. The facility is imbued with the scent of fresh linens, thanks to some HVAC trickery. A 40-foot wide fountain outside spews water 15 feet into the air. A sculpture hangs from the second floor down into its lobby. But this upscale investment was looking more and more like a bust for Sabra. 
"As we're spending all this time discussing it, you just want to be rid of the whole damn thing, right?" Matros muttered. In all, the Irvine, California-based landlord had deferred $4.6 million in rent as of August. When Sabra spent about $120 million to acquire Forest Park Frisco in 2013, it structured the payments to recoup about $13.3 million in revenue each year with an initial "yield on cash" rent of 8.75 percent.
Nearly two years later, that plan wasn't working out. And, Sabra wasn't the only outfit Forest Park Frisco owed money to. By September, the Frisco CEO, Julie Camp, testified during a Collin County court hearing that the facility owed creditors more than $14 million. The operators had long pleaded with Matros to hang tight, but it was evident they were struggling to find a lender to finance the money to help make them square. For Sabra, the hospital amounts to a crumb left on a dinner plate; the REIT counts 172 properties in its portfolio, and Frisco is responsible for less than 2 percent of its annual revenue. So, cutting and running wouldn't cause a major financial hit. 
Sabra had already run into a similar problem at Forest Park's Dallas hospital, to which the REIT had loaned $110 million to refinance its mortgage. In Dallas, lenders had filed blanket liens against the facility's equipment until the entire loan was paid off. Matros said this stalled some financing that would get more money into the operations and free up capital to pay down deferred operating expenses. Now, the same thing was happening in Frisco. The management company secured a loan for the hospital, but the lender put the money in escrow pending lien releases on debt-free equipment. Officials couldn't pay off the equipment debts, though, so the financing fell through. Once again, Forest Park wasn't able to come up with the cash. 
"Whether there's something else going on or not that they're not being candid with us about, that may be the case," Matros said. "So, we're kind of over it. We're tired of waiting, and we're tired of listening to what they have to say."  A little later in the call, though, Matros let slip an interesting aside: Even with the money stress and all that deferred rent, he still saw potential in the Forest Park hospitals. "These things have been really undermanaged," he said. "And there really is upside." 
The "upside" Matros was referring to is the idea itself. Physicians own stakes in the Forest Park hospitals, and federal law blocks doctor-owned facilities from caring for Medicare or Medicaid patients even if they wanted to (though many inside Forest Park say they would if they could). That means they're shielded from those programs' notoriously low reimbursement rates. 
The 6-year-old Forest Park brand sprouted in high-income, highly insured ZIP codes, often in or near mixed-use developments. Each hospital has talented doctors who not only get to practice in these upscale environs, but also to run things themselves. The model has persuaded physicians to invest their own money into shares worth up to $250,000 for Forest Park facilities in Dallas, Southlake, Frisco, Fort Worth, San Antonio, Austin, and in a suburb of Kansas City, Kansas.
Those last three locations are also gumming up Forest Park's business. San Antonio's lender threatened foreclosure in September and again in October. In mid-October, the management company closed the doors there and laid off 139 employees. The Austin hospital is sitting empty. And Kansas City's physicians have filed a lawsuit in court seeking to answer one simple question: Where has all our money gone?

In late September, about six weeks after that earnings call, Matros' irritation was substantiated. Forest Park Medical Center at Frisco, now owing its landlord $8.5 million, filed for Chapter 11 bankruptcy protection.  Court testimony this summer made clear that many of the chain's hospitals were having issues generating revenue. Forest Park, which had grown so rapidly, was now very publicly fighting for its life. 
Tired of Inefficiencies
The idea for Forest Park came up around 2007. Drs. Richard Toussaint, an anesthesiologist, and Wade Barker, a bariatric surgeon, were tired of the bureaucracy and inefficiencies they'd seen firsthand at other hospitals. So they decided to build their own. They envisioned a surgical sanctuary with top-of-the-line equipment in spacious operating rooms staffed with more nurses than their competitors. They planned to model the amenities after a Ritz-Carlton hotel—plenty of natural light, hardwood floors wherever possible, original art, the scent of freshly washed sheets in common areas, a cafeteria with a chef who cooks fresh meals. And, most important, the caregivers would run it—not administrators who had never practiced medicine. 
Ear, nose, and throat specialist Dr. J. Robert Wyatt soon signed on, eventually becoming the system's chief medical officer. Next came Dr. David Genecov, a plastic surgeon. These four became the founding physicians of Forest Park. (None responded to requests for comment for this article.)  Each hospital is an independent entity, registered with the Texas Secretary of State as separate limited liability corporations. But the real estate and operations were handled by affiliated firms created by the founding physicians.
To run the hospitals, the owners established Vibrant Healthcare Management LLC, which would be led by longtime healthcare executive Alan Beauchamp and consultant Wilton "Mac" Burt. To control cash flow and group operations, the owners created FPMC Services LLC, to which each hospital pays a monthly fee to retain. The services FPMC provides—general counsel, payroll, vendor relations, and so on—are shared between the facilities.
To build the hospitals and serve as landlord, the owners created the Neal Richards Group LLC, plucking a rising young real estate developer named Derrick Evers from The Staubach Co. to head it. The founders didn't want to limit their investments to healthcare, either, so they created a private equity firm alongside veteran investment consultant Todd Furniss, calling it glendonTodd Capital. They even formed a movie production company helmed by former WFAA Channel 8 movie critic Gary Cogill. (Lascaux Films ceased operations late last year.) 
"We're tired of waiting, and we're tired of listening to what they have to say."

Rick Matros
Forest Park opened its first of several hospitals in Dallas, just south of LBJ Freeway near North Central Expressway, in 2009. Physicians had the chance to invest either in the operations (the tenant) of the hospitals, in the real estate (landlord) side, or in both. According to court documents and multiple sources familiar with Forest Park's business model, the operating company sliced the shares three ways for investments. Ten percent of the shares were reserved for current investors in Forest Park's original Dallas location, while 20 percent were set aside for the members of the management company. The remaining 70 percent were open to outside investors—most of whom were physicians. All would receive returns, according to the business model, so long as the hospitals were operating and paying rent. (The hospital boards can vote on whether to modify this distribution; in Austin, for instance, minutes of a board meeting show that its managers added another 100 shares for physician investors, bringing their ownership stake up to 74 percent.) 
The facilities each cost roughly $100 million, after equipment, a parking garage, and a medical office building. Dallas was a quick success; officials said it hit capacity within three months, and it expanded just two years after opening. The managing partners then surged into Frisco, Southlake, and Fort Worth before drumming up interest as well in San Antonio and greater Austin. 
They also filed paperwork to create limited liability corporations for planned hospitals in The Woodlands, Phoenix, Tulsa, and Kansas City, Kansas. This web grew so vast that Wyatt, testifying in court, was unable to recall once being a manager at one of the LLCs—until an attorney showed him a document filed with the Texas Secretary of State that had his name on it.
In April 2012, Evers, the head of Neal Richards Group, began promoting a growth plan called "12×12," calling for 12 new Forest Park locations by December of that year. Furniss told D CEO that he hoped glendonTodd, the private equity firm, would be "the capital partner for 20 or 30 of these centers west of the Mississippi River."
"What drew us to it? Well, it was a facility that would be primarily owned by local physicians, and it would be run by the local physicians," says Dr. Bryan Kansas, an Austin investor and chairman-elect of Forest Park Austin's governing board. "We got frustrated by the local large hospitals because we have absolutely no voice." 
But, Kansas' conversation with D CEO in July didn't go much further: "I'm going to have to direct you to talk to our lead attorney," he said. 
Allegations of Fraud
"When you think about the role of an entrepreneur and a visionary, what has to happen?" asks Todd Furniss from the headquarters of glendonTodd Capital, 15 floors above Cedar Springs Road in Uptown. "You're much like the pied piper, going down the path, playing your lute, and bringing in whomever you can along the way." 
This was near the end of May, about a week after the Department of Justice unsealed an indictment against Toussaint, one of the Forest Park founding physicians. The 17 DOJ counts were tied to his standalone practice, Ascendant Anesthesia. But the alleged fraud had occurred at Forest Park Dallas as well as at another unaffiliated facility, Doctor's Hospital at White Rock Lake. The 11-page indictment argued that Toussaint bilked Blue Cross Blue Shield of Texas, United Healthcare, and the Federal Employees Health Benefits Program for more than $5 million over 18 months in 2009 and 2010.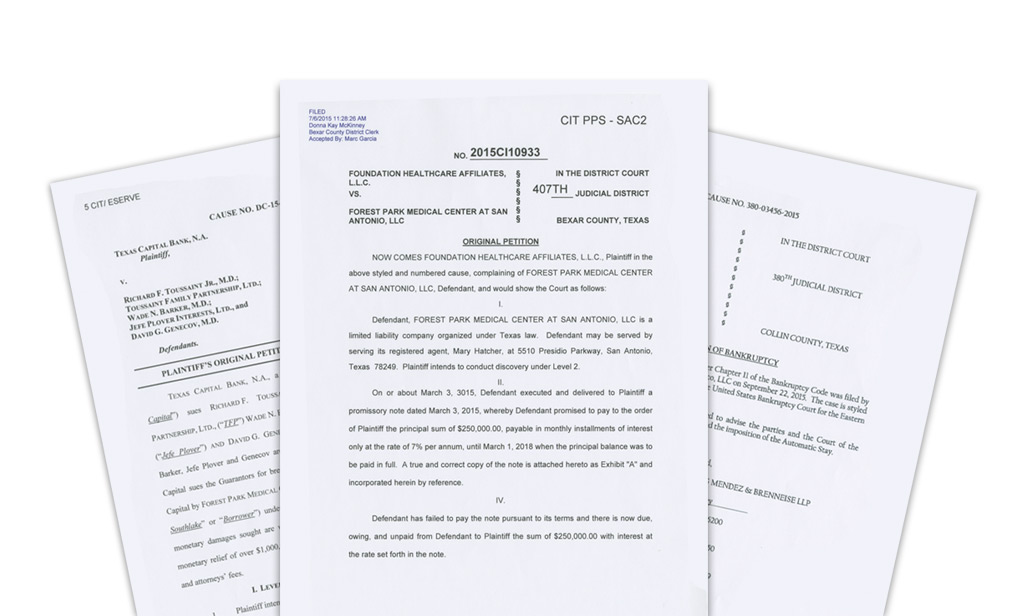 The feds accused Toussaint of charging for services rendered while he was actually under anesthesia undergoing surgery himself. At other times, they alleged, he was on a private jet, in another state, or in another hospital a few miles away. If convicted, the feds want eight of his cars, which include two McLarens and two Rolls Royce Ghosts. (Toussaint has pleaded not guilty. His lawyer, Richard Roper, did not respond to repeated requests for comment.)
Toussaint had not been affiliated with Neal Richards Group since late 2014, when the managing partners voted to remove him as a manager and stripped him of his say (he retained his economic interests, however). Barker, one of the founding partners, broke the news to Touissant at Starbucks in Highland Park Village one Sunday afternoon, multiple people familiar with the meeting say. He was removed as a manager with Vibrant earlier this year. Toussaint's case remains the highest-profile controversy at Forest Park since its opening, but it's not the only one. 
There also was Cynthia Bledsoe, the former COO of Baylor Medical Center at Frisco, and her husband, Michael Bledsoe, who stand accused in federal court of taking confidential patient information and trade secrets from previous jobs at Baylor over to Forest Park Frisco. Then there was the September 2013 settlement with the Department of Justice over allegations that Forest Park doctors got kickbacks for referring patients covered by the military insurance program known as Tricare. (It's against the law for physician-owned hospitals to bill federal insurance programs.) 
In lieu of criminal charges, Forest Park paid the feds about $260,000 and agreed to open its books for two full years. Many speculate that this is how the DOJ got the evidence it needed to indict Toussaint. And, the feds had full access to the company's operations through September. In January, Forest Park reached another civil settlement with the DOJ worth about $215,000 to resolve other allegations that it paid doctors for seeing Department of Labor employees who were injured on the job.
Furniss, however, contends that this period of black marks is over. "You have some people who are in it for mercenary purposes and others for missionary purposes, right? What I would say is that the Forest Park culture has already evolved from what I would call, in the early stages, as mercenary, to the current stage, which is missionary—people who believe in the mission of Forest Park," he says. "I think if you really dove into that, you'd see the magnitude of the change there." 
He has a point. Companies can come back from controversy. They walk away from their bad actors and continue on with their business. But it's harder to overcome a litany of financial obstacles that affect a company's bottom line and its ability to secure financing. If, going by Furniss' logic, Forest Park has indeed leaped past what he describes as one-off scandals, he's still having to deal with the fallout from myriad private skirmishes that were being waged behind closed doors—some that he took part in himself. And only now are they beginning to be revealed. The Sabra earnings call, for example, slightly opened a window to reveal the big picture: The money was gone, the management was questionable, the business model was cracking. 
Court records and internal emails obtained by D CEO show a culture of near-chaos and dysfunction among Forest Park's various leadership arms. Behind-the-scenes maneuvering resulted in a major shakeup that lasted through the spring and into the summer. In March, Barker bought out Burt and Beauchamp's ownership pieces in Vibrant. By May, Evers and his team—Nick Summerville, chief operating officer; Lee White, general counsel; and Harry Lake, chief investment officer—were out at Neal Richards Group. By July, they were replaced. And on March 17, to lead a reformation of the management of Forest Park's hospitals, the owners named Todd Furniss chairman of the new Management Company At Forest Park Medical Center. 
'This Game is On!'
For healthcare companies, selling real estate to a REIT can be a low-risk way to quickly raise money and pass off the maintenance requirements that come with owning buildings. So the Neal Richards Group began courting outside REITs to invest and take over some of the hospitals. Emails from September 2012 show Forest Park principals bristling when one suitor, Carter Validus Mission Critical REIT, linked up with competitor Walnut Hill Medical Center in Dallas: "This straight pisses me off given how much time and info they sucked out of us," wrote Lake, the chief investment officer, about the Carter Validus REIT. "Get your jersey, because this game is on!"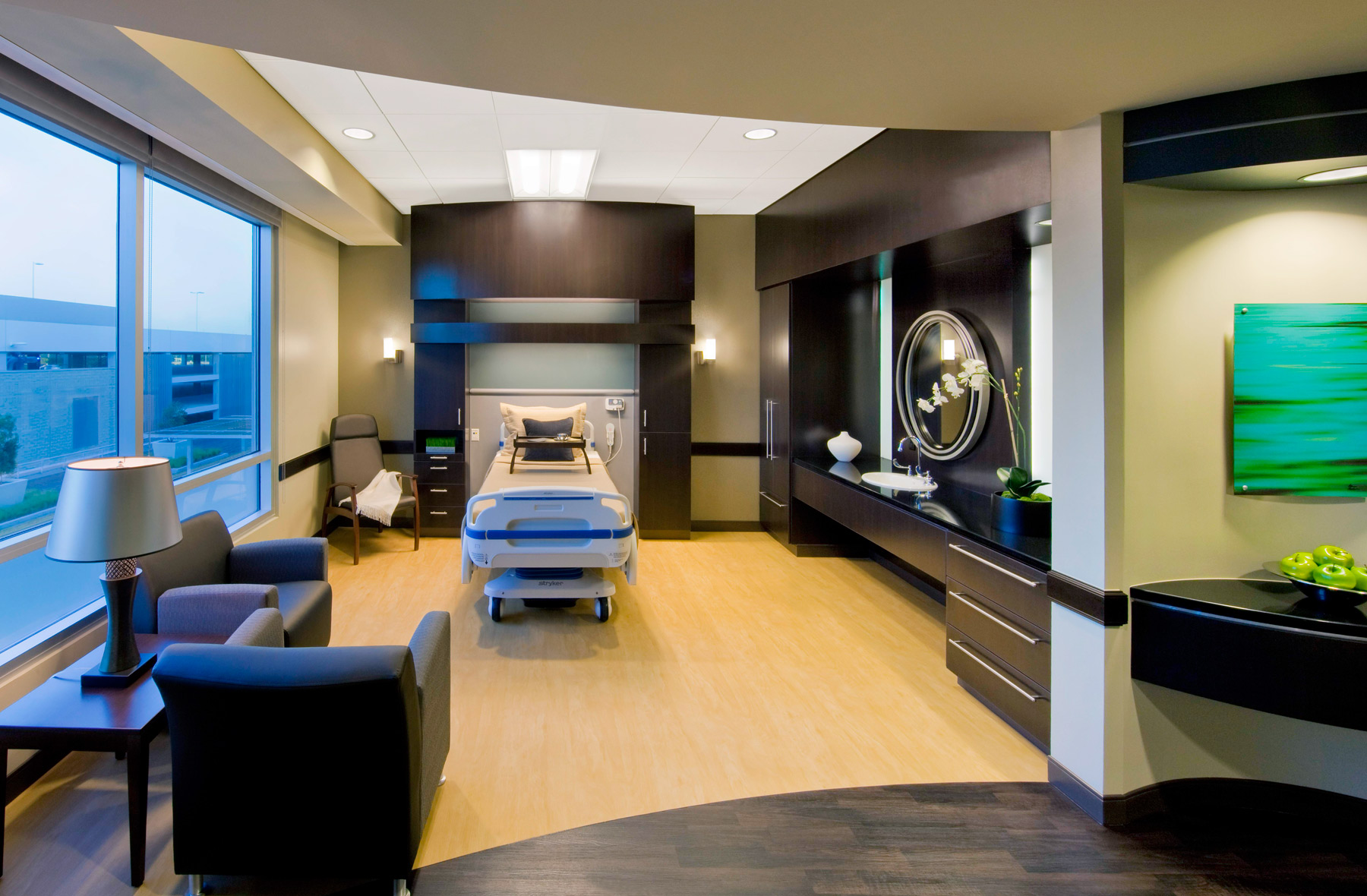 They'd have to wait about a year: Sabra signed on in September 2013, offering the Fort Worth hospital a construction loan for $66.8 million. A month later, the REIT announced a $119.8 million deal to buy the Frisco facility.The contract also provided Forest Park with a $110 million mortgage loan and included a provision to allow Sabra to purchase the hospital later, once its finances were stabilized. In November 2014, Forest Park got another bite: Griffin American Healthcare REIT spent $128 million acquiring Southlake. 

"They said we couldn't get the doctors, that we couldn't get financing, that we couldn't monetize our assets, that we'd never open our doors," Evers told D CEO last year. "This was the last step to prove that we could do it. It was a final stamp of approval, and it created tremendous buzz." 

However, some of the partners and the individual hospital boards had quietly grown unsettled with Vibrant. Many of the hospitals were struggling with their managed care contracts. Forest Park had succeeded in its early days as an "out-of-network" provider, which meant it was able to charge more than standard insurance reimbursement rates. They weren't the only game in town running this strategy, though, and the insurance companies caught on. The payers began steering procedures to hospitals that were already "in-network," forcing Forest Park to shift its strategy and gain approvals as an in-network provider, which would mean lower reimbursement rates. This obviously affected revenue, and Vibrant apparently hadn't adequately planned for the change. 
"They said we couldn't get the doctors, that we couldn't get financing, that we couldn't monetize our assets, that we'd never open our doors."

Derrick Evers
In September, for example, San Antonio was only in-network for about half of the payers in the market, Furniss estimates. He also says this is why Frisco collapsed in on itself—each week, its CEO testified, it was seeing between 60 and 100 total patients. But it was designed to see many times that many patients once it was fully staffed (which it wasn't yet).

Revenue at the hospitals had taken a hit long before these public problems, though. In July 2014, Forest Park Dallas presented a proposal to Neal Richards Group asking it to defer rent payments for between 18 and 24 months. In January, Sabra began deferring Frisco's rent payments. In March, the Fort Worth hospital also missed paying rent. Its CEO, Jim Davis, emailed Summerville with NRG, saying, "We have no ability to pay the rent at this time. 
"We are now in-network with BCBS, and our final carrier (United) will be in place March 15th," he wrote. "Our volumes are starting to increase. I'm hopeful that it is not to [sic] late." 
As recently as this March, emails show that Wyatt and Genecov, two of the founding physicians, had joined Neal Richards Group in support of finding another company to manage the hospitals. First, though, they'd need to get the Vibrant managers to agree to a buyout, and they'd need to convince each hospital's governing board and the other founding physicians to go along with the plan. 

Texas Capital Bank, the emails note, brought forth the most likely new management candidate: Oklahoma City's Foundation HealthCare, a publicly traded medical operating company that managed three surgical hospitals, 10 surgery centers, and dozens of sleep centers. Its CEO, Stanton Nelson, had been making trips to Dallas, playing golf and sharing meals with various officials of the Neal Richards Group. They were convinced that Foundation would be better at managing the supply chain, generating economies of scale, and building relationships to negotiate improved managed care contracts. Under Vibrant, each hospital had a unique tax code, meaning they were unable to negotiate reimbursements as a group. This gave them little leverage once they were pushed in-network. 
By December, White had begun drafting a letter of intent for Foundation, the emails show. But, Barker wasn't ready to sign onto the plan. He'd been shoving millions of his own dollars into keeping the hospitals' doors open. Too, there were questions about Foundation's bottom line. Would he be paid back if another company took over? Furniss, as the head then only of the private equity arm, had another idea. He wanted to secure a bridge loan from a Toronto-based firm called Callidus Capital, which promotes a strategy of "enabling our clients to weather the turmoil of growth and recovery." 
Callidus' business model appears built around helping struggling companies to regain their footing. But the terms are risky. Its loans can be called on demand, and usually carry interest rates hovering near 15 percent. Furniss and Barker didn't want to give up managing the hospitals; they felt this capital infusion would keep the doors open and block an outside company from taking over operations. The loans, their thinking went, would help the various Forest Park facilities chip away at operational debts. After all, they needed to stay open in order to generate revenue—if a facility can't pay its vendors, then it can't purchase what the doctors need to operate on patients. 
Sabra may have been the most significant player in swaying the Forest Park Frisco board to walk away from engaging Foundation in the hospital's operations. In March, one of Furniss' analysts emailed Sabra a number of documents that Foundation had filed with the Securities and Exchange Commission. The documents expressed various risk factors like this one, noted as a concern in Foundation's S-1 filing: "We will require significant amounts of additional financing to execute our business plan and fund our other liquidity needs, raising substantial doubts about our ability to continue as a going concern." 
Harold Andrews, Sabra's CFO, took note, commenting in an email, "Some of these look like boiler plate risk factors and some conclusions don't make sense. However, some require a good answer and does [sic] raise some doubt about their ability to provide the capital infusion needed." 
Nelson, Foundation's CEO, addressed each concern point-by-point in another email. But it was too late. Whatever happened, Frisco needed money—and fast. In March, the emails show Sabra executives traveled to Frisco to speak during a board meeting. Foundation reportedly didn't manage to sell enough securities to raise money for Forest Park's operational expenses, the board was told. That deal was dead. Frisco's board of managers voted to pursue the Callidus loan. 
But Neal Richards Group continued talking with Foundation. In March, the emails show that Lake began speaking with a bankruptcy attorney from Los Angeles that he knew. In late April, Stanton and Evers ping-ponged back and forth a strategy to get a management contract approved. According to the emails, Texas Capital Bank was on board as well. But by May, Evers, White, Summerville, and Lake had been removed from Neal Richards. Furniss assumed control. 
The Missing $700,000
At the Collin County Courthouse on a Monday afternoon in September, Forest Park Frisco's CEO, Julie Camp, sat in the witness stand and fielded questions from a trio of attorneys representing about a dozen physicians in Kansas City. The physicians had bitten on the Forest Park Kansas City investment proposal, putting up about $4 million that presumably would have yielded their own upscale hospital to practice in and run. But the Forest Park managers, for whatever reason, had reneged on their end of the bargain; they didn't fund their roughly 20 percent of the shares in the hospital. The doctors voted to walk away—and they wanted their money back. 
A Kansas judge had previously frozen about $2 million of their investment in an operational account while the case played out in court. But $700,000 was missing. Wyatt, one of the founders, and Camp, the lawyers later discovered, had both signed off on a $500,000 "loan" from the Kansas City funds ahead of the Callidus financing, which would have totaled nearly $10 million. Wyatt argued that they needed it to make payroll. There was precedent: The Dallas and Southlake hospitals had entered into a similar agreement, and the debt was quickly repaid. Wyatt testified that he expected the same result at Frisco. The physician investors later said they had not been consulted about this use of their money. 
The $500,000 Frisco loan is "something I definitely would not have done."

John Dragovits
In the end, the Callidus loan came with conditions that weren't able to be satisfied. So the money remained out of reach—and the ramifications were tremendous. Texas Capital Bank froze the Frisco hospital's accounts in September, requiring officials to ask permission before making any withdrawals. Camp testified that the account balances were "negligible" anyhow; one was negative, and the other had only a few thousand dollars in it. Frisco couldn't pay back any of that loan immediately, she said, and, if it tried, it would have to close. Camp said the facility's board had approved moving forward with bankruptcy proceedings. The hospital's LLC filed for Chapter 11 protection the next day in the U.S. Bankruptcy Court for the Eastern District of Texas.
John Dragovits, the now-former CEO of the new Management Company at Forest Park, testified that the problem extended beyond Frisco, if on a lesser scale. San Antonio is "not doing as well as we'd like," and Fort Worth and Southlake "could be doing better," he said. About a month after his testimony, San Antonio shuttered. And the former CFO for the Parkland Health and Hospital System also had strong words for Wyatt and Camp regarding the $500,000 Frisco loan: "It was something I definitely would not have done," he said. (Dragovits resigned as CEO of the Management Company at Forest Park Medical Center in October.) 
That line of thinking is emblematic of Forest Park's biggest obstacle. Many of the decision-makers seem to have conflicting visions of the best way to move forward. And these conflicting visions have triggered ousters and combative meetings, arbitration, and litigation. Texas Capital Bank has sued Barker, Toussaint, and Genecov, seeking guaranties related to loans provided for Southlake and San Antonio. (Genecov is only named in the Southlake lawsuit.) 
The Austin hospital was supposed to open last year. It was delayed to the first quarter of 2015, then to the summer, and now to the end of the year—maybe. The lead contractor, Richardson's Adolfson & Peterson Construction Inc., and its subcontractors placed 20 liens on the property beginning in May, around the time the shakeup occurred with Evers and his team. By September, they all got paid. 
Corbett Nichter, who heads up Adolfson & Peterson's Gulf States region, credits Furniss, glendonTodd CFO and Chief Compliance Officer Mary Hatcher, and Frost Bank with getting them into the black without having to go into bankruptcy. Furniss still throws barbs at Evers and his partners over this: "They, for one reason or another, were unable or unwilling to solve the problem, or they just didn't have the acumen to solve the problem." 
Evers, for his part, throws the barbs right back: "The primary reason the Austin hospital does not already have a Certificate of Occupancy is the management company for Forest Park fell woefully short on its obligation to secure equipment and working capital financing," he said in a statement. "The absence of this critical financing prevented our team from completing the building, and ultimately resulted in the continuing delay in opening the hospital. Our understanding is that financing is still not in place."
Nevertheless, Forest Park and the retooled Neal Richards Group have begun moving forward with a sale of both the Austin and San Antonio facilities, similar to their moves in Frisco and Southlake. However, the management company will also wipe its hands of the operations in Austin, reaching a deal with the investors that will allow the doctors there to bless the new management company.
Meanwhile, the facility there just sits, perched between Austin and Round Rock on the northern tip of 59 acres of prime real estate. Next to it is a medical office building, and behind that is a five-story garage—then a field of tangled grass and weeds. The patient rooms, framed behind a three-story wall of glass, stare out across the Texas State Highway 45 toll road at the mixed-use La Frontera development. To the east, apartment homes are marching like soldiers onto the holdouts along FM 1325 near the hospital: auto mechanics and tire shops and car dealers. 
All summer Forest Park sat there, holding its place while the people who controlled its fate angled back and forth. A frequent presence was a 20-something security guard, who would park his Ford Focus under the awning of the hospital and stare out at the empty parking lot, watching for anyone who might approach.

Get the D CEO Newsletter
Stay up to speed on DFW's fast-moving business community with weekly news reports, interviews, and insights.