Khan's eagerness to learn led to his promotion as assistant manager at the club, which relocated to a large house next to the ambassador's residence after a mob, hearing false rumors that Americans had attacked a sacred shrine in Mecca, burned down the embassy compound in 1979. Before he took advantage of his green card, Khan married an Austrian diplomat. Two years later, with visa in hand, he flew to Los Angeles to start a new life in advance of his wife's posting there. 
Confident that his club experience and glowing references would land him a management position, Khan was in for a rude awakening. He discovered that his résumé counted for nothing in California. When a large Church's franchise group rejected him, he angered the personnel manager by asking what he had done wrong so that he wouldn't make the same mistake at his next job interview. Instead of replying, the man threw him out in a torrent of profanity. A few years later the same manager would be answering to Kahn, who graciously kept the man on. 
The only work the 33-year-old Khan could find was doing kitchen cleanup, at $3.25 an hour, for Los Angeles-based Kalnex Foods, which owned a number of Church's Chicken franchises. A middle-class Asian might see this as a humiliating comedown. Khan saw it as an opportunity. The entry-level job gave Khan insights into the fast-food business and, somehow, the confidence that he could make it in America. 
His diplomat wife didn't share his vision, and was plainly horrified. The thought of an Austrian consular official married to a dishwasher prompted her to order Khan to quit his job. They could live comfortably on her salary alone, she argued. But, pride wouldn't let him live off his wife's wages. "I know I can succeed here," he recalls telling her. "I understand how this works. Give me six months, and I'll be making more money than you." 
She wouldn't, and was posted back to Vienna soon afterward. Khan refused to follow her and their young son, and they divorced. (He met his current wife, Hilda, an immigrant from Guatemala, while in California.)
•  •  •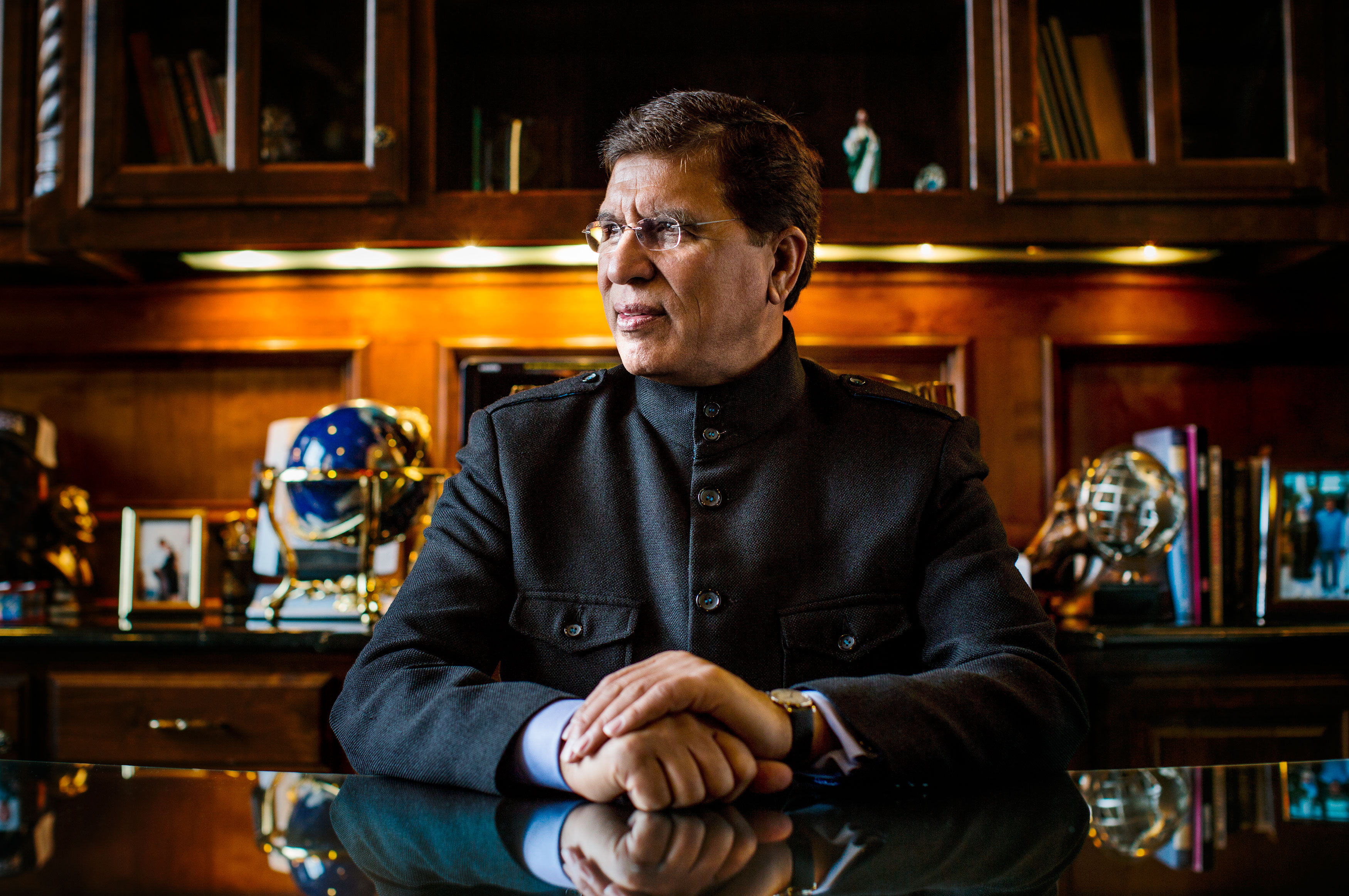 Khan's rise at Kalnex was meteoric. The day he was dispatched to a failing store as a newly minted assistant manager, the company fired its general manager and gave him the top position. He had gone from scrubbing deep fryers to store manager in three months. After turning the store around, he was made a regional manager, then a marketing director, a vice president and, finally, the company's chief operating officer.
Kamran Habeeb, who was regional manager of Church's corporate-owned stores in San Diego, watched Khan work his magic. At one struggling store, Khan distributed flyers with coupons, put out banners and new window signs, and tried a risky, untried strategy: If the food wasn't handed over in 45 seconds, the meal was free.
The offer brought in a crush of new customers. "Employees were stressed and the store lost money, but it created a lot of awareness," Habeeb says. "The store was saved, operations became more efficient because of the time pressure, workers got more hours, and the manager and assistant managers got bonuses."
Imran, a colleague from those days, recalls promotional events that Khan, though new to America, dreamed up to draw Southern Californians to under-performing restaurants. There was the store visit by "the world's tallest man," for example, and the party Khan threw in a Church's parking lot with staff dressed in cheerleader outfits and gyrating to music provided by a DJ. Khan learned to lower costs by matching inventory with sales. "Watch the cash" became his mantra. As for dealing with subordinates, Khan says he did just the opposite of what he saw overbearing bosses do during his youth in Pakistan. "He never, ever showed his anger to any of us," Imran says. And he recalls seeing Khan take a ranking manager aside for verbally abusing a subordinate, saying, "If you don't like a person, you don't have to disrespect him."
Kalnex, however, was struggling to cover the mounting costs of its owner's far-flung investments, including an ill-conceived chicken processing plant in India. The company was teetering near collapse, Habeeb recalls. Khan, who by then had been poached by a rival KFC franchise group with 20 stores, fashioned a deal to resurrect the collapsing chain. In 1997, Khan struck a deal with an Atlanta-based company, Best American Hospitality, to buy the Church's stores owned by Kalnex and make him the entity's chief operating officer. By 2000, Kahn says, the group went from losing $1 million a year to making $3 million.
The success made Khan the go-to person whenever a Church's franchise group ran into trouble. But Khan wanted a share of equity and to be his own boss. The opportunity to do that came when a large Church's franchise group based in Atlanta began flirting with bankruptcy. Its bank and Church's headquarters asked Khan to take over its 100 stores, mainly in the Midwest. The lender offered to roll over the loan but refused to extend more capital. 
"It was very clear what I needed to do, because I had just had three years' experience with a bankrupt company," Khan says. He rejected the proposal, saying: "How can I turn it around if I can't fix up the restaurants?" Instead, he approached Sentinel Capital Partners, a New York private equity firm, asking for $8.3 million that would give Sentinel a 60 percent stake in Khan's new company, Falcon Holdings. He didn't invest a nickel of his own. 
Sentinel soon found that the chain was in worse shape than expected. "It was a colossal mess," a principal partner, John McCormack recalled when I spoke to him a few years ago. "They were flying blind. No systems and controls. The financial statements were suspect. There was a lot of theft. On top of that, headquarters were in Atlanta—far from any of its stores near Chicago and Detroit. It made no sense. It was a money-losing operation."
So given such problems, why did Sentinel go ahead with the deal? "It was a bet on Aslam," McCormack said. "Basically, he orchestrated the purchase of those units." But it was hardly blind trust. Sentinel carried out an intensive background investigation. "Everything he said about himself checked out," McCormack told me.
"Aslam shows restaurant workers how to become businessmen," says John McCormack, a principal partner with Sentinel Capital. "First they learn to run one store, then five, then 10, then 30 stores. You can go as high as you want with Aslam."
The man who had worked himself up from pot scrubber, remaking himself again and again, was now transforming a chain that would be the cornerstone of his rise as an American entrepreneur. "Aslam went in there and cleaned it all up, hired a controller, and infused his discipline and philosophies into the business," McCormack went on. "He's a very high-energy, charismatic guy. He shows restaurant workers how to become businessmen. First they learn how to run one store, then five, then 10, then 30 stores. You can go as high as you want with Aslam."
A key to the chain's success, Khan contends, is his bonus system, still unusual in the trade. Some chains don't pay their managers any performance bonuses. Those that do mainly pay them annually or quarterly. Khan's scheme pays bonuses every 28 days, so the incentives are far more timely. Oyster, the former Jack in the Box executive, says he himself has instituted monthly bonuses for his managers, but stresses that they remain rare in the trade.
"It's very effective," says Imran, Khan's Pakistani colleague. "If you achieve at least a 36 percent profit margin and sell more, you make 10 percent of whatever incremental increase in sales" there is. Khalid Habash, Falcon's president, says the bonus is paid 14 days after each 30-day performance period, and it's unlimited: "We've got managers getting 120 percent of their salary." But 15 to 25 percent extra in good times is more common. From assistant managers all the way up to his own position, Habash says, bonuses are based on the performance of store managers. Managers start counting on the payments, and that keeps them working hard, he says.
But Falcon's growth hasn't always been consistent. In fact, the Great Recession stalled revenues, Khan says: "I was just happy to break even [after] paying the rent." Falcon did not resort to layoffs but reduced general and administrative spending 1 percent by, among other things, redeploying staff at the store level, he says.
Last year, things improved. "We're up now, by a single digit, about 3.5 percent" for the past 12 months, Khan said this winter. "The last three years were tough years—for any restaurant company."
And, there are more challenges ahead. Khan says his firm, like others, hasn't figured out how it will deal with Obamacare. Salaried employees are now covered. "We don't know what will be the endgame with this," he says. "We're talking with each other. There are seminars." 
Then there is the media-savvy campaign for a "living wage" being conducted by groups like Fast Food Forward that have targeted chains such as McDonald's and Church's with street protests. They cite studies showing that many hourly workers depend on food stamps and other welfare programs, which in effect means taxpayers are subsidizing Falcon and its rivals.
The Southlake entrepreneur called the group's $15-an-hour demand unrealistic, predicting that a federally mandated minimum wage would not go beyond $10. Which wouldn't necessarily be bad news, on two counts. Falcon could easily live with that, he says, because many of its workers already are paid about that amount. Moreover, if other workers got bumped up to $10 an hour, maybe they'd spend $4 more when they dine at a Church's, he adds.
But Khan, once a teen who fended for himself, dismisses suggestions that the Fast Food Forward campaign is exposing embarrassing truths about his industry. Fast-food jobs offer real social mobility, he says, stressing that "hard workers could become managers and district managers—even owners like me." 
It's hard to argue with living proof like Aslam Khan. 
Get the D CEO Newsletter
Stay up to speed on DFW's fast-moving business community with weekly news reports, interviews, and insights.