At the age of 14, Aslam Khan slipped away from Fatehabad, leaving behind the verdant but grievously impoverished hamlet in northwest Pakistan with nothing but the clothes on his back and five rupees, or less than 50 cents. 
For years, he would live by his wits in the cities of Multan and Rawalpindi. He was a fast-moving "tea boy" dispensing hot drinks at a roadside canteen or sweeping out a bake shop, eventually earning more keeping his illiterate boss's ledgers. He slept in back rooms with other street children in what could have been a scene out of the movie Slumdog Millionaire. He had heard of children being purposely maimed to become more effective beggars, or exploited sexually. "I was always cautious, always fearful," he recalls. But Khan never let himself be victimized, steered clear of trouble, and maneuvered to save his money and improve himself, becoming totally self-reliant. 
In 1980 I was frequently in the same room as Khan, but never knew him. He was a waiter, then the assistant manager at the U.S. Embassy Club in Islamabad, Pakistan's modern capital, where I was bureau chief for The Associated Press. The club was an oasis of good food and drink in a city that, under an Islamic military dictatorship, had few places to enjoy a cold beer or a glass of whiskey. 
A retired diplomat who had been the U.S. counsel general in Peshawar at the time of my posting had no recollection of Khan, when I told him over the phone awhile back that Khan had become a successful fried-chicken millionaire in North Texas. My friend hooted down the line from Vermont, insisting I had been taken in by a wily fantasist. A short time later, Khan shared snapshots of the Embassy Club in the early 1980s, depicting him smiling broadly with co-workers whom I recognized and its manager, whom I knew well. 
Khan showed me these photos at his nearly 10,000-square-foot home in a posh section of Southlake a few years ago, when I wrote about him for the Fort Worth Star-Telegram. I marveled at how far the sandaled teenager from the hills of Pakistan's rustic Khyber Pakthunkhwa Province had come. A mule track was the only way out of Fatehabad. The hamlet lacked running water and electricity. The bathroom was any handy bush. As a toddler, Khan danced naked around a fire to keep warm when his mother—who was to die at 35 after giving birth to nine children—scrubbed his one set of clothes. 
"Everyone in the village knew I was different—more observant, more talkative," recalls Khan, who figured out from books just how backward his village was. "I knew what I had in Fatehabad wasn't a life. I believe poverty is a man-made phenomenon. And if it's man-made, you can fix it." Escaping destitution became the driving force in his life: "I wouldn't have been a success if I didn't have a fear of poverty, a fear of failing. Americans can't imagine such poverty."   
Far from warming himself around a fire these days, Khan's trophy home in Southlake—valued by the county at $1.9 million, not including the lot he owns next door—has a zoned climate-control system. Today he dresses in expensive suits, drives a Lexus SUV, and is the owner of 185 Church's Chicken restaurants, 64 of them in Texas. These figures make Khan the brand's largest franchise holder. Last year, his Westlake-based Falcon Holdings LLC diversified into seafood, snapping up 44 Long John Silver's stores in Texas. He also is testing the "deli" waters, recently opening a Schlotzsky's in McAlester, Okla. In 2013 Falcon had about $200 million in revenue, including $40 million from the seafood stores. That was up from $150 million the year before.     
In Khan, who's now 58, one finds a quick-study—a self-educated, self-made person who grasps concepts on the first telling. But he's not a calculating numbers-cruncher. He exudes a warm, open demeanor. As a result, this graduate of Pakistan's mean streets found himself invited into the homes of senior diplomats, like the embassy couple that had him over for American-style barbeques, and later secured a green card for him. He didn't create every opportunity himself, but he grabbed the brass ring time and again when it flitted by. He figured out how to make it in the United States almost immediately, and he so well-adapted the persona of a successful executive that even close co-workers haven't quite grasped how he arrived at his business and social acumen. In doing so, Khan became a living embodiment of the American Dream.
•  •  •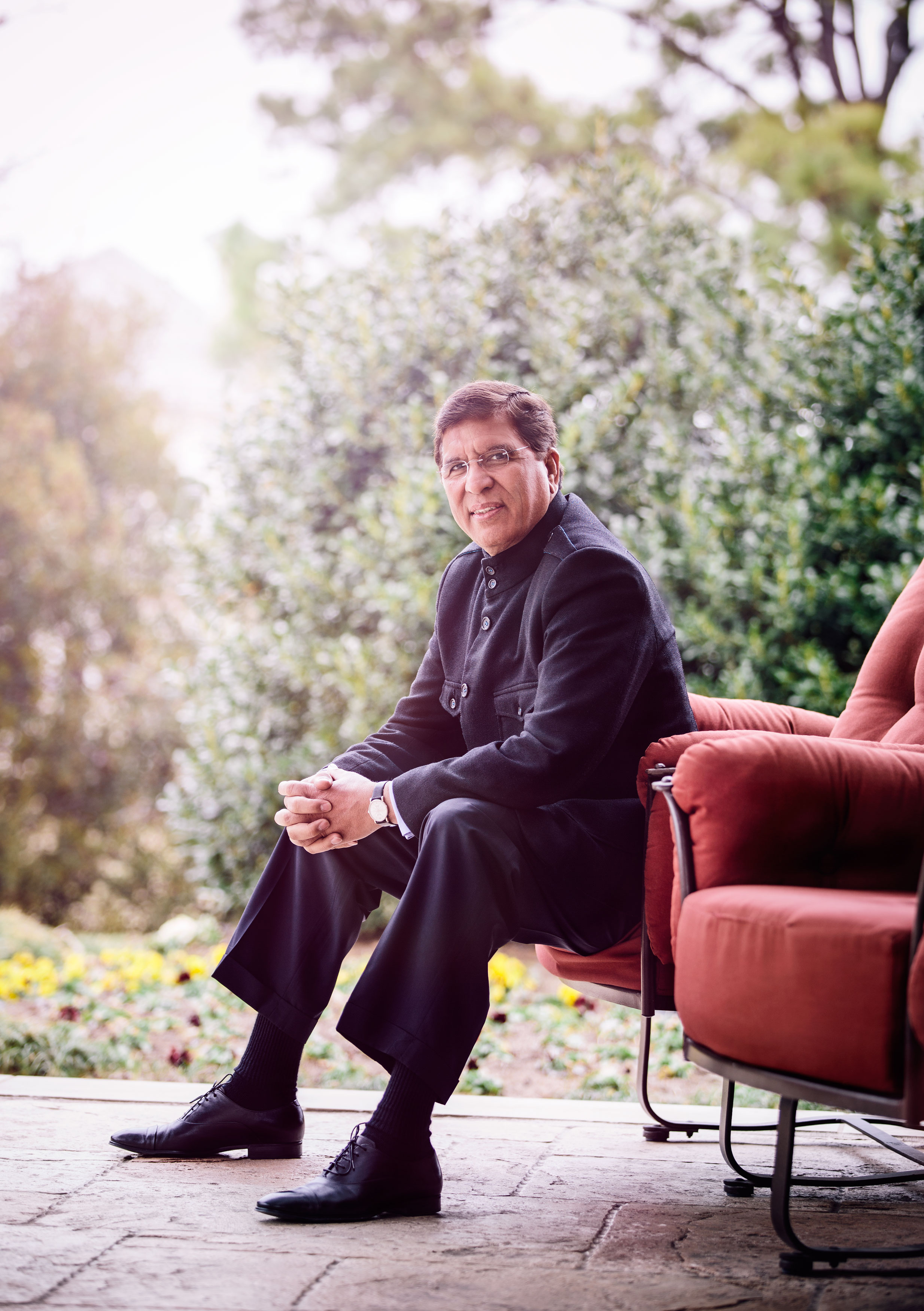 Syed Imran, a colleague of Khan's at Church's for decades who's now a partner in 11 Georgia stores, is similarly Pakistani-born, but from a middle-class Karachi family. Until we spoke in January, Imran was convinced that his friend and colleague of 20 years had earned a college degree. He even named the prestigious QuaidAzam University in Islamabad as Khan's alma mater. But Imran got the story wrong. 
The countrified Pashtun boy some four decades ago had not been taken seriously by the admissions staff at the Islamabad university. Instead, they haughtily dismissed him out of hand when he applied in person to secure a place, Khan recalls. When he mentioned attending MIT, an interviewer for a Pakistani TV company asked if he was talking about the revered institution in Cambridge, Mass. Khan explained that, no, he meant Church's in-house "manager-in-training" program—the first step on the ladder to success in his adopted homeland.
While he has won kudos in the quick-service segment of the restaurant world—framed trade-magazine covers depicting a proud Khan decorate his office suite's reception area—the story of this Pakistani-born entrepreneur's remarkable rise is not well-known. His name is familiar to the North Texas restaurant community, but only slightly.  "Everyone knows of him, but no one knows him," says Dallas-based Stephen "Duffy" Oyster, a former Jack in the Box executive who took Pancho's Mexican Buffet private, sold it to its store managers, and now is bringing his Austin-based Hula Hut concept to Little Elm this year.
Khan marvels that his 16-year-old son—who's about to get his first car—takes his comfortable lifestyle for granted. Khan's own adolescence in Pakistan was focused on basic survival skills. After relocating to Rawalpindi, an old British military cantonment town about 12 miles from Islamabad, he earned a diploma from an "inter college," roughly the equivalent of an American junior college. 
The week after QuaidAzam University refused to accept his application, Khan spotted a newspaper ad seeking wait staff at the Embassy Club. But he almost panicked when he eyed a long line of applicants eager to land the same low-level job. When his turn came, he unnerved the interviewer by leaning far over the man's desk. Asked why he didn't sit in his chair at a proper distance, Khan replied: "I need this job so much I can't afford to miss a single word." And he got it.
The club, part of the modernistic, walled embassy compound, not only became Khan's window on the world, but his advanced education as well. It was there that he learned how a Western operation functioned, and how Americans behaved in professional and social settings. The club was perhaps two hours away by bus from Fatehabad, his village, but worlds away in every other respect. "It was a godsend," he says.
Khan dated young female diplomats and staff from a number of countries who were attracted to this self-assured yet soft-spoken man with rugged good looks. Dating between 20-something Pakistanis was still rare at the time except for the wealthy, Westernized elite, and even among them carried out discreetly. Entertaining was done in large hotels or at private homes, as there were no bars or discos.
Get the D CEO Newsletter
Stay up to speed on DFW's fast-moving business community with weekly news reports, interviews, and insights.