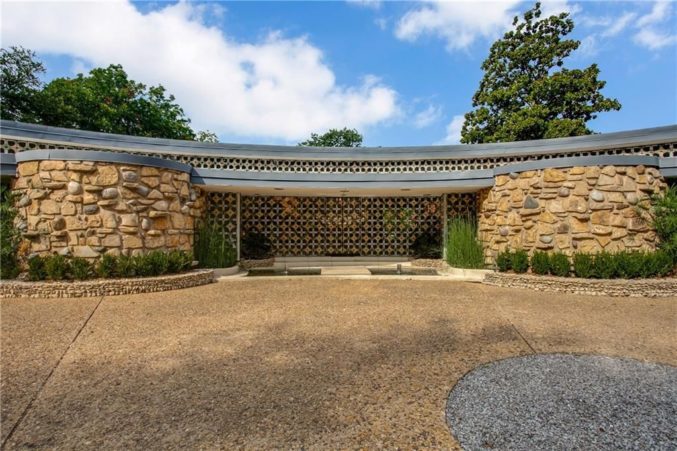 Hot Property: The Historic Round House in Jan Mar
The Mid-century gem is back on the market.
7507 Baxtershire Drive will make you feel things. Maybe those things feel like love things, if you're super into extravagant Mid-century architectural design that, apart from the tragic loss of a famed steel-dome motor court, is almost perfectly intact. Perhaps the things you're feeling feel overwhelming — not everyone is into this sort of Mad Men-meets-Dallas fever dream. But regardless of where you stand, it's always nice to feel things, especially when those things relate to Dallas architecture.
The Round House was reportedly designed by the late and greatly inventive Bruce Goff, and though that's never been confirmed, the theory does hold up. Goff was known for eclectic, whimsical designs with idiosyncratic floorplans that set him starkly apart from his more functional-minded contemporaries. He favored unconventional and natural materials. The Round House features a Byzantine glass mural, onyx terrazzo, and 24-karat gold tiles. There's a fantastic fireplace beneath a massive, domed skylight that somehow doesn't overwhelm the room. There's a small bedroom featuring a circular, Missoni-adorned bed surrounded by mirrors and a rock wall which also somehow works. The Jan Mar home certainly seems as though it would be Goff-approved.
But the best part about the wonderful Round House is the fact that, despite that poor dome, the property looks almost exactly the same as the day it was completed — after a casual six years — in 1962. Don't be afraid to catch feels.