Neighborhood Spotlight: Jan Mar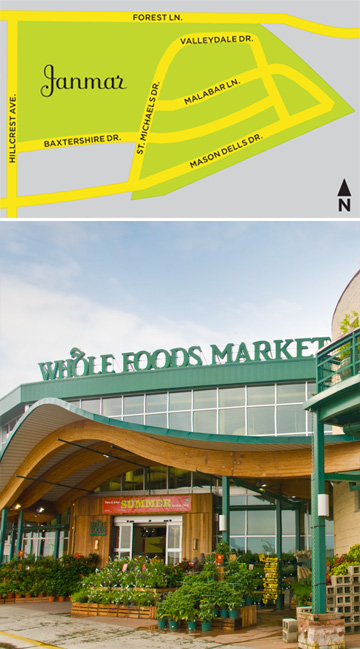 Established: 1953-1960
Location: South of Forest Lane (excluding El Hara Circle); west of The White Rock Creek easement; north of Mason Dells & Baxtershire drives; east of Hillcrest Avenue.
Population/Size: 200 homes
Average Home Price: $736,000
Lot Value: $500,000 to $1,000,000
Average Home Size: 3,500 square feet
Average Lot Size: Minimum lot size is one-third of an acre; many are one-half acre or larger.
Home Styles: Original 1950s- and 1960s-era ranches; mid-centuries (most thoughtfully remodeled); a few teardowns; new construction.
Why Jan Mar?
Cross Hillcrest Avenue to Janmar (named after the developer's daughters, Janet and Margaret), and you have hills, water, and Buffalo Creek, which flows to White Rock Lake. "It doesn't feel like any other part of the city," says Virginia Cook agent Kyle Rovinsky, who grew up south of Janmar on Yamini Drive.
Anne and Maynard Todd have lived on South Janmar Drive since 1963. Anne says that because of the creeks, the area is loaded with animals such as possums, coyotes, great horned owls, great blue herons, hawks, and even a bobcat.
Rather than leave, many residents opt to switch properties. But once a home is listed, things in Janmar really move. For example, Scott and Deanna Walker's remodeled Baxtershire Drive home was listed at $799,000. The home was under contract in less than 21 days.

Contemporary design also abounds here, the most notable including Dallas' famed Round House, completed in 1962 after six years of construction.
Who's Buying?
Parents interested in public schools—starting with award-winning Arthur Kramer Elementary. Bruce Wilke, president of the Hillcrest Forest Neighborhood Association, just watched his son graduate from Hillcrest High School with perfect SAT scores. The bright young lad is headed to Brown University in the fall. "Kids are beautifully educated here," Wilke says, "and we didn't have to pay private school tuition."
Local Haunts: Whole Foods, Chocolate Angel, Mercury Grill, Mi Cocina, Hillcrest High School, and private schools galore.