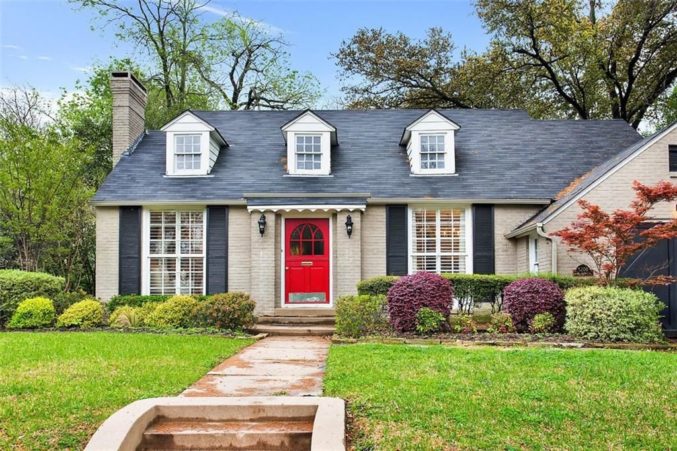 Hot Property: An Updated Dilbeck Cottage in Cochran Heights
A highlight in the hidden gem neighborhood.
I live just outside the boundaries of Cochran Heights, in one of the new, modern townhomes between Henderson Avenue and Fitzugh Street. It's a weird little corner of central Dallas, where your neighbors are usually a mix of subjectively unattractive apartment buildings, contemporary townhouses, or run-down bungalows in need of a paint job (at the very least).
It's a pretty walkable neighborhood too, although the sidewalks still need a little work (again, to say the least), but the walk gets noticeably more charming when you break through the borders of Cochran Heights. It's a pretty bizarre moment actually. The never-ending construction suddenly ceases. There are no massive, four-story buildings or sad piles of dirt in sight. You find yourself in a quiet, idyllic string of streets marked by mature trees and charming bungalows, many of which were designed in the 1930 and '40s by beloved architect Charles Dilbeck, known for his whimsical, romantic designs that could range from larger (but well-proportioned) estates in Highland Park to quirky little ivy-covered homes that so often topped our list of the 10 Most Beautiful Homes in Dallas.
And though not all historically significant Dilbeck homes throughout Dallas have survived the wrecking ball, the small community of Cochran Heights put in measures to protect the 200 or so homes that comprise the neighborhood. Of course, the nearly century-old homes do occasionally need an update, a perfect example of which can be found at one of my favorite homes to walk by, 5200 Milam Street.
Dilbeck's unique touch and architectural details, including decorative brickwork and an oversized fireplace, can still be found throughout 40s-era home, but a beautifully updated kitchen, new slate tile-lined sunroom, white marble-filled bathroom, and lots and *lots* of fresh white paint bring the classic cottage up to date.
And though the home only has one bathroom (but again, it's a seriously cool bathroom — two sinks!), being able to say you live in the Cochran Height's Dilbeck with the bright red door would certainly make up for that. I would know exactly which house you're talking about it.