Each year of the last decade, the editors of D Home have canvassed the city to bring you a list of "10 Most Beautiful Homes" that hopefully appeal to every taste. While on the road, we've spilled endless Diet Cokes due to sudden stops, exposed ourselves to the occasional McMansion, and risked looking like embarrassingly low-tech private investigators snapping photos with our iPhones. We do it all for you!
Ten years later, we've amassed quite the curb appeal collection (100 to be exact), and turned to readers to help us choose the actual "10 Most Beautiful Homes in Dallas." For three weeks, we put all of the 100 homes against one another in a randomized showdown competition. The results did not disappoint. We have Stanley Marcus' estate and multiple designs by the imaginative architect Charles Dilbeck, as well as the very first home constructed in Kessler Park. The majority of our winners are as historically significant as they are beautiful.
We've grouped them below, and added some more information about the 10 winners. We hope you enjoy!
*Editor's Note: The winners might look a little bit different from the final rankings seen during the competition. We chose the top 10 based on percentage of wins.
10. 4731 Wildwood Road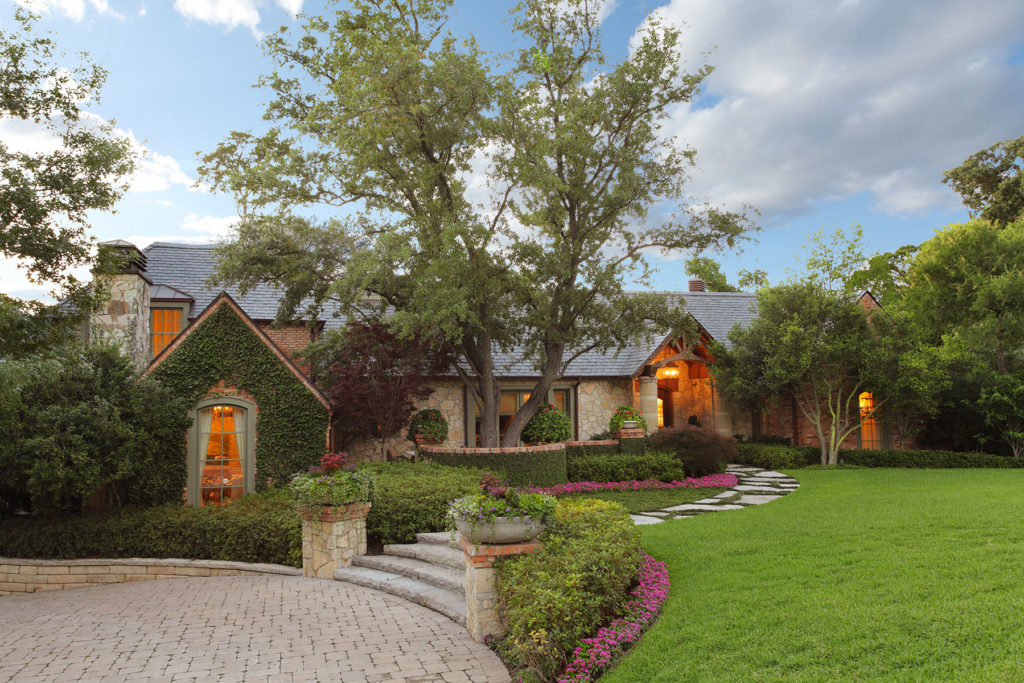 Year Built: 1935
Year Scouted: 2013
Neighborhood: Bluffview
Superlative: Most Likely to Inspire You to Plant Ivy
The first home on this list, designed by architect and master of whimsy Charles Dilbeck, could warm the toughest cynic's heart with its well-placed ivy and welcoming walkway. Inside, you'll find Dilbeck's trademark massive fireplaces, unique brickwork, and plenty of other cozy elements. For us, though, we'd be perfectly happy to park ourselves in that circular driveway and admire the view.
9. 1177 Laussanne Avenue
Year Built: 1925
Year Scouted: 2008
Neighborhood: North Oak Cliff
Superlative:  Most Likely to Make You Want a Fountain… and Lions
According to significanthomes.com, this was the first home built in the Kessler Park development, which is certainly something, but we also cherish this Oak Cliff manse as a perfect representation of an Italian Renaissance house. In fact, it's such a solid example of the style that we printed it in last year's architecture issue, citing its symmetrical façade and rounded arches. Unlike Craftsman and Tudor homes that are often found in large concentrations, Italian Renaissance homes often appear as a special jewel among other 20th-century styles. This lion-adorned beauty proves why.
8. 7030 Tokalon Drive
Year Built: 1941
Year Scouted: 2009
Neighborhood: Lakewood
Superlative: Most Likely to Play Host to "Game of Thrones" Viewing Parties
We once named Tokalon Drive the most beautiful street in Dallas, which we suppose makes this 4236-square-foot dwelling the most beautiful home on the most beautiful street in Dallas. Plus, it reminds us why turrets are actually totally cool and not just something that just gets thrown on a McMansion. All that's missing is a moat.
7. 101 N. Montclair Avenue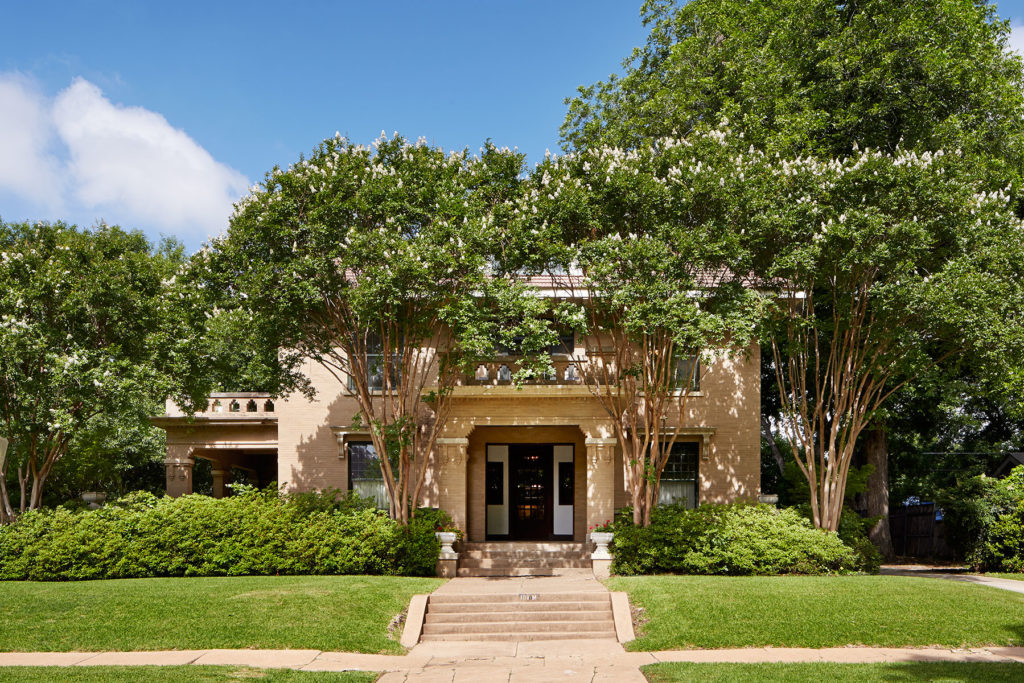 Year Built: 1912
Year Scouted: 2014
Neighborhood: North Oak Cliff
Superlative: Most Likely to Make You Grateful for Oak Cliff
Truth be told, a curbside photo can't really do this Winnetka Heights home justice. One of the few mansions lefts in the historic neighborhood, 101 N. Montclair Avenue actually has porches all the way around, boasts more than a century's worth of history under its belt, and is one of the two homes still standing built by Thomas S. Miller, one of the driving forces behind the development of the Winnetka Heights neighborhood.
 6. 6955 Lakewood Boulevard
Year Built: 1965
Year Scouted: 2013
Neighborhood: Lakewood
Superlative: Most Likely to Inspire a Trip to Santa Barbara
Now one of the most beautiful homes in Lakewood, this Spanish-influenced home wasn't always so stunning. The '60s-built abode got a major makeover in 2008 by Chad Dorsey and Kurt Bielawski of MORE Design + Build, who also lived in the house.
"When we bought the house, it was one of the ugliest on the entire street," Dorsey says. "We love traveling to Santa Barbara on vacations and realized it would be fun to do a more modern twist on Spanish in Lakewood, particularly on Lakewood Boulevard where there is such an assortment of classic Hutsells. We changed windows, roof heights, exterior materials and added balconies; nothing was left untouched. People often tell us that they appreciate the fact that the house fits in scale and styling with the street."
For a peek at the equally inspiring interior, head over to this article from a 2011 issue of D Home.
5. 10 Nonesuch Road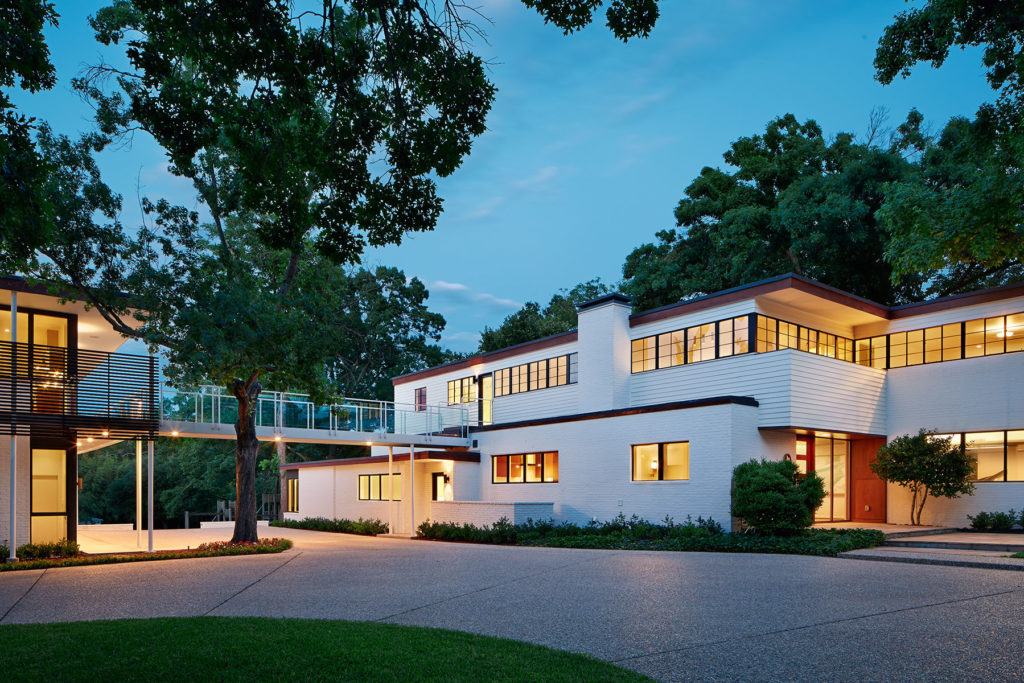 Year Built: 1937
Year Scouted: 2014
Neighborhood: Lakewood
Superlative:  Most Likely to Make You Reminisce About the Golden Age of Dallas Society
Perhaps the most storied home on this list, the Lakewood estate was built by Neiman Marcus founder Stanley Marcus in the 1930s, and served as the backdrop for some of Dallas' most glamorous parties through the '70s. Grace Kelly, James Dean, and Eleanor Roosevelt have all paid a visit.
When the home faced demolition after Marcus sold it in the 1990s, preservationists rallied together to save the structure. They successfully convinced the new owner to renovate instead of tear down, and the Dallas City Council voted to name the home a city landmark. And thank goodness. 10 Nonesuch Road represents everything good about Dallas — modern, classic, elegant.
4. 4303 Swiss Avenue
Year Built: 1921
Year Scouted: 2011
Neighborhood: Old East Dallas
Superlative: Most Likely to Invoke a Scarlet O'Hara Impression
There are two very important things you should know about this home. The first is that it's an absolutely perfect example of the Neoclassical style that dominated the antebellum era in the South at the start of the 20th century. The second is that this home is within walking distance of Taco Joint. Architectural significance and tacos, what more do you need?
 3. 4001 Turtle Creek Boulevard
Year Built: 1938
Year Scouted: 2016
Neighborhood: Oak Lawn
Superlative: Most Likely to Slow Traffic Along Turtle Creek
If you don't instantly identify this azure tile roof, you've never driven down Turtle Creek Boulevard (or seen the pilot for ABC's "Broken"). There's simply no other explanation for not having stared at and memorized this Moroccan-influenced Mediterranean.
Another home that almost faced a wrecking ball, 4001 Turtle Creek was saved when noted Dallas designer Susan Baten and her husband purchased it in 2007. The remodel included that blue roof and an all-white interior that you can catch glimpses of through the windows at night. Just please don't hold up traffic.
2. 5816 Swiss Avenue
Year Built: 1924
Year Scouted: 2016
Neighborhood: Old East Dallas
Superlative:  Most Likely to Make You Feel Warm Inside
With its friendly windows, steep-pitched roof, and perfectly-coifed window box, it's difficult not to be smitten by this gabled beauty in the Swiss Avenue Historic District. Originally built in the '20s by architect Marshall Barnett, the notable home has been carefully updated while maintaining its original stained glass, window awnings, and decorative plaster appliques. It's lovely. Plus, we get to reference the home's port cochere, and who doesn't love saying port cochere?
1. 1125 N. Canterbury Court
Year Built: 1937
Year Scouted: 2011
Neighborhood: North Oak Cliff
Superlative: Most Likely to Make You Forget You're in Dallas
Topping the list is another whimsical creation from architect Charles Dilbeck. Nestled in a charming Kessler Park cul-de-sac, the home also happens to be D Magazine president Christine Allison's absolute favorite.
"I love this house so much that I left my business card at the door and asked them if I could peek inside," Allison says. "The kindly owner at the time obliged, allowed me to tour, and I was wide-eyed with wonder at the child-like feel of the interiors. The scale is enchanting, the tile work, fixtures, and woodwork are all pure Dilbeck. And behind the house? A magical forest."
Need we say more?
SaveSave
SaveSave
SaveSave
SaveSave
SaveSave
Get the AtHome Newsletter
Enjoy Dallas' best trends, hot properties, and tips from local designers to help you nest in style delivered weekly.