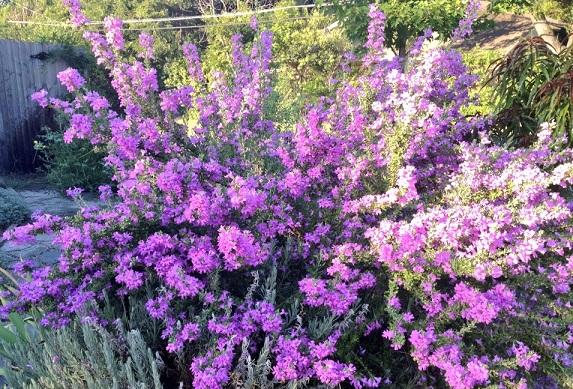 In The Garden: Bravo Texas Sage!
Use these beautiful blooms as an indicator that rain is coming our way.
A Texas sage that has burst into full bloom in July is a welcome sight, but not just because it's so beautiful. Texas sage is my favorite weather indicator plant. These tough Texas natives are adapted to come into bloom just before rainfall comes their way. That's why these blooms are always cause for celebration during the depths of summer. What triggers the emergence of flowers? Higher than normal humidity levels signal the plants it's time to flower and proliferate. They may also bloom after a bit of rain.
If you're working on creating a waterwise landscape that is better able to withstand periods of drought and watering restrictions, Texas sage is a must have. There are many varieties available with blooms in purple, lavender, pink, or white. A particular favorite of mine is called 'Rio Bravo'. This is a variety that grows slightly wider and puts on a heavy show of blooms when humidity levels spike.
You'll notice that the plant in this photo is not pruned into the shape of a meatball. It has been left to grow to it's mature size of about 5′ tall and wide, with a natural open form. It was planted in a space that would accommodate its mature size, thus no major pruning required. Unfortunately, I see Texas sage shrubs subjected to meatball-pruning all over the city. Buyers beware—when you continually shear this shrub, you miss out on the beautiful blooms that it's known for.
Plant this Texas native shrub in full sun locations with other waterwise plants such as autumn sage, ornamental grasses, nandina, rosemary and sedum.