Contemporary developers wouldn't attempt building Ross Perot Sr.'s headquarters today. Estimates put the unique Electronic Data Systems HQ in Plano's Legacy development at $900 per square foot if constructed today, significantly higher than even the glitziest commercial developments in North Texas. But what was once an impractical headquarters may soon be the beating heart of the only life science development in the country where one site can host a treatment's journey from discovery to delivery.
When planning the campus that would house his tech empire, design and construction professionals consistently told Perot that no one builds things the way he was requesting, or that he didn't need to do these that way. The ceilings didn't need to be that tall; the walls didn't need to be that thick; all the bells and whistles were unnecessary. Legend has it that Perot responded each time, "Thank you for your input, but this is what we are going to do."
It may have been impractical at the time, but NexPoint breathed new life into it with plans for a $4 billion redevelopment. Perhaps due to its unique attributes, the campus had been vacant for five years and owned by Hewlett Packard and DXC Technology prior to that. Perot was known for being a forward thinker and was often ahead of his time, and his design eccentricities were a perfect fit for the campus' future use: a biotech hub.
Last Month, Plano's zoning panel approved Nexpoint's redevelopment, which will eventually include 800 apartments, a hotel, and a biotech facility in the old EDS headquarters. The 200-acre development is called TxS District, which comprises and 1.6 million square feet of office space, including the EDS campus. NexPoint is a Dallas-based multi-billion alternative investment firm that purchased the main campus in 2018 and has been adding land over the years. The final version of the project will create 4 million square feet of lab, office, and therapeutic production space. The City Council is set to vote on the rezoning later this month.
But none of it would be possible unless the EDS headquarters building was suitable for a biotech development, which requires unique parameters to handle the essential utilities needed to run equipment and maintain appropriate lab space. But those involved with the project say it is almost as if the campus was built with this use in mind.
"We get calls from real estate owners who ask if they can reposition an asset for life sciences, and nine times out of 10, the answer is that they probably shouldn't," says Eric Danielson, director of business development for CRB, who is handling the redesign. "I honestly had that same assumption going out to Plano, and the first time we walked into that building, it was incredible. All of the physical attributes of a life sciences building were present."
The structural system was conducive to a modular lab layout. The clear height from floor to floor was tall enough to fit the mechanical, gas, water, and electric routing needed for a lab or manufacturing facility. There were 91 acres surrounding the building ripe for redevelopment and the creation of a life science ecosystem similar to that at Pegasus Park in Dallas. The price of land in North Texas provides convenient advantages compared to other regions. In many coastal biotech developments, the research and development happen in one place, but the cost of land means that manufacturing space gets pushed further away from research centers, creating a hassle in production and observation. The EDS headquarters and surrounding NexPoint development have enough space for both.
Danielson said the development has nearly been too good to be true, especially considering where the development will be. "We are dropping this life science ecosystem into the middle of Legacy Plano, one of the highest performing real estate real estate developments in the country," Danielson says. "The fact that we can drop this life science ecosystem into the middle of what's already there and not have to wait for it to grow up around it is an incredible opportunity."
Danielson wasn't there when EDS was originally being built, but NexPoint President Frank Zaccanelli worked with the Perot family many times over the years and recounted the story about how Perot's stubbornness has been a boon for the future of the building and NexPoint's redevelopment. "I would love to go back in time, the decision-making process with the design of this building," Danielson says. "Frank likes to say, 'It's like Ross was planning this project, even though he was just building out office space.'"
Pegasus Park Proving Ground
Danielson says the success of Pegasus Park has given the NexPoint team confidence about the project, especially in the life science world where the more extensive the ecosystem, the more everyone benefits. It is not quite a zero-sum game in this industry, as successful companies and developments bring in talent and investment dollars that benefit everyone else. The proverb holds true in this case: A rising tide lifts all boats.
At both Pegasus Park and TxS, the redevelopments maintain links to the past, preserving the EDS headquarters and Pegasus building, which was once the headquarters for ExxonMobil. In addition to a nod to the legacy, there are environmental benefits. "To reactivate these historic buildings is a great opportunity," Danielson says. "The other thing to acknowledge is that the most sustainable strategy for designing construction is to reuse an existing building. Rather than tear it down and build it back up, find a way to take all embedded carbon and repurpose it."
Built In Phases
Danielson says the project's first phase will be opening the space to the public with a park on the property's west side, which is part of Phase I. The rest of Phases I and II include transforming existing buildings on the main campus into 970,000 square feet of lab and office space and 120,000 square feet of amenity space. Other improvements will be an amphitheater and connectivity to nearby retail.
Future phases will include 776 multifamily residences, more office space, manufacturing space, and potentially a research hospital to complete the life science cycle from lab to patients. In addition to the main campus, NexPoint plans to develop two 22-acre sites and another 65-acre pad nearby. NexPoint seeks a public-private partnership with the city, county, and school district to fund the project.
Economic research firm The Perryman Group found that North Texas could benefit from more than $5 billion in gross product and more than 42,000 jobs when the development matures. With a development like this, collaboration is crucial in growing the companies and attracting capital for life science enterprises. "We felt like the ecosystem cluster model is critical to the translation of science and technologies into commercialization, and given the pent-up demand that we've seen in DFW, one of the critical components to any ecosystem is having some sense of scale," says JLL Vice President and Market Lead Ethan Garner, who heads the team tasked with leasing the development. "If we have developers willing to take the risk to do that, we will start to attract coastal migration in an asset class that we traditionally hadn't done in the past."
If the City Council vote goes as planned, NexPoint hopes to break ground and begin the building modification for phase one next month. Though there are parts of the campus that are ready for immediate office space activation, the goal is to have the first tenants move into the redesigned space during the first quarter of 2025. Garner says the development's versatility may be one-of-a-kind. "As best we can tell, there are no other soup-to-nuts facilities that take everything from the discovery process to the delivery process within one footprint. We feel like it's incredibly unique to this site."
Tenants will likely include a biotech incubator or accelerator and other companies further along in development, considering the onsite manufacturing capabilities. For the redevelopment team, it is all about biotech synergy. "That collaborative approach is going to be the way that we create the density for the life sciences in the region beyond what it is today," Danielson says. "It's exciting to see a community come together and put a shoulder behind this."
Get the D CEO Healthcare Newsletter
Stay informed with a detailed weekly report on DFW's evolving healthcare industry.
Author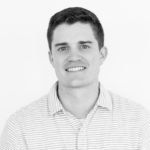 Will is the senior editor for D CEO magazine and the editor of D CEO Healthcare. He's written about healthcare…