Texas Sen. Nathan Johnson, D-Dallas, is on a mission to expand healthcare access in Texas while improving the state's coffers along the way. Studies from Texas economists show that expanding Medicaid coverage under the Affordable Care Act would improve the health of those without health insurance and save the state money it is currently spending to care for its uninsured residents.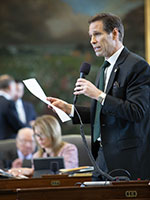 A pandemic-induced budget shortfall compounded with the nation's leading uninsured rate are ample kindling for those who want to expand coverage in the state. Texas is just one of 12 states that has yet to expand coverage. Johnson says his Live Well Texas plan would give insurance to around a million Texans and give the Legislature some more room in the budget.
"This is a completely non-partisan bill. It's not a Republican bill, and it is not a Democratic bill. This is a Texas bill," Johnson said at a press conference last week. "It has proven to increase not just public health but family financial stability. And that bleeds over into public education, and it bleeds over into racial equity, it bleeds over into job creation and economic productivity. It has been a big win for the nation, and we want to take part in that."
Johnson says this unites humanitarian and fiscal goals for the state. The plan would extend coverage to Texans who are not pregnant, elderly, disabled, or a parent who makes more than a couple hundred dollars a month, but lack the income to afford insurance on the Affordable Care Act's healthcare exchanges.
"Who might those people be?" Johnson asked Thursday. "It might be a home healthcare worker who earns $10 an hour for 2,000 hours a year and makes $20,000 with three kids at home. She can't possibly pay the $20,000 for insurance."  
The federal government would pick up a more significant share of the funding in the plan. The federal government currently pays 60 percent of Medicaid, but the new deal would have the government pick up 90 percent of the tab, and would terminate if that ratio changes. Much like the legislation implemented in conservative Indiana in 2015, Johnson's plan would include a health savings account where residents would contribute to their insurance. In Indiana, people always contribute to their accounts, Johnson said, sometimes more than they need. The plan would also include behavioral incentives to lose weight and stop smoking. "We're not just giving away free health care. We want people to have an agency in their own health and their own well being," Johnson said. 
The law would also bring about some flexibility to how Medicaid dollars are spent, allowing the money to address some of the social determinants of health such as transportation, housing, food insecurity, and food deserts. "We can use some of these public dollars to address things that affect health, where we can invest relatively small sums with huge payoffs down the road with people having better health and lower costs," Johnson said. 
In recent years, the issue has become a political football, with calls to avoid accepting more federal money currently winning out in the state legislature. The high price Texas pays for the uninsured has never been enough to change political will for Medicaid expansion. But if conservative leaders are looking to cut government spending, Johnson says this plan has an answer. "What about the cost? How do we pay for this stuff?" he asked. "That's really the amazing news. It actually isn't a cost. It's a benefit to the state."
Johnson cited a few studies that tout the economic boon Medicaid expansion would provide to the state, both via job creation and savings in healthcare costs downstream. An Episcopal Health Foundation report says the state would save $704 million each year if the expansion occurred. When more people have insurance, they can get consistent medical care and address issues before becoming severe and more expensive. Continuing necessary medication, regular check-ups, and guidance on lifestyle choices is much more affordable than years of dialysis, surgeries, or other expensive treatment further down the line. 
Healthcare and business voices joined with Johnson's efforts. Lack of insurance increases absenteeism for workers, impacting the ability of companies to operate. Employers also have rising insurance rates to deal with. "Hospital uncompensated care due to a lack of insurance approaches $27 billion a year in Texas," said North Dallas Chamber of Commerce CEO Ken Malcolmson at the press conference. "These costs are being shifted to the private sector in the form of higher insurance rates and expenses to the consumer."
DFW Hospital Council CEO Steve Love also spoke about hospitals' desires to improve the uninsured rates, for both health and financial reasons. He said that because of the fiscal and health-related gains, this should be a solvable issue. "If we can work together in a coalition as the Senator describes, where we bring in all stakeholders, and we set aside any differences and do what's best for the health of Texas, we will surely succeed," Love said. "Time is of the essence. We can't wait until February, and we can't wait until March of the legislative session to start working on this. We need to begin it now."
Texas' 87th legislative session begins January 12, 2021.
Get the D CEO Healthcare Newsletter
Stay informed with a detailed weekly report on DFW's evolving healthcare industry.