Crime AND Arrests Are Down in Dallas. Here's a must-read from Sharon Grigsby at the DMN. With help from the Childhood Poverty Action Lab, she lays out the surprising tale of how Dallas has managed to reduce crime while also arresting fewer people. There were 19 percent fewer arrests in 2022 than in the previous year; violent crimes were down for the second consecutive year. (But! The Dallas County Jail is nearing capacity because, in part, of backlogs in the courts.)
Tic-Tock of Southwest Debacle. If you had a Southwest flight cancelled on you over the holidays, then I offer you a trigger warning before you read this story that breaks down the mayhem in detail, hour by hour.
Oath Keepers Convicted. Four members of the group, including Roberto Minuta of Prosper, were convicted of seditious conspiracy yesterday. A sentencing date hasn't yet been set.
Dallas Unveils Coyote Map. The city has a new map for tracking coyote action. Join me in hazing those bastards.
We've Got Weather! From the National Weather Service in Fort Worth: "Widespread precipitation is expected today as a strong storm system moves overhead. Some of this precipitation will be in the form of snow, particularly along the Red River and the northwest portions of North Texas. The graphic indicates a timeline of expected precipitation at different points within the region."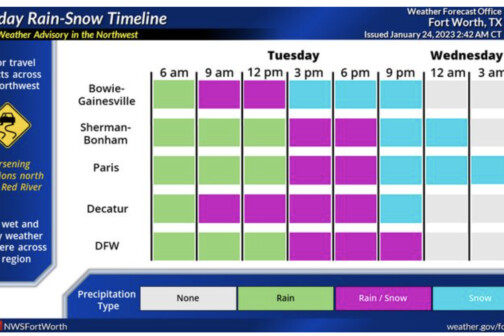 Get the D Brief Newsletter
Dallas' most important news stories of the week, delivered to your inbox each Sunday.
Author
Tim is the editor of D Magazine, where he has worked since 2001. He won a National Magazine Award in…