In the sunnier days of early October, I got an email from a man named Bryce Stewart, who offices out of KPMG Plaza on Ross Avenue, a block or so north of Pearl.
"You should check out the intersection at Ross and Pearl," he wrote. "Then just look east/west down Ross from there and see how the Chase tower construction is forcing people to walk in the street and dodge traffic. I own and operate my own business in the KPMG building and I am thinking of leaving downtown due to this."
That intersection, which isn't far from D Magazine's office, is part of a patchwork of major construction projects along the Ross Avenue corridor. Virtually all of them are making it more difficult get around on two feet. There's the Chase Tower plaza renovation, which stretches out from the 55-story building to Ross Avenue. There's the re-do of Trammell Crow Center's front door. There's the new-build, mixed-use high rise across the street. There's also the forthcoming 28-story Hall Arts condo building and hotel, at Ross and Leonard.
The result is a mess of closed or disappearing sidewalks, shrunken lanes, and confusion, for both drivers and walkers. At rush hour, officer workers pour out into the streets as drivers look to zoom out of downtown as quick as they can. Stewart, who runs a four-person CPA shop out of an office in developer Craig Hall's KPMG Plaza, watches pedestrians get forced into the street at crowded Pearl because of the Chase Tower construction.
"My employees don't park in the building. They park on the east side of Chase Tower, where all those parking lots are," he says. "They have to somehow cross the street, dodge traffic, all sorts of fun stuff. My lease isn't up until the end of February, so I can't do anything until then. But it's gotten extremely frustrating; it's just a never-ending thing."
Let's take a brief tour of the Ross Avenue corridor, starting with Chase Tower. Here is Stewart's view.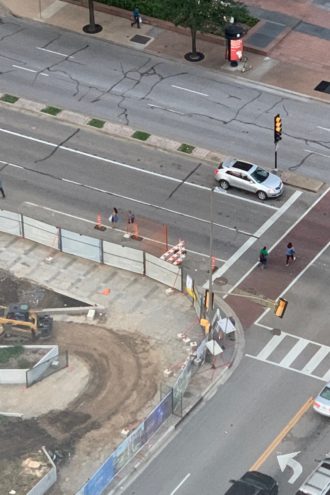 Here's what it's like to walk it.
Turn the corner to face Pearl, and you'll likely see some variation of this:
I guess you can argue that the construction stuff gives pedestrians a bit of a buffer, but how do you think they got within that area to begin with? By walking into traffic. Let's pick on Trammell Crow's new tower a bit. It's right across the street. There used to be some scaffolding here, which still allowed access to the sidewalk. But no more.
It's a mess all around the thing. Here is what you see at San Jacinto and Harwood, about a block from where we were.
This one's tricky too. It disappeared the sidewalk along the northern edge of Harwood and the eastern border of San Jacinto. Too, that part of San Jacinto is now used as a construction entrance. Those sad orange traffic cones are haphazardly stuck in the middle of the lane, further condensing traffic. Here's a better view:
It's hell to walk. If you take to the sidewalk on the western edge of San Jacinto, you're also in hitting range of the cars zipping out of the parking garage. The onus for safety is again put on the pedestrian. Look, we get it. These towers are aging, and the fight to attract tenants often comes down to amenities and whatnot. There's also opportunity to make some money selling condos and hotel rooms. That's part of a vibrant downtown. But is it that hard to consider how your construction affects the public right of ways? Are there any good neighbors left on Ross Avenue?
May I present you the Cathedral Guadalupe, across from Chase Tower at Ross and Pearl, which is undergoing some construction of its own. Let's look at the difference here.
"I was on the phone with clients going, 'oh shit, oh shit,' seeing people on scooters almost get hit by cars, seeing pedestrians not have a place to stand as they wait for the light to change," Stewart said. "What can I do? We love downtown, but this whole issue is putting a bad taste in our mouth."
---
Get the D Brief Newsletter
Dallas' most important news stories of the week, delivered to your inbox each Sunday.