After Decades-Old Felonies Got Park Board Member Canned, Some Call For Changing City's Code
The city won't let individuals with two or more felonies serve on a board or commission.
Last year's ouster of an outspoken member of the Parks Board has spurred an effort from activists and some councilmembers to scrub a rule that bars any individual who has been convicted of two or more felonies from serving on a board or a commission.
In 2015, Councilmember Casey Thomas, of southern Dallas' District 3, appointed Marlon Rollins to serve on the Park and Recreation Board, which oversees the parks department. He passed a pair of background checks, in 2015 and again in 2017, but The Dallas Morning News in December uncovered a pair of felonies for robbery and forgery from decades ago. The city's bylaws are clear: "…an appointee to a board must … not have been finally convicted of two or more felony offenses for which the person has not been pardoned or otherwise released from the resulting disabilities."
The city secretary promptly removed Rollins from his appointed position, which alerted some of the council to the provision's existence.
"If individuals have repaid their debt to society and they were convicted of a felony so many years ago, I believe that these individuals need to have an opportunity to serve on boards just like anyone else," says Councilmember Scott Griggs, who represents North Oak Cliff.
Rollins' time on the Parks Board was marked by his hard questions about how the State Fair of Texas spent its money. He was one of five on the board to get up and walk out in protest of a deal to hand management of Fair Park to a private entity run by former Hunt Oil executive Walt Humann. This context, combined with his abrupt ouster after two years on the board, fueled conspiracy theories about why someone went and dug up his background. There were also questions raised about where he lived, which included a voting record from Arlington.
As for why he passed a pair of background checks on different occasions—Griggs says it's because the city charter and the city's application for board applicants don't sync up. (Correction here: Originally, the piece said the application asked whether the applicant had been convicted of a felony in the last seven years. That was incorrect—it asks whether they've ever been convicted. Rollins, as The News' Tristan Hallman pointed out, answered "No.")
"Our vendor will do a background check based on the guidelines on the form were," Griggs says. "There was a disconnect between our form and what we were asking people and what the rule was."
So, like any City Hall intrigue, there's a healthy mix of politics and general confusion. Those who have spoken in support of changing the rule, including District 14's Philip Kingston and District 7's Kevin Felder, insist they're just doing what's right.
"It is absolutely a response to Marlon Rollins," Kingston said. "But we have all these rules that were set up by previous councils that prevent us from doing the right thing. It's really frustrating. Why isn't the rule simply that if council wants to appoint someone to a board or commission it can do so? Do we not feel like we have good enough judgment to figure this out?"
Even County Commissioner John Wiley Price has expressed his support for reinstating Rollins. On Wednesday, he sent a letter to Thomas, suggesting to the councilman that "leadership is not a vocation of acquiescence and assimilation to the status quo."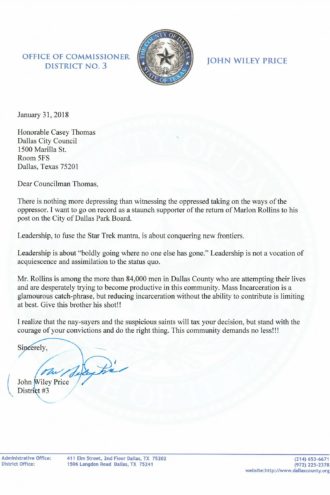 "Mr. Rollins is among the more than 84,000 men in Dallas County who are attempting their lives and are desperately trying to become productive in this community," Price's letter reads. "Mass Incarceration is a glamourous (sic) catch-phrase, but reducing incarceration without the ability to contribute is limiting at best. Give this brother his shot!!"
The push to change the code reignites the conversation of how we treat the men and women who are released from prison. In Austin, an ex-offender is suing to run for council. Current Texas law requires individuals to have been "released from the resulting disabilities" of their sentence, which is vague and subjectively worded—apparently, the Texas secretary of state interprets that to mean a pardon.
The stakes aren't as high here. But activists say the gist is the same: Barring these people from any sort of public service sends a message that they'll be marked forever, despite having served their sentence.
"Serving on a Dallas board or commission is no fun," Kingston says. "These are volunteer jobs for people who care about the city."
A number of local nonprofits have lined up behind changing the rule, including Unlocking Doors, which helps integrate ex-offenders into society, and Miles of Freedom, another reintegration nonprofit started by the exoneree Richard Miles. Rev. Omar Jahwar, the community activist and pastor at Kingdom Worship and Restoration Church, said he was also alerted to the ordinance by Rollins' removal.
"Don't let this become another level of disenfranchisement for people who are trying to get back on their feet and become citizens," Jahwar said. "You should not be held hostage forever because of what you were doing when you were young."
Others on the council did not respond to messages requesting comment or, like Mayor Mike Rawlings, said they didn't have enough information to chat about changing the rule. Thomas, who appointed Rollins, wouldn't comment. Jahwar said he spoke with Thomas after Rollins was removed; the councilman promised to look at the existing ordinance.
"I think this was a red herring," says Felder, the councilman for southeast Dallas. "They just wanted to find something on this guy because he was outspoken and they did find it. Short answer: I would be in support of that memorandum and to change the process so no one else has to endure this."
In recent years, Republicans and Democrats alike have begun exploring criminal justice reform. Years of tough-on-crime policies coincided with building more jails to house more offenders. In 2010, Texas had 173,000 prisoners in its holding cells, a jump of 346 percent over 20 years. The Washington Post, in 2014, used Texas as a sort of model for the country, and not for why you think. By 2007, the cost to house the increase in prisoners was sitting at half a billion dollars. The legislature decided something had to change. And three legislators figured out a plan forward, establishing treatment programs and diversionary options that judges and district attorneys could deploy.
Today, according to the Texas Tribune, the state houses 142,040 inmates. (The incarceration rate is still high enough to get Texas in the nation's 10 highest.) Texas has actually closed jails. And each year, about 14,000 ex-offenders wind up in North Texas, according to data from Unlocking Doors.
"When you start doing things like this where you limit what they can do for a lifetime, that just goes to the whole issue of them really feeling like, 'I'm branded and I'm never going to truly get around this," says Christina Crain, the founder and president of Unlocking Doors. "Come on, look at recidivism rates from about three years forward to see if someone is going to make it."
According to a legislative budget board brief presented to lawmakers last year, the three-year recidivism rate for those released from prison in 2013 hovered at around 46.4 percent. For those on adult probation, it fell to 35.9 percent. Griggs says he thought a buffer of seven years would be appropriate for convicted felons to serve on boards.
"If they've been incarcerated or involved in the system at all and if they haven't done anything by seven years, they're going to be pretty solid," says Crain, who is also a former chair of the Texas Department of Criminal Justice.
To change the city's code, the next step will be for a councilmember to submit the draft resolution to the mayor for consideration, with four support signatures. It's not clear who will take the lead. If the rule changes, Kingston believes Rollins could be reappointed.
"I think Casey has to make the decision," he said. "It's his park board seat and if he wants to keep Marlon then he needs to support the idea of changing the code."
Thomas again declined to comment on the matter Friday morning.