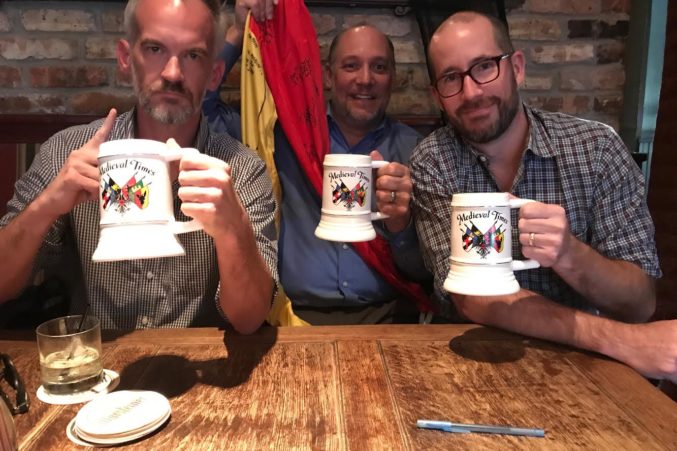 EarBurner Podcast: Medieval Times Castle Boss Jon Speier
Lords and ladies, listen with ye ears!
Have you ever been curious about the rights of the serfs and wenches who serve you your half-chicken and soup at Medieval Times Dinner and Tournament? Perhaps you have spent a ponderous afternoon considering where their horses are stabled when they are not in battle. Those knights, are they cocky? Are they kind to the kitchen staff? When someone in the castle gets the flu, does it spread like the plague? Well, boy, do I have the podcast for you.
Jon Speier, the general manager of Medieval Times' Dallas castle, stopped by the Old Monk for a couple pints of ale and to discuss some rather big news for the Irving-based chain. For the first time in 34 years, the lead in the evening's show will be a queen. The new show launched in Dallas last night. It'll start rolling it out to the other eight castles later in November, starting with Chicago. The script changes every five to six years.
Speier's a fascinating guy. He's been with the company since the Dallas castle opened, in 1992, and he has the tights to prove it. He worked his way up from serf—escaping a grim fate despite serving O.J. Simpson and the annual Mary Kay conference attendees—all the way to GM. He's even managed the horse stable in Sanger, where the company has, over the years, become the largest breeder of Spanish Andalusian horses in the country. If you're wondering whether Medieval Times is still a thing, more than 20 years after showing up in The Cable Guy, it most certainly is. The company is looking at building a tenth castle, in Phoenix. These are all things that get discussed. Bonus: will Zac find a way to sneak in the phrase "bellytimber" into casual conversation?
Give it a listen with the streaming player below, or use your favorite podcatcher. Show notes after the jump.
1. We start in the present: Dallas is seriously considering tearing down the 1.4 mile stretch of freeway that separates Deep Ellum from downtown. The City Council's Economic and Housing Development committee voted to study the economic impact of tearing the sucker down or burying it. It's the first time a city entity has been on board with even entertaining the idea. The full Council votes on it on Nov. 8. Here's our piece on it, and here's Wilonsky's.
2. The Amazon bid is in. The Dallas Regional Chamber submitted it yesterday, and we've got something like 30 potential locations scattered throughout North Texas. Get excited, but probably not too excited.
3. The NFL Draft is coming to Dallas. Some people are pumped, I guess.
4. Behold, the dumbest name in Dallas dining.
5. There are a lot more photos on Google image search of drawings of Medieval-era serfs than there are of serfs at Medieval Times Dinner and Tournament. Just an observation.
6. So I've been mildly obsessed with this History Channel reality show called Forged in Fire. Mildly obsessed, in that, if it's on, I'll watch it and be rapt. It's mostly bearded dudes forging swords and then whacking them at things in slow motion to heavy metal stock music. Medieval Times' knights use titanium steel swords; apparently the spark it creates when it strikes another sword is brighter and is sustained longer than other types of steel. I just started YouTubing "Forged in Fire" and "titanium" to see whether those dudes have forged a titanium sword. I can't seem to find one, but here's this video, and I've got to move on to the next show note or I'm going to lose my afternoon.
7. Falcons fly at Medieval Times. Sometimes they even land next to your soup. I would totally pay for this.
8. Here are some more details on the new show. All hail Queen Isabella.