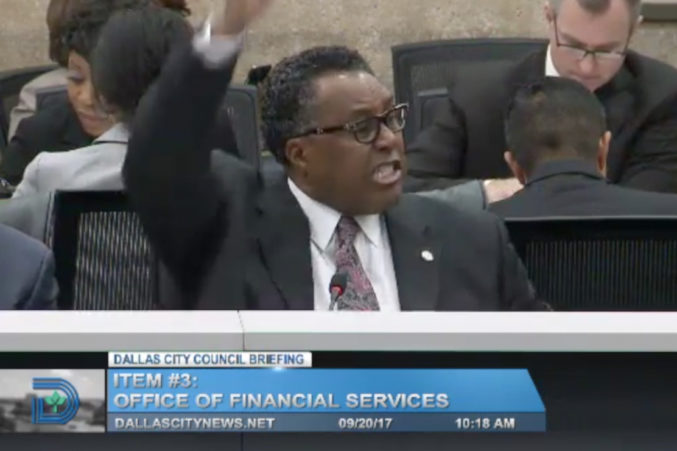 Dwaine Caraway Is 'Pissed' at Philip Kingston, Threatens to Derail His Mayoral Run
The City Council briefing was spicy today!
Back in May, when Philip Kingston won reelection and Dwaine Caraway returned to the Council, the two appeared on Inside Texas Politics. It was a love fest. If the segment had gone just three minutes longer, I think Kingston would have sat in Caraway's lap.
Something has happened since then. The first sign of trouble that I saw was on August 9, when Kingston suggested on Facebook that Caraway was the mayor's puppet. He wrote: "Video of the LGC debate is up! Check out Dwaine Caraway looking to the mayor every time he has to decide whether to amend his motion. Do you think his butt hurts from having a hand up it?" Kingston quickly took down the post, but here's a screen grab. I talked to Kingston at the time, and he swore it was no big deal. He and Caraway were just fine.
But now comes today, and I do not believe the two councilmen are fine. At today's briefing, Kingston made a motion to take $65,000 away from the Youth Commission, something Caraway is passionate about. So passionate that he slammed his fist on his desk, said repeatedly that he was "pissed" (as the mayor tried to calm him), and then swore to take every District 14 item off future consent agendas so that he could debate the items and keep money from flowing into Kingston's district. It was really quite something.
Here's the video. It starts with Kingston's motion and then Caraway erupts: