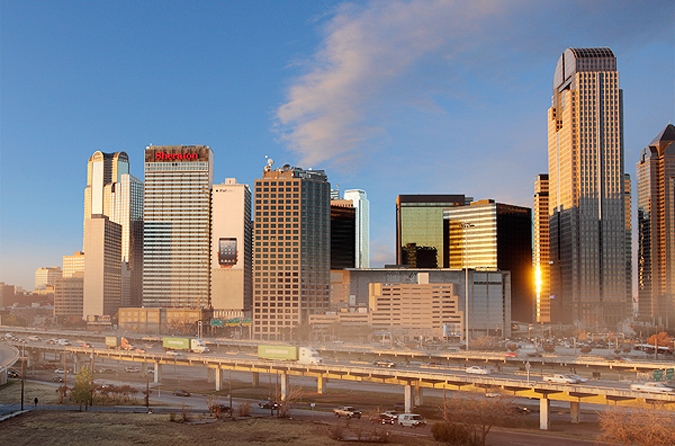 Ask John Neely Bryan: What Place Do Highways Have in a Great City?
The founder of Dallas saves the city once again.
Question: What makes a great city? — TxDOT
It could be argued — and it should be, for what follows is the undoubted truth of the matter — that Dallas' greatness reached its zenith shortly after a visionary entrepreneur from Tennessee first established a settlement near the banks of the mighty Trinity some 170-odd years ago.
Understand that this is not to imply that our city has lost any of its power to inspire the virtuous and strike fear into the hearts of the wicked in the intervening decades. It has, in point of fact, been rocking along pretty well since.
My point, such as it is, is that Dallas became the most remarkable urban center ever known to God or man (in the history of forever) before asphalt roads had so much as been first dreamt up — as I recollect, by some mid-19th century science fiction writer.
Roads, Mr. TxDOT, do not make cities great. That is a fact about which I'm pleased to see you've saved me most of the trouble of schooling you. Your shiny new world-wide-web site implicitly admits that your long-held fascination with paving every-which byway to make it easier for people from Denton to get to Waxahachie has put a stranglehold on the central districts of our shining city. As penance, you've scheduled a series of public "listening sessions," inviting the informed and uninformed citizenry alike to flagellate you for your crimes against neighborhoods.
I realize you've officially given yourself the cover of claiming to legitimately desire input on the future of the highways in and around downtown, but we all know that the competent staff of D Magazine settled that for you ages ago. The three meetings that you've planned — the first 5 p.m.-8 p.m. Thursday at Townview Magnet Center — are obviously about your atonement. The people of Dallas are prepared to hear your confession.
However, I am not. For, despite self-professed good intentions, your explanatory materials make no mention whatsoever of a key element in the greatness of all cities. That being, of course, a flag worth rallying around.
It is with great interest that I have viewed the recent discussions regarding the replacement of the lousy banner with which Dallas was laden a ways back. And once again I step into the fray to rescue my beloved city in its time of need. I bring you now, my fellow Dallasites, a symbol under which we all might soon unite. I move that some brave City Council member (if such a creature exists) push for its immediate adoption:
To delay only prolongs our suffering.
Now watch me whip, whip,

John Neely Bryan is founder of the city of Dallas and an expert on all matters. For advice, to have a dispute adjudicated, or seeking wisdom on any of a myriad of topics, [email protected].