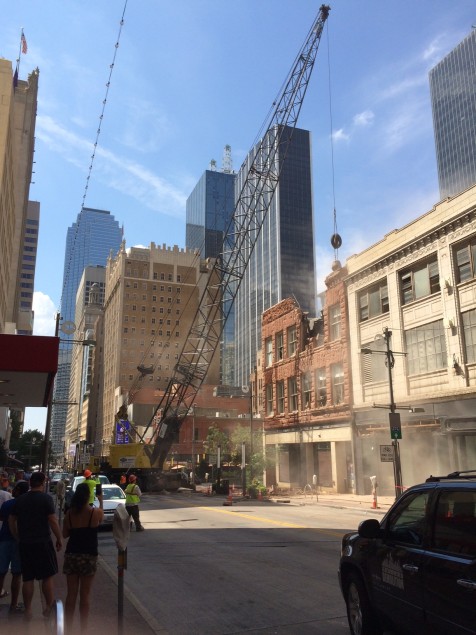 Sunday afternoon, while the Cowboys were losing to the Rams, I heard a loud bang and went to investigate. It was the sound of a wrecking ball hitting the 129-year-old building next door to ours. I walked out to Main Street and saw people standing in front of Neiman's, their phones pointed toward 1611 Main Street. I had missed the first few swings of the crane, but I got there just in time to see the top portion of the building crumble to the ground.
As I watched the crane take another swing, I thought back to the first time I had seen that building. It was 2010, and my husband and I were thinking about moving downtown. Forest City owned 1611 at that time and had converted the building to eight lofts. We wanted to move to the Wilson, just two buildings over, but nothing that fit our criteria was available, so I was shown 1611. It had exposed brick, beautiful views of Main Street, and a ridiculous number of stairs leading to the front door. Because of the stairs and visions of our older dog trying to navigate them every day, we decided to wait until something became available in the Wilson.
When it was reported that Tim Headington — oilman, film producer, and a driving force behind downtown's resurgence — had bought the building, questions arose. Headington, who had just been given an achievement award from Preservation Dallas, had recently torn down Dallas' first skyscraper, the Praetorian Building. Before long, it was announced that the residents in 1611 would need to be out in 30 days. At the time, we didn't know much about the building's fate, but we were told one thing: it was going to be razed.
Now we know what will fill the spot. The boutique Forty Five Ten is going to build a 45,000-square-foot flagship department store.
As I watched the crane take another swing on Sunday, I saw the DMN's architecture critic, Mark Lamster, in a crisp white outfit walk up and take a few photos. I walked up next to him. "What do you think?" I asked. The man behind the recently penned Paradox City column looked angry. He made a comment about how they'd waited to do the demolition during the Cowboys game, took a few more photos, and said he didn't want to see anymore. As we walked away, I told him it was nice seeing him. He said he wished it had been under better circumstances.
By the time I got back to my apartment in the historic Wilson Building, the Cowboys had won, 34 to 31. Next door, the crane continued to swing.
Get the D CEO Newsletter
Stay up to speed on DFW's fast-moving business community with weekly news reports, interviews, and insights.