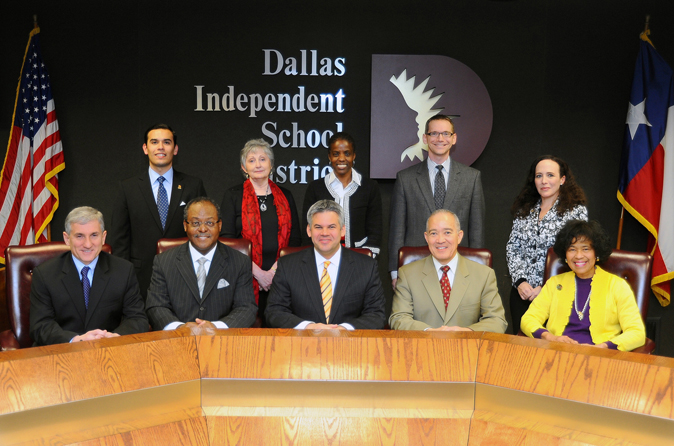 I endured the DISD board meeting on Friday afternoon where trustees struggled with next steps on how to set up a home rule commission to draft a charter that could be voted on in November. Matthew Haag had a good recap here. The highlights as he notes them: The requirement that the commission "reflect the racial, ethnic, socioeconomic and geographic diversity of the district" threw the board into a tizzy; they asked their expert counsel many questions about this; they came to no conclusion, deciding to revisit the matter Tuesday evening — the board's fourth meeting in its attempt to just figure out how it's going to form this commission. Trustee Dan Micciche expressed the opinion of many on the board when he said this was so super-duper tough because they were working with a badly crafted law. Okay, sure, I guess so. But my take was that they're not making it any easier. Here are my notes from the meeting, including what I thought was a pretty spectacular smack down of trustee Carla Ranger's recent bloviations on what home rule would mean for DISD.
Carla Ranger has been her usual obstinate/ridiculous self lately, claiming on her blog and everywhere there's a microphone that the home-rule effort would create a charter school district — a district full of nothing but charter schools, and decidedly not an independent school district the way Texas defines/recognizes them. She wrote, "Dallas ISD will no longer be an Independent District." [Random capitalization maintained, because darling.] She asked the legal expert on hand, David Thompson, whether this was true. He said [my words] of course not. He then patiently explained the difference between a charter that governs a school district and a charter school district. Carla was still confused, so he put it as simply as he could: "No charter school has the power to tax. This ISD retains the right to levy taxes, sell bonds .. it still operates as an ISD." Carla then asked if he would put that in writing, because a lot of people have been suggesting otherwise, leading to "much confusion." I almost cleaved my skull with my iPad. A lot of people!? Much confusion!? You mean you and the semi-retired grousing crew you lead, spitting nonsense? Those people and that confusion? Aggghhh!
That David Thompson is a stud. Patient, smart. His operating principle seemed to be Sarris' "explain as you would a child" directive. But he was not, unfortunately, this David Thompson.
Folks, we all remember what happened after Bill Murray told Sigourney Weaver he made it a rule that he never got involved with possessed people, right? She kissed him, and then he amended his stance: "Actually, it's more of a guideline than a rule." Why did we all laugh? Because we understood the difference between a guideline and a rule.  So when Thompson told the board over and over and over and over that the phrase 

"reflect the racial, ethnic, socioeconomic and geographic diversity of the district" was a guideline, not a rule/quota, you'd think they would have understood. If not right away, perhaps the first dozen times. But you would be wrong.

There was a discussion about the difference between "conflicting loyalties" (of potential commission members) and "having different opinions" that I think broke Bernadette Nuttall's brain.
It took about eight seconds before Elizabeth Jones started saying that the board isn't fit to form the District Advisory Council (called a "dac") and then be admonished by the parliamentarian for going off the agenda topic (which was the formation of the commission board, not her feelings on its duty to do so). Because of course it did.
Jones did provide the highlight quote for me when she wanted to make clear that she understood that race and ethnicity are different things. "A lot of people don't know this," she said, "but I'm ethnically diverse and racially diverse." Well. Cookie for you.
The board meets Tuesday night to discuss this again. I'll have a report Wednesday, including a podcast with Schutze that we'll tape Wednesday morning where we'll go over this and other eduction issues.
Get the D Brief Newsletter
Dallas' most important news stories of the week, delivered to your inbox each Sunday.