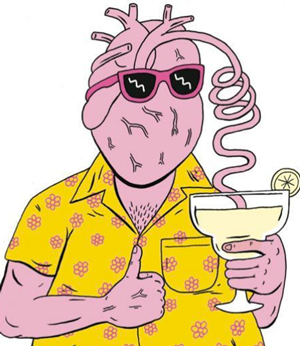 That Dallas vs. Houston article in the August issue of Houstonia magazine, which we've already given plenty of attention on this blog,  has finally been posted.  First off, I love the way their online team presented the piece, all social-media-friendly and stuff.
Most of the reasons are good-natured ribbing of our city. Many of them utterly meritless ("Dallas has to be told what's cool. Houston's never cared in the first place."). Some of them, unfortunately — well, maybe they make a decent point or two. If I weren't employed by the city magazine of Dallas, I might even list those here.
But I am employed by the city magazine of Dallas, so I'm going to be a fierce loyalist and just respond to some of their stranger claims.
Lee Greenwood blessed Houston in "God Bless the USA" but was suspiciously silent on the subject of Dallas.
Yes, but "God Bless the USA" is without a doubt the worst patriotic song ever written. Dallas is better off for its exclusion.
TEXAS RENAISSANCE FESTIVAL > MEDIEVAL TIMES
That's an apples-to-oranges comparison. Texas Renaissance Festival should be compared to our own local Scarborough Renaissance Festival, not to some restaurant. But Houstonia probably knows Scarborough is superior.
They never get those classic Gulf breezes. Nor the humidity that keeps one's skin young.
And I thought I was joking when I wrote the other day how they'd tout the benefits of humidity.
Also based in Dallas: Frito Lay, 7-Eleven, and Dr Pepper Snapple.
Yes, home to the joyful experiences that are Fritos, Slurpees, and Dr Pepper. Their point?
Minute Maid blows earth crater Rangers Stadium out of the water.
Umm, it's called Rangers Ballpark, and that name is refreshingly free of corporate sponsorship. What is it they used to call that Astros' stadium? Enron Field, wasn't it?  (But OK, we wish the Rangers had air conditioning and were downtown too.)
Office Space's corporate purgatory? Filmed in the Dallas 'burbs.
Not true. Initech was in Austin.
D MAGAZINE'S MOTTO—"MAKING DALLAS EVEN BETTER"— NECESSITATES AN INTELLECTUAL LEAP, I.E., THAT THE PLACE WAS ANY GOOD TO BEGIN WITH.
Now they're just getting silly.
Get the D Brief Newsletter
Dallas' most important news stories of the week, delivered to your inbox each Sunday.