It's time to take stock of the state of ice cream in the city. The new ones (in the last two to three years or so) and the old. From gelato to ice cream, vegan to cream cheese-enhanced, the best places to get scoops—and soft serve.
DOWNTOWN GARLAND
Zoya and Gerardo Hernandez's brand-new, Filipino-inspired scoop shop boasts flavors from goat cheese and queso to chocolate brownie and peanut butter, passing through ube and coconut, plus sorbets. Vegan flavors such as black sesame or (even trickier) a luxe salted caramel or banana French toast come in vegan waffle cones and limited quantities. Flights, doughnut ice cream sandwiches, and a decadent situation of ice cream nestled over a bed of cinnamon doughnut holes beckon in the shop with a blue-and-white epoxy swirled floor and pink walls.
DALLAS, FORT WORTH
The perky joy-peddler with a sunny yellow thread running through it leans in with local sourcing and lovely, complexly layered and textured seasonal flavors, including at least one vegan. Currently, you'll find riffs on Key lime pie and pineapple upside-down cake.
BISHOP ARTS
A Miami-based darling with Cuban-inspired flavors like cafe con leche. They had us at the signature Abuela Maria—guava and cream cheese laced with Maria biscuits throughout.
RICHARDSON
Brett Smith, a firefighter for more than 20 years, opened a scoop shop in Richardson with a corrugated tin panel as décor and a swatch of synthetic turf under a six-top where you can sit in swing-seats (best seats in the house). Nostalgic flavors like banana pudding with vanilla wafers, birthday cake, cookies and cream, blueberry cheesecake, chocolate whiskey cake and butter pecan (and vegan cherry limeade, lavender, or lemon poppyseed) welcome all the old-timey toppings, like rainbow sprinkles and maraschino cherries, plus you can throw it all between doughnuts.
PARK CITIES
Come here for scoops, flights, and great waffle cones in the shadow of SMU. Currently try lemonade and honey rose.
NORTH DALLAS
You'll find a long roster of flavors and a commitment to all-abilities employment. This is the famed home of the Dr Pepper-chocolate chip.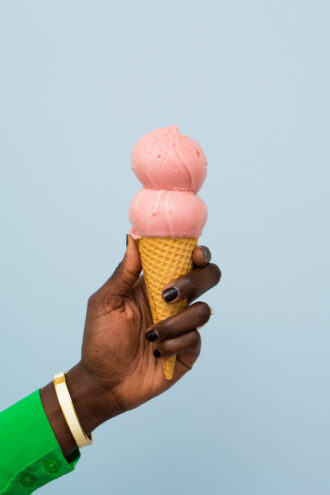 DEEP ELLUM
The Ohio-based empire spreads joy in thick, rich scoops laced with inclusions and bolstered, famously, with cream cheese. Revisit our First Bite for a sweet—or controversially savory—refresher.
PLANO
Sugar Pine Creamery swirls "different and fun soft serve." Six biweekly rotating flavors—like rose-white nectarine, plum-berry or cool mounds of chocolate or hazelnut—always include two vegan options. Just as refreshing are iced tea with boba or honeydew milk tea.
RICHARDSON
The spot for booza, stretchy Arabic ice cream, scooped or gently formed into a roll cake. Try the classic, flavored simply with rose water and topped with whole pistachios. Accompany with baklava.
DOWNTOWN
Practically next door to its sister pizzeria 400 Gradi, Australian mini-chain Zero Gradi Gelateria and Dessert Bar brings scoops and other sweets to downtown Dallas. Find pastries, like rotund brioche buns and cornetti (akin to a croissant), and coffee, too: a cappuccino or Nutella latte or café ristretto doused over a scoop of gelato for a decadent affogato. But gelato, certainly, is the thing you want to know about—20 flavors churned on-site that range from bright lemon-rosemary sorbetto to salted caramel pecan. A few are American nods, but mostly the Italian classics of dense, nutty pistachio and hazelnut (bearing their natural colors) or chocolate-strafed stracciatella.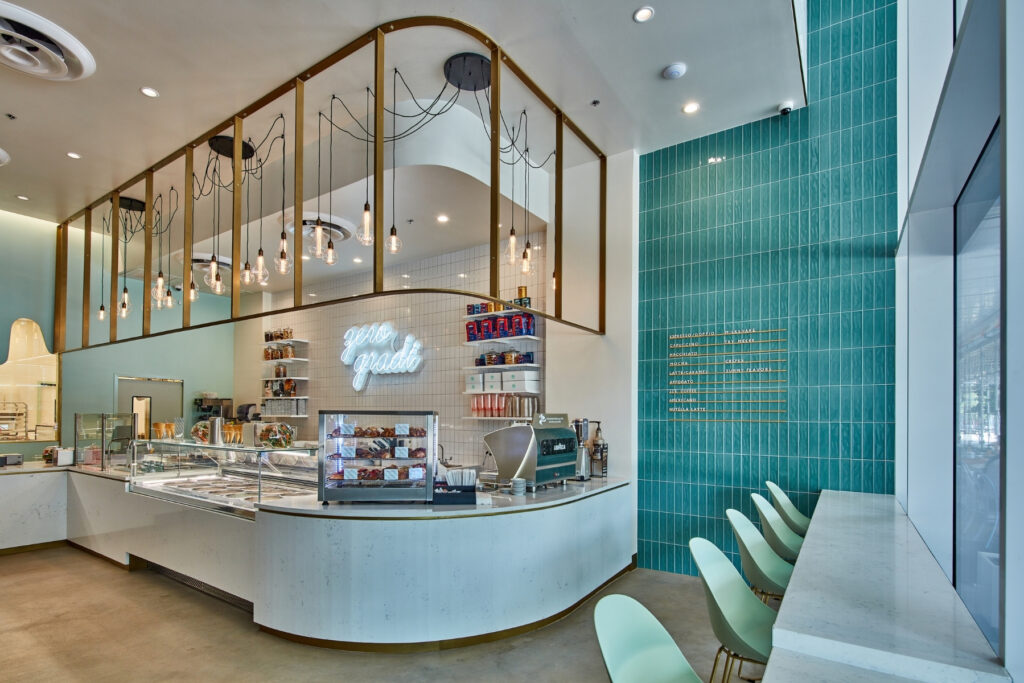 LOWEST GREENVILLE
A Cookie Monster scoop dripping cereal toppings and shoved in a bun? Yes, please. How many, exactly, can you stack?
PLANO
In Plano, a trio of school friends founded a scoop shop with sass. (Who else has a flavor named "f-ing mint"?) Look here for cereal-infused flavors like Fruity Pebbles, activated charcoal-black red velvet, and a unicorn brownie flavor ("sprinkle infused ice cream swirled with brownie bites, hot fudge, and magical fairy dust"). Also an aqua-colored "cake by the ocean" flavor, which is cake batter with chocolate cakes bits but the color of a Caribbean island vacation.
LOWEST GREENVILLE
Top-notch Italian gelato by a third-generation gelatiere, Carlo Gattini. In the gelato laboratory next to Botolino's front counter Gattini works on new flavors, like one of turmeric-infused tahini gelato harboring a swirl of date syrup, pieces of date with a hint of cinnamon and touch of lemon oil. Another, a vegan coconut stracciatella, is a coconut milk creation bolstered by cocoa butter and steeped with coconut flakes.
CARROLLTON
Meriel Bautista churns fun and nostalgic, but also Filipino-inspired flavors that reflect her heritage. Think salted chocolate, Vietnamese cinnamon, Thai tea, or café Cubano, but also ube (purple yam) and jackfruit. She also churns wildly inventive Hot Cheetos ice cream or cereal milk of various kinds (Apple Jacks, Corn Pops, Cookie Crisp). Specials like Japanese cherry blossom sell out in a day. Nearby, within the same purple-hued walls, her pastry skills go into cookies, pies, but also coconut cassava cake—which you definitely want à la mode.
UPPER GREENVILLE
Find delicate soft serve with the flavors of, well, milk and honey. Plus variations–but with a view for pure ingredients and minimalist restraint.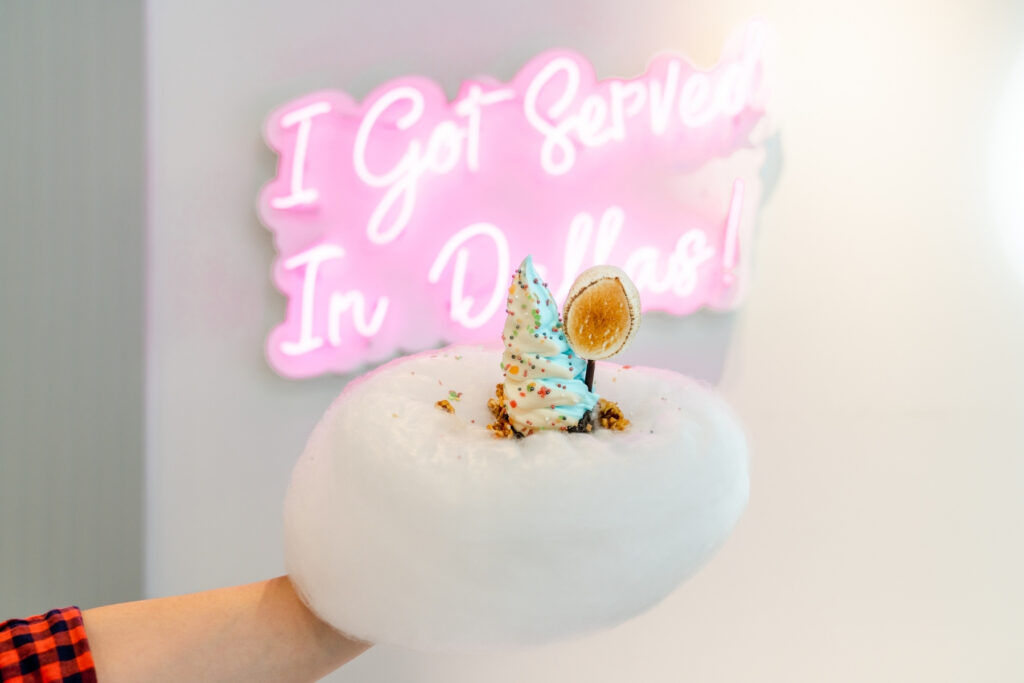 VICTORY PARK
More biweekly-renewing soft serve. Sydney-based, but with outposts in Oceania and Asia (New Zealand, Singapore, Cambodia, China) as well as places like Virginia Beach, VA and now Victory Park, Aqua S announced itself grandly. You saw them coming, with cotton candy halos and Instagram-worthy whorls in flavors that change regularly, flirting with whimsies from birthday cake to cranberry pomegranate, kumquat to peanut butter, carrot orange to vanilla pandan, honey lavender, grape, or cereal milk, all swirled with the "sea salt" flavor—to remind you of where it's from, a place of many beaches? Also 'gram-friendly: the activated charcoal-black cones with toppings like caramel popcorn—and that cotton candy.
FORT WORTH, FRISCO
Make the trip up north for soft serve swirled into fun cups layered with crumbles, generous chunks of brownie or banana bread pudding, and all kinds of texture.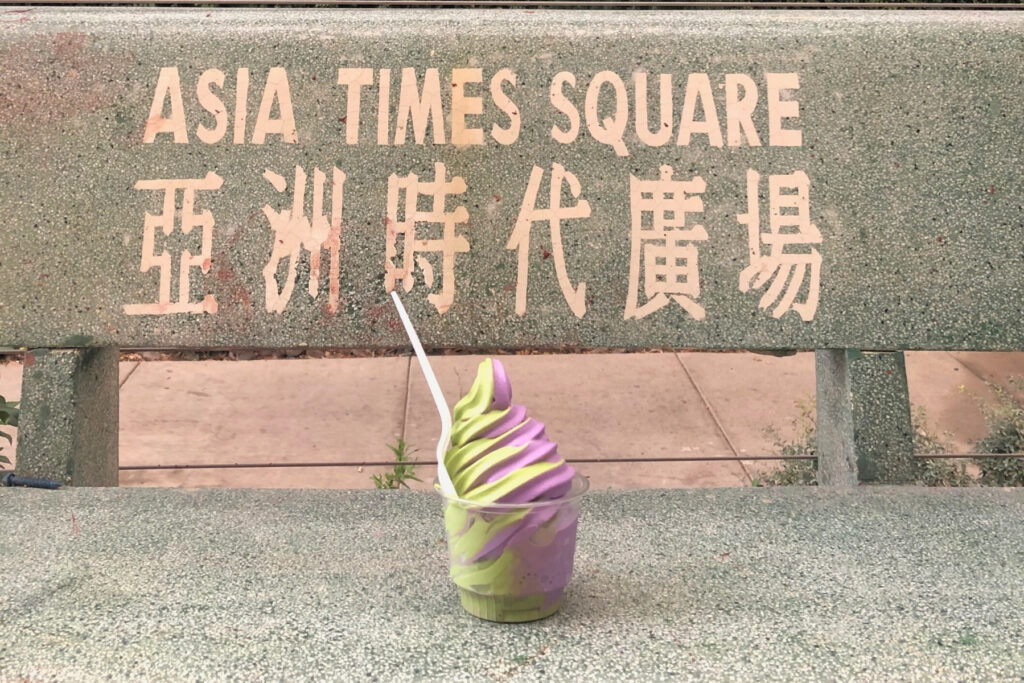 GRAND PRAIRIE
The soft serve shop dispenses twisted mounds of green tea soft serve—do swirl it with the ube ice cream. Prefer your matcha in its original tea form? Well, you can get matcha lattes here, too.
RICHARDSON
The nostalgic spot takes a subtle approach to flavors like lavender honey and lemon ice box pie.
Need more, you ice cream fiend? Read up on last year's round-up of international ice cream.
Get the SideDish Newsletter
Dallas' hottest dining news, recipes, and reviews served up fresh to your inbox each week.