Walk into the Mot Hai Ba on quiet Lewis Street in Lakewood, and you see everything you need to know about where Peja Krstic has arrived after a year of soul-searching. This and the Victory Park location present a 2.0 for the chef who has arrived at a cuisine he dubs "very French-inspired" with "Texas ingredients and Asian-inspired flavors." The past few weeks have been busy. Lakewood, which had been closed for remodeling, returned with a soft opening last night. It's officially back June 16. Meanwhile, the restaurateur reopened his Victory Park location in May.
For those who may, understandably, need a recap, here's where things stood. Krstic opened the Victory Park location last June, at the initial height of the pandemic, just as the city emerged from lockdown. He had been in full swing. He was on board with the extraordinarily talented Joel Orsini (formerly at Booty's, now Profound Foods) as executive chef. He was developing recipes for house-made baguettes and elaborate steamed bao. But things were tricky.
The animated neighborhood that pulsed to the beat of sporting and entertainment events had become a deserted ghost town during the lockdown. Without events in the area, Victory Park had lapsed into quietude. And so the larger footprint closed in mid-December and just reopened after six months. Meanwhile, Krstic temporarily shuttered Lakewood after service on May 22 for "a much needed remodel" that gave him a chance to add "my personal touch to the place," he says. He had, after all, inherited the name, the cuisine, everything when, in 2015, he took over the tiny Lewis Street restaurant that Jeana Johnson and Collene O'Hare had opened in 2013.
In the past year, he also encountered pushback and accusations of cultural appropriation surrounding his Vietnamese-French hybrid dishes, experiencing the continued schooling of how to hone sensitivity when cooking a cuisine that is not your own. Between Mot Hai Ba's original Lakewood space and its newer Victory Park sister restaurant, it was all due for a rethink.
A peek inside the unfinished Lakewood restaurant yesterday revealed a team in preparation for the opening—the kitchen smelled of star anise—and a space that is familiar and also utterly changed. There are no low stools and low-hanging lanterns to make you feel you're in a ship's hold. The once-communal tables are now separated into two-tops and four-tops. The bar, which now feels like a proper bar, has four seats, where you can sip cocktails. The dining room, which Krstic and his wife decorated themselves, has the feeling of a living room, with art by local artists and knick-knacks from antique stores, including a needlepoint canvas reminiscent of the ones Krstic's grandmother stitched in Serbia. The warm tones of cloth lampshades with brass bases and butterscotch seats of bistro chairs echo those of the honey-toned parquet and brick. Krstic has placed his own cookbooks around the window ledge.
The whole reminds him of the small, equally hole-in-the-wall cafes and restaurants he knew in Belgrade. (In fact, if he had his way, there would be a bookcase.) He's created a neo-bistro that's intimate in a different way—personal, not simply sparse in square footage. More importantly, the unifying principle is no longer a purported Asian motif, but rather a personal vein. In many ways, this is the direction he's been going all along, searching for himself and pulling on many influences. Now, his collection is as eclectic as he is.
On your first visit back to Lakewood, you might consider starting with the sultry, smoky confit leeks stuffed with rice and flecks of blue crab. When he first took over Mot Hai Ba in 2015, "that's the first dish I did that was mine," he says. It's time to serve them now in a place that "now [feels] like my place and my home."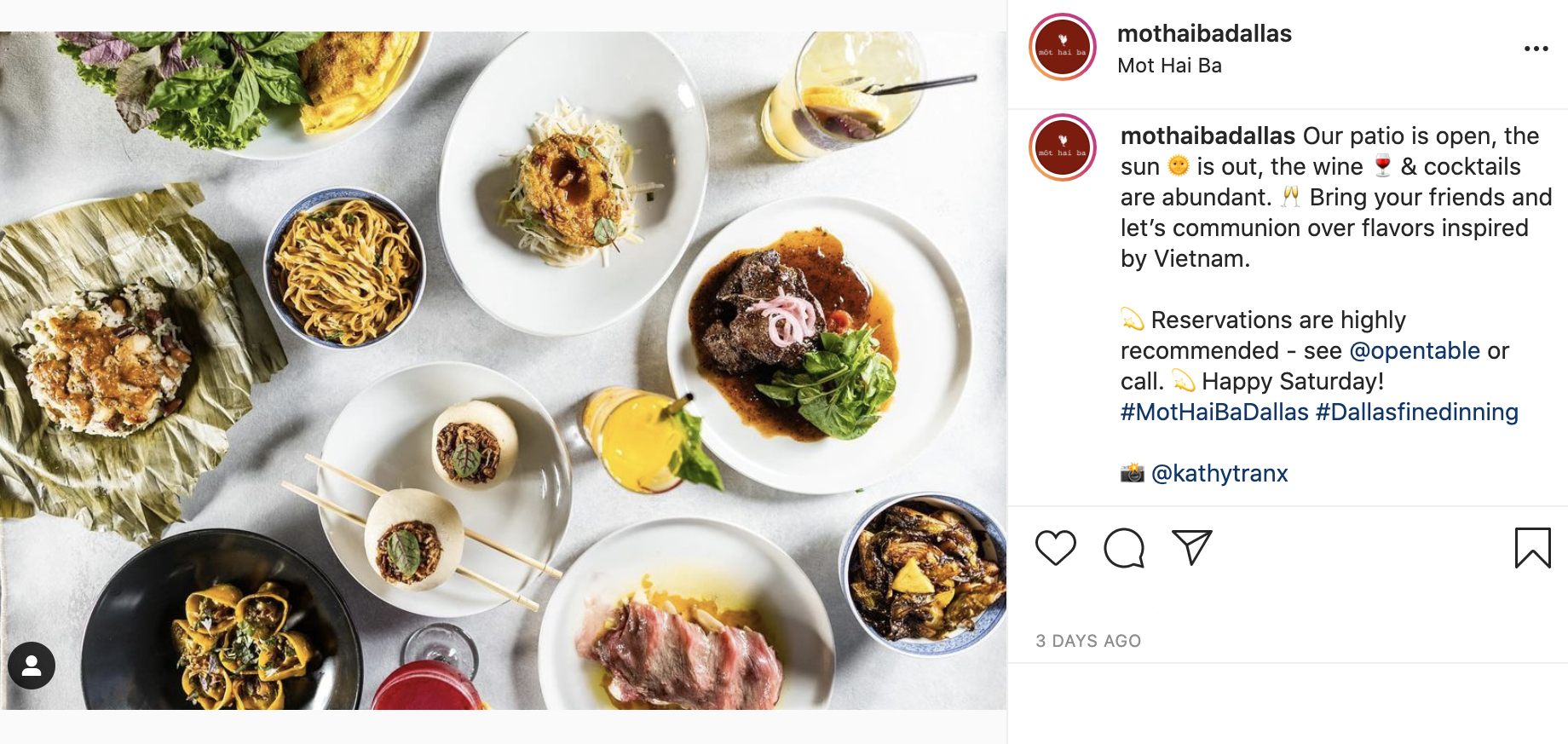 Across town, at Victory Park, things are just as rebooted. Krstic put in a modern décor that was suited his style from the start: moody and modern with dark wood surfaces and areas of light dividing the vast space into sections.
The idea and intention is for both restaurants to be distinct, though they'll be united by the style of cuisine. Diners will find a core repertoire of shaking beef, crispy bánh xèo pancakes, green papaya salad, and the famous garlic noodles. But all the rest will vary, perhaps centering on the same proteins, but "done completely differently," Krstic says. He sees Victory Park as more bistro-like in "the vibe of the place," which will translate to dishes with an airiness, lightness, and a certain casualness. "It's two restaurants. The connection is the style of cooking." Look to the blue crab salad from Lakewood, for example, with cucumber and bok choi, which migrated over and is similar, but more floral, and "with more flavors going on" at Victory Park. On a recent night, a spring roll with strawberries and avocado cradled yellowtail punched up delicately with a savory eggplant marmalade and lolling in a buttery nuoc cham. At both locations, they're hand-making baos, steamed milk buns, and dumplings.
Other small changes abound.
The wine list, which leaned French, is now skewing equally Italian as overseen by Lorenzo Giappichelli. There's a new focus on biodynamic wines and an emphasis on supporting local ecosystems through wines.
Cocktails are herbaceous, with ginger or turmeric, and in some ways more adventurous. The Son Hao Haunt makes nice work of mezcal, bitter Aperol, and the surprising savoriness of candied, fried shallots.
Krstic imagines the desserts for all three of his restaurants—Lakewood, Victory Park, and Ichi Ni San in the AT&T Discovery District, which became his third restaurant when it opened late last year. What this looks like tends to be seasonal ice creams and sorbets, like a recent lush peach-sake sorbet. At Victory Park, which will lean more bistro French, "maybe a millefeuille with rhubarb, maybe some croissants served different than you might imagine," Krstic says.
Soon, he plans to debut lunch at Victory Park. On Saturdays, when the restaurant will open at noon, he would like to serve house-made croissant benedicts. "[We're] trying to make it really good, nice, airy food—soups or broth" with a nonchalant bistro elegance. In contrast, he sees Lakewood as being darker, more intimate, with an emphasis on smoke and the grill.
For Krstic, who has been bouncing around and splitting his time between Ichi Ni San and Mot Hai Ba locations, it would be nice to have someone in place at Victory Park. "I've been away a bit with Ichi Ni San," he says. "Now it's time to just go back to Lakewood. It's time for Lassie to go home."
Get the SideDish Newsletter
Dallas' hottest dining news, recipes, and reviews served up fresh to your inbox each week.