Fort Worth's annual Stock Show and Rodeo kicked off last week and runs through February 8. Whether you're looking for what to do once you're inside, or to grab a bite or a drink beforehand, you've come to the right page.
Getting There
Dickies Arena and Will Rogers Coliseum, the central hubs of the FWSSR, are about a 45 minute drive from downtown Dallas without traffic, but if you're heading to Fort Worth after work, or if you're just trying to avoid driving and (expensive) parking, consider taking the DART. The TRE will take you from Victory Station to Fort Worth Central Station in 51 minutes, and it's a lot cheaper than Uber. Getting from Fort Worth Central Station to the Stock Show grounds will require a few buses, so that may be the time to call a ride share. 
Getting Caffeinated
It is one of humanity's undisputed facts that coffee—a mug of drip, a lightly foam-topped cortado—is the most important legacy we'll ever leave, obviously. And in Fort Worth, they know a life-giving brew. For those who unabashedly require a thoughtful, bean-to-cup experience, Avoca Coffee Roasters is the big name go-to with (after all, it's supplied many a DFW shop with its coffee for the better part of a decade). Newer spots to check out: Ampersand, which shifts into a cocktail bar by night and crafts drinks with an espresso-forward mindset, and 85ºC Bakery and Cafe, whose iced americano with sea salt whip is always a fun choice.
What to See at the Fort Worth Stock Show and Rodeo 
Don't be embarrassed if this is, in fact, your first rodeo. Here are some things to know. 
Admission to the Stock Show grounds ($12) does not include admission to the rodeo. The Stock Show grounds do offer access to livestock auctions and shows, horse shows, daily concerts, and special events like the Ag Robotics Challenge and the Mariachi Competition. 
If you're bringing the kids, don't miss the Petting Zoo with pony rides, the Children's Barnyard filled with baby animals, and the carnival midway. 
General admission also includes access to three museums on the Stock Show grounds–the Cattle Raisers Museum, the National Cowgirl Museum, and the Science and History Museum. 
All the actual rodeo shows–bull riding and FWSSR PRORODEO tournaments–require a $30 ticket and take place in Dickies Arena. The rodeos are at 7:30 p.m. each evening, with an additional rodeo at 2 p.m. on Saturday and Sunday. 
Where to Eat
This isn't a comprehensive Fort Worth dining guide by any means, but you're bound to get famished after stampeding around all day. So see yourself to a few places nearby that won't require herding across town.
Grab a proper breakfast at Montgomery Street Cafe, a zero frills, comforting spot situated right across from the Dickie's Arena. The biscuits and gravy alone are likely to fuel you through the end of the day until the cows literally come home. Then there's Mash'd, whose brunch menu is a departure from the classics—indeed, it's "rebellious"—with caramel moonshine french toast, a kobe beef cheeseburger omelet, and an avocado toast pizza. It's gonzo food at 10 a.m. 
If, by lunchtime, you haven't yet satisfied your breakfast cravings, we have a solution for that: Taco Heads. The original location—prequel to the Henderson Avenue sibling—slings those familiar, beloved breakfast tacos all day, but the menu sprawls into another nine taco offerings including "seriously legit" carnitas.
Gus's World Famous Fried Chicken is another casual option. With a Deep Ellum outpost currently in the works (the latest word is possibly a summertime opening), the fried chicken joint would be a good place to get a preview of what's to come in Dallas. Spoiler alert: It's fiery, Memphis-style fried bird with a whole mess of sides.
When in Fort Worth, yes, there's always Tim Love's Lonesome Dove, but for a post rodeo snack, check out the restaurateur's freshly opened Ático. Love, he of Gemelle and the Woodshed Smokehouse, installed a Spanish tapas (think brisket croquettes, Iberico ham) rooftop bar nestled on the top of the Springhill Suites by Marriott. 
While You're in Fort Worth… 
Since the Stock Show and Rodeo are in the Fort Worth Cultural District, it's easy to check out other attractions while you're in town. The Kimbell Art Museum, Amon Carter Museum of American Art, and the Modern Art Museum of Fort Worth are all within walking distance.
General admission to the Kimbell is free; special exhibitions like Renoir: The Body, The Senses (on view through January 26) require an additional ticket.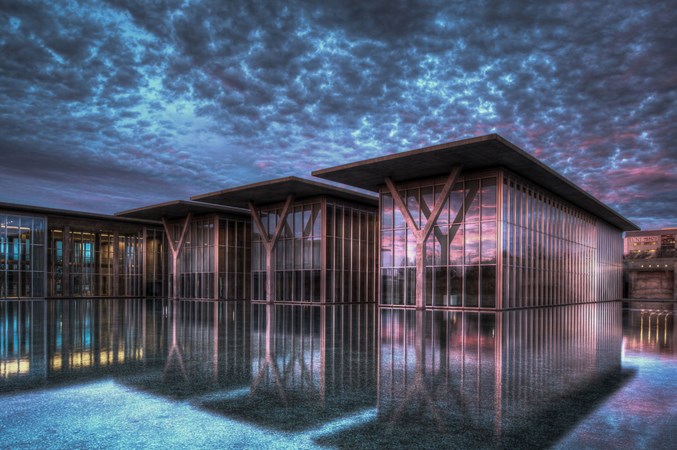 General admission to the Modern is $16 (there are discounts for students and seniors, and children under 18 are free). You can get half-price tickets on Sundays and free admission on Fridays. Red Grooms' 1976 installation "Ruckus Rodeo," based on his observations of performances during the 1975 Stock Show, is currently on view. 
The Amon Carter was recently given a major makeover (you can read about that here), and there's also a cool new mural made out of piñata supplies on view. Admission to the museum is free.
The Fort Worth Botanic Garden is also just down the street from the Stock Show. The dead of winter isn't the best time to see blooms, but the venue's Japanese Garden is captivating year-round.