In December 1863, English undertaker William Banting published an essay titled "Letter on Corpulence, Addressed to the Public." He writes about losing weight by limiting his consumption of bread, milk, butter, beer, sugar, and potatoes. He was 65 years old, 5'5'' tall, and 167 pounds. In August of 1862, he weighed 202 pounds.
Banting is a pioneer of the low-carbohydrate diet. And 156 years later, low-carb, high-protein diets are at the forefront of weight loss trends. The keto diet is everywhere: on social media, on newsstands, on this T-shirt. If you hang with people who subscribe to food fads, you've likely witnessed a friend turn their nose up at a bread basket or sub a mound of steamed broccoli for a pile of French fries. Perhaps you are this friend. I am.
I've been keto-curious since July. I hit a carb-free stride for about a month, but plummeted back into a realm of sugar and starch. Then I outgrew my favorite pair of high-waisted jeans and hopped back on The Keto Express. And because yo-yo dieting is bad for you, this is where I plan to reside for the foreseeable future.
The premise of this low-carb, high-fat diet is simple: replace sugar and carbs with meat, green veggies, and healthy fats. Your body will start burning fat instead of carbs for fuel. This state is called ketosis. You can buy these handy strips at the drugstore, which measure the ketones in your urine. A ketone is a chemical that your liver produces when there's not enough insulin in your body to turn glucose into energy. Functionally, when you pee on the strip and it turns a deep shade of purple, this means that you have enough ketones in your body to be in ketosis. Which is the point.
Some big advocates of boycotting mashed potatoes and pound cake include Halle Berry, Kourtney Kardashian,  LeBron James, and this guy. Other people are not as convinced.
I did not consult a physician, nutritionist, or seiðr before starting keto. But my best doctor friend noted that keto was originally used to control seizures through metabolic change. (Medications have advanced since, and this method has fallen out of favor.) For dieters, early weight loss is common and can be attributed to a loss of water weight. Water binds to the glycogen molecules that make up carbohydrates. And as you burn through those carbs, you're eliminating water.
"Most dieticians that I've spoken with would rather use it as a short-term bridge to kickstart weight loss while transitioning to a more sustainable diet you can adhere to," he said. "In the end, most people say the best diet in the world is the one you can actually stick to."
Cooking at home is likely your best bet regardless of the diet you're on, but it's not always plausible. We live in Dallas. And Dallasites love going out to eat.
While on keto, I've explored dining options that extend beyond sizzling fajitas at Tex-Mex restaurants and medium-rare filets at steakhouses. Here's where to go and what to get if you're keto-curious—or simply craving some low-carb fare.
Gung Ho: Order a rice bowl and sub cauliflower rice for an additional $2. I also told my server I was on a keto diet and she suggested an off-menu grilled chicken stir-fry with veggies.
HG Sply Co.: This restaurant is from the same folks who run Gung Ho. They have a ton of low-carb options. Build your own bowl with chile-garlic broccoli, grilled avocado, or shaved Brussels as the base.
Si Tapas: This place offers fantastic meat, fish, and vegetable share plates. Here, look: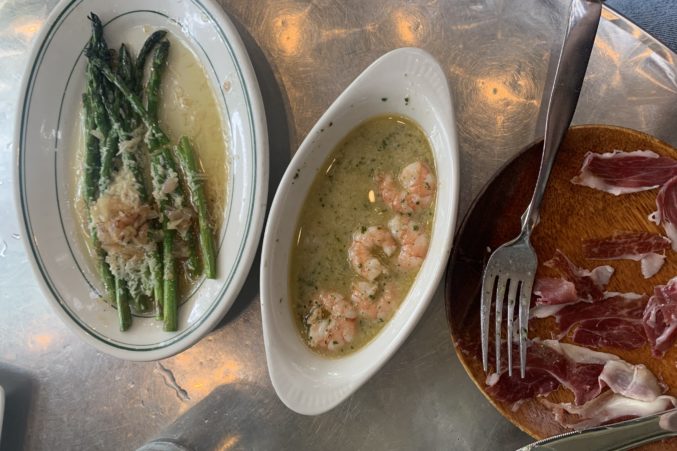 Stoneleigh P: Order a cheeseburger without a bun and choose grilled veggies instead of fries. (You can basically do this anywhere.)
Highland Park Cafeteria: Buffets are great. This one is especially great, though, because a man on a piano will serenade you to Elton John's "Your Song" while you scarf down a plate of cabbage.  
Pok The Raw Bar: Sushi is a keto no-brainer. Poké is also a good option if you don't get rice as the base. I built my own bowl here using citrus kale. I'm a genius. 
Ceviche Oyster Bar: Mixto ceviche and grilled salmon. Sub extra grilled veggies for rice. Did I mention I'm a genius?
Lucky's Cafe: Diners are great for keto. Indulge in omelets and bacon and sides of veggies. Later in the day, order the poblano chicken: grilled chicken with melted jack cheese, grilled poblano peppers, tomatoes, and red onions.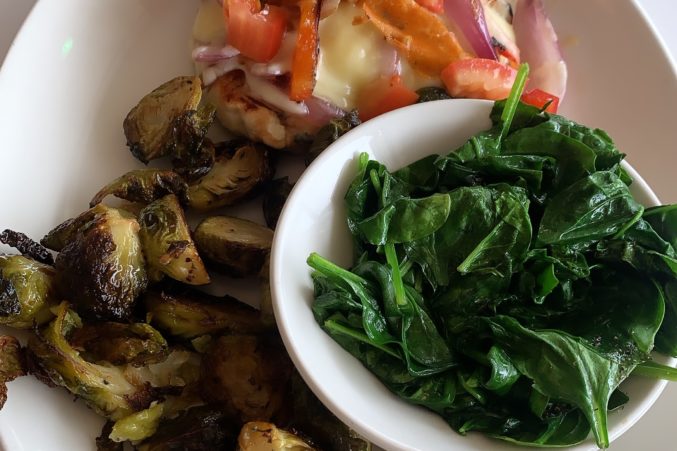 Sachet: Resisting their bread is super difficult. But if you're a strong soul, go and order a bunch of mezes and a meat main.
OK, these are some of my favorite keto spots in Dallas. I've also been doing a ton of cooking at home over the past month. Want to swap recipes? Want to tell me about your favorite low-carb dishes in Dallas? Want to make fun of me for subscribing to a fad diet? Let's chat. Slide into my DMs.
Get the SideDish Newsletter
Dallas' hottest dining news, recipes, and reviews served up fresh to your inbox each week.