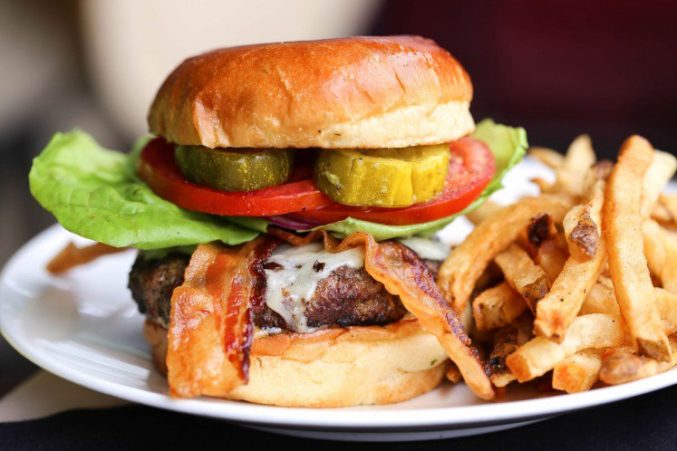 The Scoop: The Grape Kills Brunch, Alamo Club Opens, and More
Your weekly helping of Dallas dining news.
The Grape is killing brunch💀🍳 Surely you've heard of The Grape. If not: it's this really good restaurant that's located on Greenville Ave., which has been open since 1972. Earlier this week the Dallas Observer reported that the restaurant is killing brunch. But they're still offering their legendary burger, previously exclusively available during brunch, on Sunday and Monday nights.
Elm Street Cask & Kitchen is open🍗: There's a new restaurant open downtown. It's called Elm Street Cask & Kitchen and it's located at 1525 Elm St. According to the press materials in front of me:
Serving honest, Southern fare from executive chef Benjamin Maulsby, Elm Street Cask & Kitchen's menu highlights include Fried Green Tomatoes with Texas caviar succotash; Beer Can Chicken with apple cornbread stuffing, almonds and charred carrots; and Shrimp & Blue Corn Grits with andouille sausage and smoked gouda.

Elm Street Cask & Kitchen's beverage program boasts 200 varieties of bourbons and American whiskies, paying homage to Southern distillers and the history of their craft. The restaurant will carry everything from Kentucky distilleries, such as Buffalo Trace, Jim Beam and Stitzel-Weller, to small batch distilleries like MB Roland, George Dickel and Prichard's.
That's all I got.
Alamo Club is open on Lowest Greenville 🥃: Austin Rodgers, who's worked at places like Nick & Sam's, Offsite Kitchen, Neighborhood Services, and Town Hearth, has opened his first concept. The restaurant is located in the old Blind Butcher space. According to the release:
Appetizers include Nancy's Pink Dip, Rudolph's in a Blanket, Ceviche, Steak Tartare, Tuna Crudo, Beet Salad, Club Wedge and more. Entrees offer a fresh fish option such as the Seared Snapper with Anson Mills rice polenta, carrot vichy and pan jus; House-made pastrami sandwich tagged the Smoky Rose with fontina, caramelized onions, kraut and Dijon; Prime NY Strip steak and freshly made pasta, Club Spaghetti with cherry tomato sauce, Grana Padona and basil. Most everything, when possible, is made fresh, in-house and daily.

The bar program focuses on cocktails using minimal ingredients, something for everyone and riffs on the classics such as the Stirred Not Shaken: Monkey 47, dry vermouth; Shaken not Stirred: vodka, gin, vermouth, orange bitters, lemon zest: Barrel Aged Old Fashioned: Sagamore Rye, sugar, black walnut bitter; Dar #4: Uruapan Charanda, lime, simple, Angostura; Not Tonight Mike: light and dark rum, citrus, orange, passion fruit, grenadine, Myers float; The Patio Banger: OGD Whiskey, lemon, cardamom, ginger beer and more. The wine program offers 50 selections of both Old and New World priced well so guests can participate in a number of differing options.
Matthew Shelley, known for bangers such as Communion Cafe in Richardson is Serving Some Seriously Good Coffee and Scenes from D Magazine's Best New Restaurants Dinner has gone to check it out. Expect a detailed look inside, from him, on the blog soon.
Have a scoop? Send it to [email protected] 🕺🏻