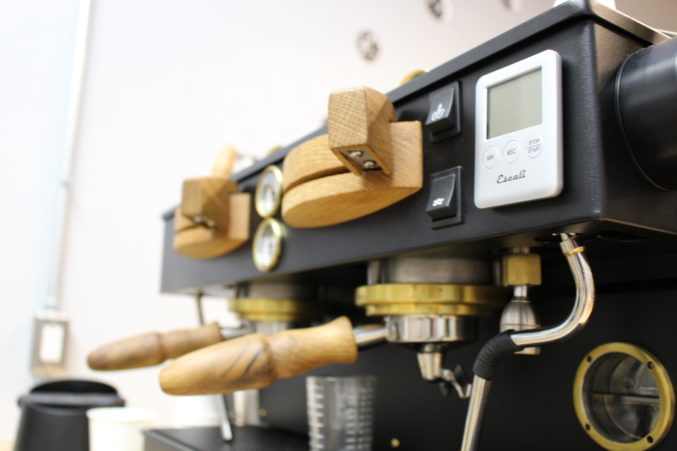 Check Out Peaberry Coffee in Oak Cliff
This adorable spot is all about community.
The place is named after a cute, round coffee bean. Elijah Salazar opened Peaberry Coffee (2446 W Kiest Blvd.) last month in the Kiestwood Village shopping center, near a Baskin Robbins and Catfish Connection, in the growing—and gently hipster-ifying—Kiestwood neighborhood of South Oak Cliff. The spot is already filling a gap, extending the reach of good coffee worth driving for.
Formerly an elementary school teacher for DISD—his wife teaches high school—Salazar became disenchanted several years ago with the high-stakes testing and administration-heavy climate and drafted a loose business plan for the coffee shop he hoped would foster community.
"People are established here, and people are coming in here, and there's nothing to connect them," he says. "Everything is going into Bishop Arts. Which is fine. But it leaves South Oak Cliff kind of hanging."
"Having grown up in Oak Cliff, I had a pretty good sense of where I wanted it to be," he continues. "I live in Kiestwood, about a minute-and-a-half drive away." Opening Peaberry was all about answering the question, "What can I do? What can I offer?"
He had barista friends who helped him immerse himself in the world of coffee, and friends who supported his navigation through the tangles of city permitting. With funds from a GoFundMe campaign, he renovated the quaint shop in a 1950s building. His brother helped with the technical details of painting; his stepfather, an electrician, built the showpiece light fixture. Other friends, both professionals, painted the wall mural and designed the logo.
"I couldn't have done this without help," Salazar says. "I'm really lucky to have very talented friends. It took a lot to put this place together."
The communal, collective-minded vibe extends to communal tables at bar-table height and the community member highlights—called "People of Peaberry"—on the coffee shop's Facebook page.
"We're trying to be dynamic with the space," Salazar says. "It's funny, but even the rotating furniture. We made the tables with casters on them. I feel like it doesn't take a lot to stay dynamic."
Salazar chose to source with, and have his staff trained through, Oak Cliff Coffee Roasters. He's also serving CocoAndre hot chocolate for denser Oak Cliff connections. Daily pastries come from Hannah's Gluten Free Bakery (gluten-free and often vegan) and Moreish Donuts, a doughnut shop on nearby Fort Worth Avenue (definitely neither gluten-free nor vegan). Weekends feature pop-ups from the likes of Hippos and Hashbrowns and La Casita Bakeshop, and currently, Peaberry pop-ups are scheduled through the end of March.
A La Marzocco machine, retro-fitted and customized by the Australian company Specht ("It's the only one like it," Salazar says with pride) is overseen by head barista Brandon, who worked with the coffee roaster Lemma in Denton.
As for the vibe—it's being built, one macchiato and book swap at a time.