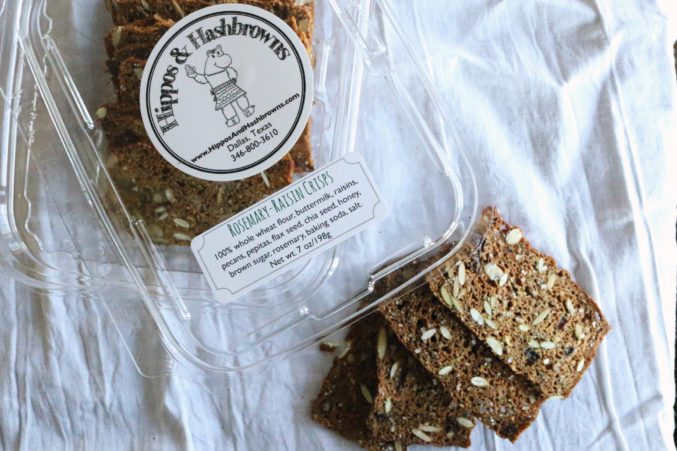 The Localist: Hippos & Hashbrowns Rosemary-Raisin Crisps
A snack worth trying.
By Melissa Tate
Published in Food & Drink
April 16, 2018
10:00 am
Hippos & Hashbrowns was created by East Dallas resident, Sandra Daniels. Sandra grew up in a home where cooking was a family affair and something everyone enjoyed doing. As an adult, she and her husband were missionaries in East Africa for 14 years. Living in an extremely rural part of Africa where the nearest grocery store was nearly eight hours away, Sandra was pushed to try new things in the kitchen—always finding resourceful ways to bake and create tasteful items to share with guests. It was during this time that she began a cooking blog to tell her stories and share recipes.
Upon moving back to Texas, her main goal was to find places to teach cooking classes. Classes that would show others how to prepare home-cooked meals from whole foods. In the process of looking for a place to teach, someone mentioned that "most individuals love the idea of tasty, healthful foods but they would prefer someone make the items for them," says Sandra.
This comment is how the Hippos & Hashbrowns line of treats began. The name has a simple explanation, there were lots of hippos in Africa and "hashbrowns" just sounds super catchy paired with it. Combine that with a cute drawing by her daughter-in-law and you have the brand. Sandra's signature item is the Rosemary-Raisin Crisps. They are made with 100 percent whole wheat flour, buttermilk, raisins, pecans, pepitas, flax seed, chai seed, honey, brown sugar, rosemary, baking soda, and salt. Thinly sliced and baked to perfection, these crisps are great with a cup of coffee in the morning, accompanied by some local cheese and a glass of wine in the evening, or simply eaten alone as a midday snack.
Sandra now carries several more items, with pound cake being her second-best-seller, behind the crisps of course. All of her products can be found at several shops around the Dallas area including Market Provisions at the Dallas Farmers Market, Scardello Cheese, Cox Farms, and Trinity Haymarket. You can also find the products at Good Local Market's White Rock Market on Saturdays and Paul Quinn Market on Thursday evenings.
To find out more about Hippos & Hashbrowns and to see some of Sandra's amazing recipes, visit her website here.