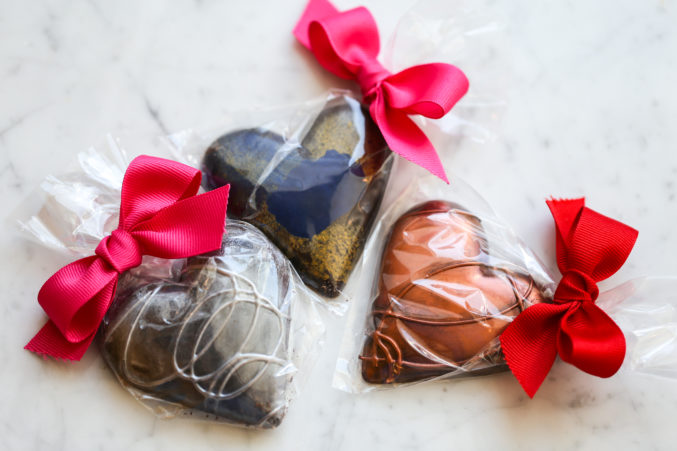 Taste Test: Valentine's Day Chocolate
Treat your sweetie. Or more importantly, yourself.
This week, in honor of Valentine's Day, D Magazine staff tasted a variety of local chocolate. In order to keep it consistent, and fair, every bar was between 60% and 65% cocoa. (Chocolate Secrets sold out of their bars, so we tasted their chocolate hearts instead. Before you get up in arms, it should be noted that they're made from the same stuff as the bar.) I, personally, enjoyed everything we tried and wholeheartedly feel that Dallas is lucky to have such a strong community of mega-talented chocolatiers.
I also want to note that Dude, Sweet Chocolate was not a part of the taste test because they do not offer a plain, dark chocolate bar. But they are doing some pretty far-out things for Valentine's Day. All of these places are. Need something sweet for your sweetie (or let's face it, yourself) for V-Day? Head over to any of these shops and indulge.
The chocolate:
A. Kate Weiser Chocolate
B. Chocolate Secrets
C. CocoAndre
Tasting notes:
Kate Weiser Chocolate
Tastes like a good dark chocolate should taste.
Hershey's Special Dark, but local.
Light, clean, slightly bitter.
I feel like this would be perfect for chocolate-covered strawberries.
Mildly bitter, generally pleasant.

You meet on Tinder. A fun first date, but this one ends with a polite hug at the front door. He's got bad breath and talks a little too much about himself, but he means well, he pays for dinner, and you find his goofy demeanor kind of endearing. You'll tell your friends you had a good time, but the spark just wasn't there. A week later, he texts you to ask you out on a second date, and you let him down gently. He's disappointed, but he understands and respects your decision. He'll find someone else.
Chocolate Secrets
Smooth but not as flavorful.
Chocolate cake concentrate.
Smooth, sweet, slightly fruity.
The consistency is so dense that it's almost hard to bite into. It would ideal for chocolate shavings.
Sweeter than bitter, fleeting and light in mouthfeel. Lemon and orange notes.

You were acquaintances in high school, but never more than that. You run into her at a bar years later, and she admits to having held a secret crush on you during most of your junior and senior years together. You can't believe it. You always thought she was super cute, but didn't have the guts to ask her out. Discovering that you've each just gotten out of long-term relationships, you shrug and decide to give it a go. The first date—you've got tickets to a play, and go for a long walk after—goes great. Second and third, even better. Almost two years in, and you decide to move in together. Her parents love you. You're head-over-heels. Another year and a half, and you figure it's time. You pop the question at sunset one rainy night in October—nothing goes according to plan, and you slip in some mud when you take a knee, but she doesn't mind. You're in love. As the wedding approaches, you start to notice things about her you never noticed before. She snores. She says "like" too much. She never tells you that she respects the paintings you do in your spare time. Does she even care? You're working up the courage to break it off, and she beats you to it, making the tearful announcement one morning over breakfast. "I just don't know what we're doing anymore," she says. "I need to find out who I am without you. It's no one's fault." She leaves. She's gone. You're never the same.
CocoAndre
😖
Cabernet of chocolate.
Rich, complex, earthy aftertaste, floral.
I'm a fan of pretty chocolates, so I like that this one seemed giftable. It's dry, gritty, and woody, which was a shock at first, but it grew on me.
Chalky.

You're star-crossed, thrown together by the tempests of fate. You can't remember how you met, only that you can't believe you ever existed without them. You wed at a chapel overlooking the sea in Naples, the ceremony blessed by a holy seer from the mountains, and the rest of your days are spent in bliss. Great chocolate.

Tally up:
Kate Weiser Chocolate 3
Chocolate Secrets 2
CocoAndre 1

The winner is: Kate Weiser's "Safari Bari" is the winner of this week's taste test. The bar is made from 64% pure Madagascar cocoa and can be purchased here.