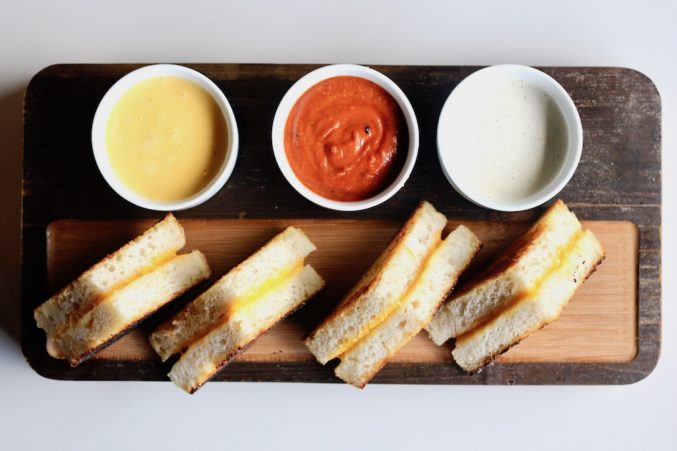 Melted Lands in The Cedars
Welcome this new grilled cheese restaurant to the neighborhood.
By Daniel Walker
Published in Food & Drink
November 7, 2017
11:30 am
It's a simple pleasure, really, but few things are as comforting as biting into a well-made grilled cheese sandwich. It's an ageless classic. The traditional buttered-bread and slice-of-orange-cheese versions of our youth may be the most familiar grilled cheese consumed today, but there will always be chefs and home cooks looking to showcase their reworked versions of the sandwich. Indeed, entire restaurants have been built around this concept, and a new one just landed on South Lamar in the Cedars.
Melted, located at 1715 S. Lamar, opened last week under the direction and care of owner Rose Arvajeh. For the past few days, the restaurant has been operating under the parameters of the "soft opening." They've introduced a smaller, limited menu, which they'll add to over the next few weeks. An official "grand opening" is anticipated in the near future. Hours of operation are 11 a.m. to 10 p.m. Sunday through Thursday and 11 a.m. to 11 p.m. on Friday and Saturday.
Being an unapologetic lover of all things melted cheese, I made my way to the restaurant recently to see what Melted had to offer.
Arvajeh describes her business as a restaurant offering a "fun play on grilled cheese with a vintage pin-up girl vibe." The space, previously an aging appliance store, has been completely gutted and remodeled. A full bar sits on one entire wall of the restaurant. There's a pair of large sliding doors that open onto a forthcoming patio space, giving the restaurant a good deal of much needed light and openness.
We started with the Mini Melts appetizer, which featured a quartered classic grilled cheese with three house-made dipping sauces: ranch, beer cheese, and marinara. The bread, which comes from local producers, Empire Baking Co., is sliced thick, buttered, and griddled until perfectly crunchy. It's a respectable standard grilled cheese. The dipping sauces were tasty, and only made the sandwich more enjoyable.
Arvajeh is a native Ohioan, and so felt the need to bring decent pierogies (an Eastern European dish popular in the Buckeye state) to Dallas. Melted's pierogies consist of unleavened dough filled with potatoes and cheese, lightly fried in a skillet. They're finished with sour cream and cheddar cheese. They were universally loved at our table.
I couldn't have been more pleased with my sandwich of choice, the Blaise N' Chicken. This grilled cheese comes stuffed with melted mozzarella, grilled buffalo chicken, and carrot-celery slaw. It's a gussied up grilled cheese, to be sure, but it respects its roots and manages to keep gooey, melted cheese at its essence.
There's a surprisingly high level of cooking going on in Melted's kitchen and I'm looking forward to seeing what developments are found on Arvajeh's menu as she nears a grand opening. Pop in, grab a sandwich, nibble on pierogies, have a drink, and welcome Melted to the neighborhood.