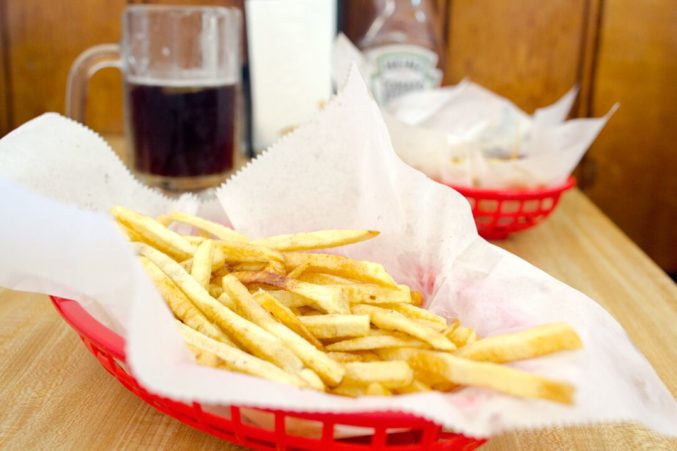 French Fry-Day: Dairy-Ette
They must be doing something right.
You can't go wrong hitting Dairy-Ette on a hot afternoon in late July. The burgers are cheap, the fries and onion rings are made from scratch, and the root beer float will quench your thirst.
Usually I order fries to go and taste test them in the parking lot. However, my empirical methodology was thwarted by the carhops who serve the customers who park under the awnings. I'm sure nobody would have paid a bit of attention to me, but I'm paranoid when I'm working. Besides, by sitting inside, I was able to down a whole frosty mug of root beer almost before the inside chill of the frosted mug loosened and floated to the top in the shape of a mug. It's a fun summer drinking game.
Dairy-Ette has been serving hand-formed, thin patty burgers since 1956. They follow the condiments-below-the-patty practice. When you bite into a burger your teeth and taste buds meet the hot meat before wrestling with a cold tomato slice, shredded lettuce, diced raw onions, pickles, and mustard. And the bottom bun is saved from soggy bun syndrome.
I don't know why I figured the fries at Dairy-Ette would be frozen and tossed in overused oil and served as an afterthought. The burgers are the deal here. But the second the nice, very young lady slid a red plastic basket lined with wax paper filled with steaming hot fries on the table, I knew I was wrong. It happens.
There before us sat a pile of hand-cut potatoes—not too skinny, not too fat—in a zillion different sizes. Several were over four inches and about half the order had remnants of tantalizing brown skin on the tips. Some of the fries were light brown while others were darker. This created a nice, almost a buffet of bites: soft, crunchy, stiff, spongy, chewy. I found stiff soldiers, but for the most part the fries were limp—a fry for every preference.
If you're a fry geek, you will understand me when I type these fries are like "real food." They aren't fast food fries, they have substance (potato!) in the middle. What they lacked was salt. I guess the kitchen wants you to control the sodium factor, but what is a French fry without a little salt? It's a fried bland potato screaming for an accent to bring out the flavor.
But these fries do not travel well. By the time they reached home, they had smooched together and morphed from fires into some kind of other potato dish. Don't get me wrong, this was not a bad thing. It goes down easy with a touch of sea salt and black pepper.