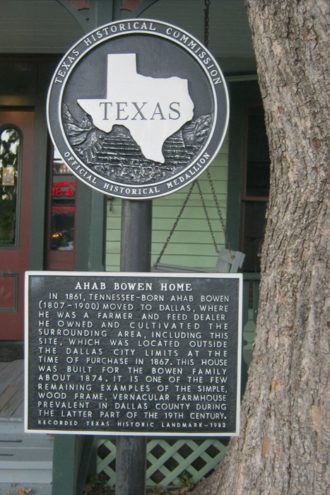 Before you ascend the small staircase to the front porch of The Bowen House at 2614 Boll Street in Uptown, take a few minutes to read the Historical Marker by the right stair post. You are entering more than a bar. In fact, you are in the presence of a cedar clap board vernacular prairie-style home built in 1874 by Ahab Bowen. And this home was once a vibrant farm on the outskirts of the Dallas. A farm that remained as the neighborhood changed around it. It was a time when McKinney Avenue was a dirt road used to drive cattle from Dallas to McKinney. It was also the route Frank and Jessie James took to hide out with the Younger family in Scyene (now Mesquite).
Bowen, originally from Tennessee, moved to Dallas from Bolivar, Missouri to open a grocery store in downtown Dallas. He was referred to as a "Huckster" in the 1870s census. The occupation sounds shady today, but the term was a common one given to peddlers who sold goods from a cart or store.
On May 2, 1873, Bowen and his wife Mary purchased 16 acres bounded by Howell Street, McKinney Avenue, Maple Avenue, and Allen Street. The home, a working farm, was surrounded by creeks, prairie land, and woods. The couple had nine children. In the late 1890s, a brick building went up next to Bowen's property. Today, that building is occupied by S&D Oyster Company.
Bowen did well in the grocery and feed business. Three of his daughter married grocers or food service providers. In 1900, Bowen passed away at 93. His funeral was attended by his wealthy clients who were now building large houses around the Fairmont and Cedar Springs area. He is buried at Trinity Greenwood Cemetery off McKinney Avenue and Hall Street. Two of Bowen's sons, John and Bowen, became ranchers and left Dallas. Their brother William Bowen left town to get into the oil business.
The Bowen daughters stayed. Arabella Ambrose Bowen married grocer J.B. Franklin. Sarah Bowen married into the Akard family. Rachel Adaline married A.M. Thompson, another grocer.  Mary Bowen would re-marry as would Caroline Elizabeth Bowen who married into the Worthington family and would later marry again to B.F. Lacy family, another grocer. Many people feel that the ghost of Mary remains in the house.
In 1976, Michal Longcrier purchased the house and paid homage to Ahab Bowen. He opened Ahab Bowen's vintage store which he operated until 2011. In 2012, noted Dallas restaurateur Mohsen Heidari, owner of Arthur's and St Martin's, bought the house. He turned it over to his son, Pasha Heidari who opened the Kennedy Room in the space formerly known as Montaigne. Pasha showed equal respect to Bowen when he opened the tony Bowen House in 2013.
So shimmy up to the bar and order a vintage cocktail. If the lights flicker near midnight, you'll know Mary is ready for you to leave her home.
Get the SideDish Newsletter
Dallas' hottest dining news, recipes, and reviews served up fresh to your inbox each week.