Happy Texas Wine Month! And, happy harvest season. For wine lovers, this is one of the best times of the year when the culmination of the past year's work yields ripe fruit. It's time to pick, ferment and age the fruit into new wines to be enjoyed. Texas continues to thrive as one of the dominant wine producing states in the country, earning it a whole month to celebrate the bounties.
Over the next month, I will post a few stories on the vast array of wines we produce in our state, noting a few old favorites, like Fall Creek Vineyards that has been producing wine in their Hill Country winery for over 40 years, to up and coming vineyards and wineries that continue to flourish from the panhandle to far East Texas, North Texas to the Gulf Coast, and everywhere in between. But first, a bit more on this industry that continues to provide not only a huge economic impact to our state, and a significant number of full time jobs for Texans.
According to the Texas Wine & Grape Growers Association, Texas wine and the agri-tourism that flourishes from the wine industry contributes almost $1.9 billion of economic value to Texas with over 1.5 million visitors annually to Texas wineries. The state is number 5 in overall wine production in the country, with 350 bonded wineries currently producing throughout Texas, and more opening each year.
But wine has always been a part of the Texas culture. The first winery in North America was in Texas, established by Franciscan priests around 1662. Over the years, as European settlers moved their way through Texas, vineyards continued to be planted, with wine production occurring often in family farmhouses and stables for personal consumption. This consumption maintained through the years, as Texas consistently ranks among the top 5 states in the country for wine buying, with a focus growing from consumers to purchase Texas wine from Texas grown grapes. Over 4,400 acres are under vine across the state now, with two regions in particular leading the pack: the Texas Hill Country, the area around Austin, and the Texas High Plains, out in West Texas near Lubbock. The Texas Hill Country, that area around Austin, is the 2nd largest American Viticulture Area (AVA) in the country.
Over the years, vintners throughout Texas have worked to understand the land to grow what is best for the terroir (soil, elevation, climate, etc.) and thankfully, today many have figured out what grows best in our arid, dry, well draining, nutrient poor Texas soils, including many hot weather Italian and Spanish varieties.
Today, actually, many wineries are about finished with their 2016 harvest, some starting earlier than normal, others right on track with their normal harvest schedule. The Texas Hill Country AVA in particular started about a week to 10 days earlier than normal, some in mid-July, mainly due to a warm winter that led to an early bud break for this year's crop. Though the Texas High Plains started relatively right on a normal schedule as it is a bit cooler in that part of the state.
The great news from many growers this year is the quality of the fruit. The past few years many wineries have experienced smaller vintages due to hail and rot producing lower yields than normal. Pedernales Cellars in Stonewall, sourcing Tempranillo fruit from their own estate as well as others in the Texas Hill Country and the Texas High Plains, that has been affected by hail the past few vintages greatly reducing their overall crops. 2016 looks to set them back on track with both great quality and quantity.
Winemaker Dave Reilly of Duchman Family Winery in Driftwood agrees that the 2016 vintage looks to be one of the best in their history. "2016 weather conditions are right where they need to be to have a stellar vintage," Reilly says.
Perhaps the most exciting thing, in addition to the overall growth in the wine industry in Texas, is discovering what will truly shine here. Vintners and winemakers are going back to the original roots of Texas wine by planting (or re-planting) varieties that once thrived here years ago such as field blends of Portuguese varieties–Alicante Bouschet, Touriga Nacional, Tinta Amarela–that historically have been the base of fortified Port wine. These varieties also make incredible still, dry wine, and thrives not only in the hot, arid soils of Portugal, but also our Texas soils.
Similarly, as Duchman Family Winery has proven, various Italian varieties ranging from Tuscany's Sangiovese to Sicily's Nero d'Avola to Dolcetto from Piemonte, all thrive in Texas soils. Yes, traditional international varieties, like Cabernet Sauvignon, Merlot, and Sauvignon Blanc are grown as well, with wineries like Fall Creek excelling in the quality of these wines produced.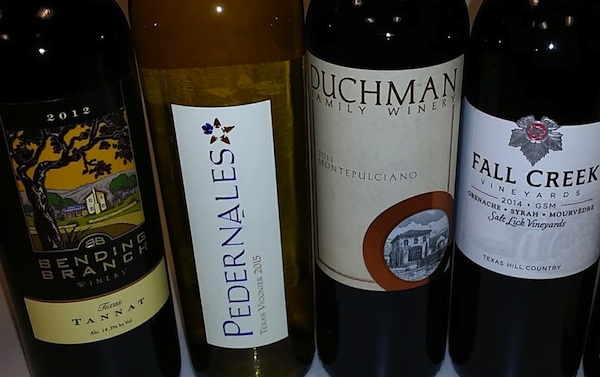 But, for me, the story of our state is really in the wines that you can't or don't find from every other place in the country, such as the Spanish Tempranillo or some of the stellar white wines from traditional Rhone varieties like Viognier and Roussanne from wineries like McPherson, Pedernales and Becker.
Today, with more and more consumers learning about the quality of wine produced here, new vineyards with a wide array of varieties continue to come on line. This benefits our economy from both the jobs stand point, including everything from actual vineyard workers and cellar hands, to winery staff and wine country tourism, as well as actual wine sales both in the state and abroad. The shipment of Texas wine outside of Texas has seen some issues on the government side, but that is changing.
As noted, I will follow up shortly with some key wines and wineries to keep an eye out for in the coming weeks. Until then, head to your favorite wine shop and ask your salesperson for a wine from Texas. And, let's raise a glass throughout October, and all year long, to Texas wine.
Get the SideDish Newsletter
Dallas' hottest dining news, recipes, and reviews served up fresh to your inbox each week.