Nick & Sam's executive chef, Samir Dhurandhar has come a long way thanks to an approach to the dining experience that many others could tear a page from. "Never take your guests for granted," Samir says. "Take the best care of them and everything else will fall into place."
Thanks to that driving ethos, it's no wonder the James Beard House invited Samir to prepare a dinner on March 12. After all, there's a reason so many food writers compare a chef receiving an invitation to "perform" at the James Beard House as the equivalent of a musician being invited to play at Carnegie Hall.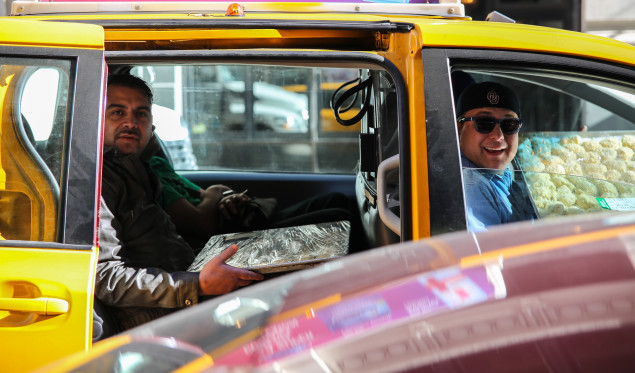 The chef's passion for spices, cooking and genuine hospitality began in his mother's pantry in Bombay, India. His mom often set out welcoming spreads for family and friends. "My mother spoiled me," he says, taking a mid-prep break at the Beard House Saturday morning. As early as age 13, Samir was helping and experimenting in the kitchen. His first foray at preparing the family dinner was mashed potato sandwiches. As he tells it, his family "lovingly ate and complemented" the aspiring chef. "They said they were delicious, but down the road I heard they were horrible."
Samir's formal experience in a kitchen started as a junior sous chef at the Sheraton Hotel in Bombay. He came to the United States in 1989 to enroll at the Culinary Institute of America in New York. After graduating, he spent nine years in a variety of executive chef positions in kitchens in New York before heading to Dallas to help open Nick & Sam's Steakhouse in 1999.
"I didn't believe it at first," he says, about the invitation to cook at the house. "It's a prestigious thing for me. A lot of famous chefs have come through this kitchen."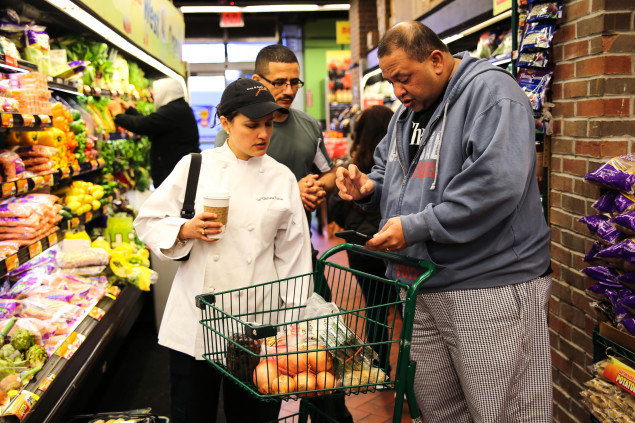 From the exterior, the townhouse seems almost nondescript sitting on a mostly quiet street in Greenwich Village. Only a plaque denotes what awaits diners inside the James Beard House at 167 W 12th St. (The New York Association of Cooking Teachers donated the plaque years ago.)
People visit New York and splurge on tickets to a Broadway show or a meal at a 4-or-5-star restaurants, but a unique, memorable experience awaits at a historic house that showcases some of American's finest chefs. And not just the ones hungry for celebrity on cable television. No, chefs whose real heat comes from conducting in the kitchen and entertaining guests. Chefs travel from all over the world to take a temporary residence in the hallowed kitchen. In other words, the room is a magical stage that happens to serve as a fully-functional kitchen. (OK, mostly functional.)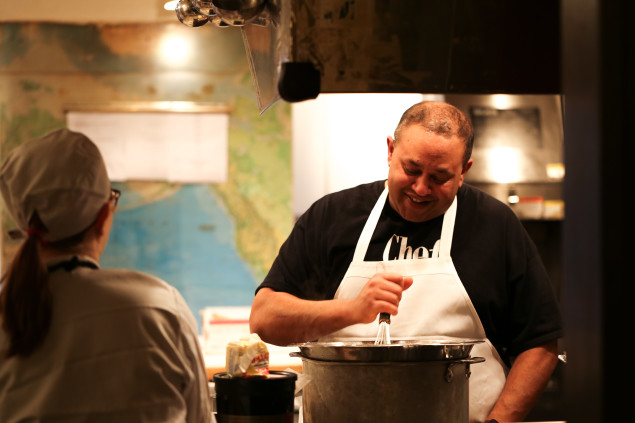 For those unfamiliar with Beard, he was a chef, teacher, cookbook author, essayist, and restaurant consultant. The house's interior is chock-a-block with books, photos and other memorabilia from Beard's career. He lived on the first and second floor, and Nick Fox wrote in the New York Times in 2007 that "after he died in 1985, the foundation became a sort of Vatican of the American food world." In death, as in life, Beard and his house remain the center of the American food-and-wine community. (It was my first time dining there, and I felt honored to be invited to document the experience.)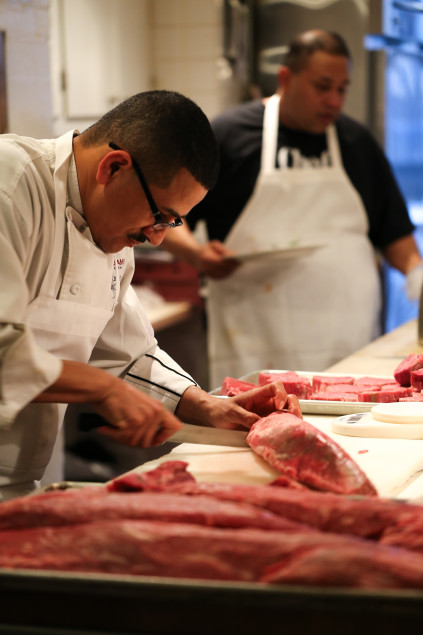 After checking in, the hosts usher diners through the kitchen, giving guests their first peek at the featured chef and a hint at the food to come. Plates come to life with last-minute ornamental (and edible) touches. Beautiful, mouthwatering cuts of beef sizzle in a pan filling the room with savory smoke.
Guests gathered on a crowded garden patio and made conversation in the cool March evening air. Servers poured guests a glass of Armand de Brignac's "Ace of Spades" brut while plates of hors d'oeuvres whizzed around the dimly-lit patio, the standout being the crispy oyster sliders with barbecued beef bacon and crisp apple. (Pictured above.)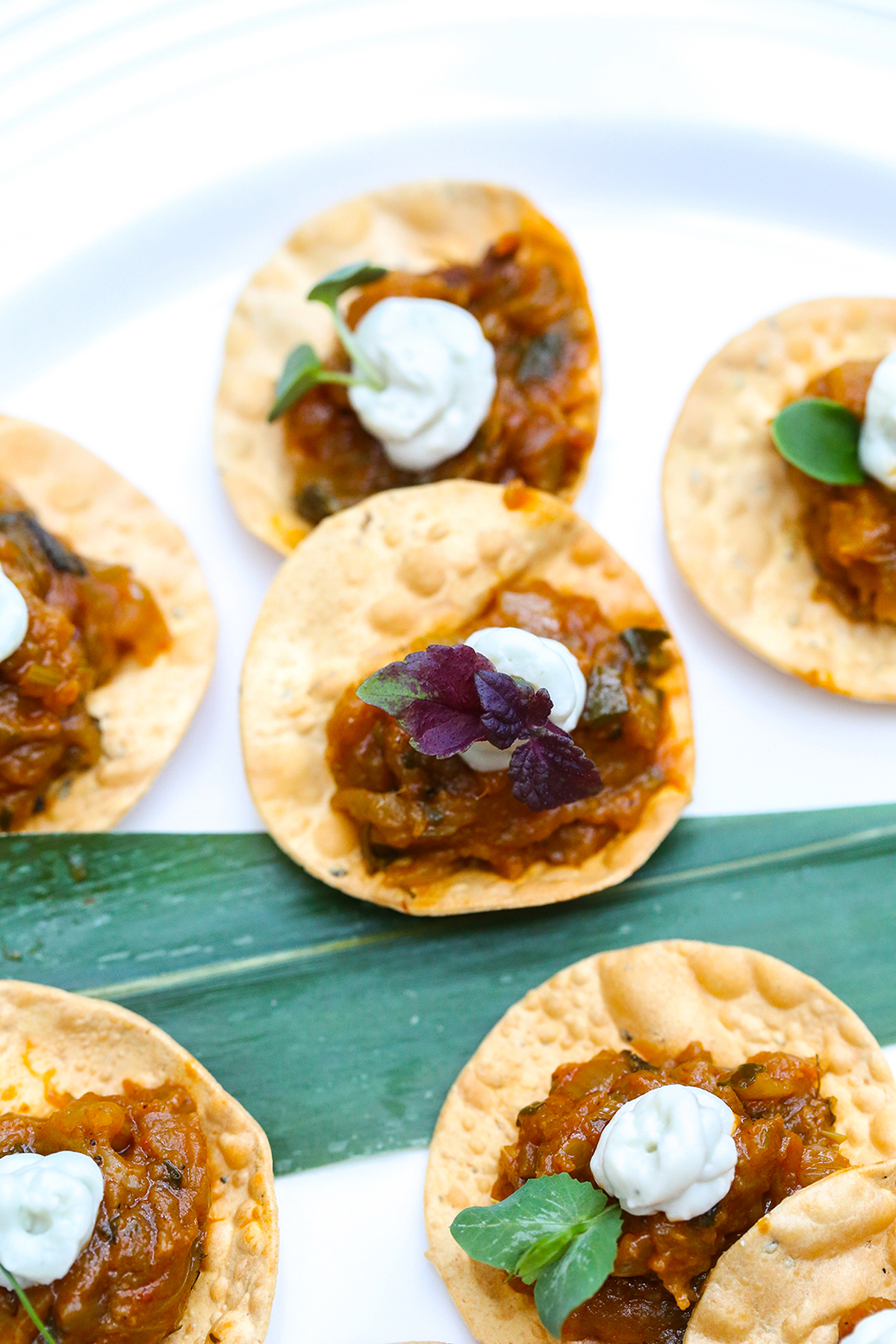 Diners were then signaled to head upstairs to take their seat at communal tables in Beard's bedroom. With the 74-guest maximum capacity it's no surprise that tickets for Samir's "Swanky Chophouse" sold out. Of the main courses, the Australian Wagyu short rib cannelloni with Parmigiano-Reggiano fonduta, San Marzano tomatoes, and bottarga seemed to be a favorite.
The star of the night: the Ohmi Wagyu tenderloin (from the Shiga Prefecture in Japan) with cipollini, oxtail croquettes, and king crab oscar. The coos of delight were audible in the room.
Samir's sage advice for aspiring chefs who hope to one day "perform" at the Beard House: "You've got to start from the bottom. You have to put in the hard work, and then you'll get here."
Get the SideDish Newsletter
Dallas' hottest dining news, recipes, and reviews served up fresh to your inbox each week.