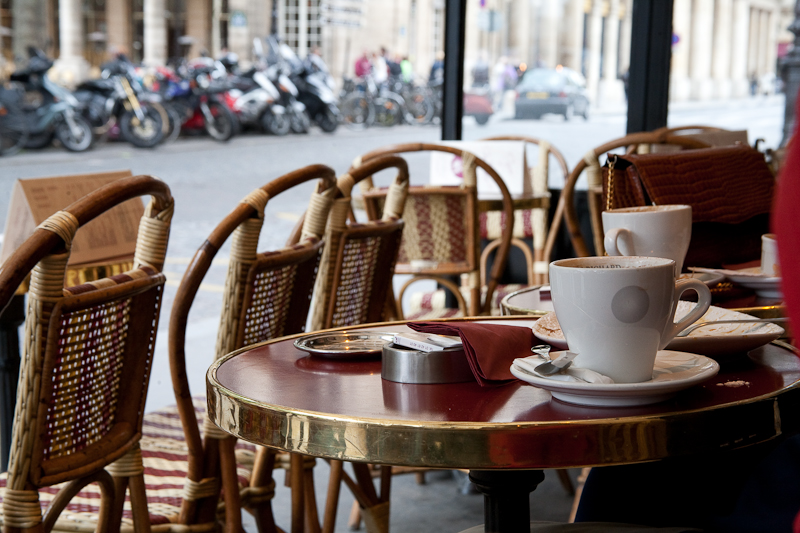 Drink This Now: Black Hat Coffee from Mercat Bistro
For a touch of Paris in Dallas.
Our February "Rise and Dine" issue will tell you where to eat. Stay tuned on SideDish for a series of morning elixirs whose common denominator is caffeine.
Some mornings, as Edith Piaf might say, you want La Vie en Rose. You want sunlight spilling through windows, that undefinably sweet, relaxed atmosphere of a Parisian cafe, and something barely chic—just a little touch of luxury. You want a black cat coffee at Mercat Bistro.
I don't usually go for coffees with flavored syrups, but this one seduced me from the get-go. The chapeau noir—black hat—isn't on the menu. It used to be; now it's something you order because you're in the know and it's so much fun to say. Regulars know it.
It's a triple-layered creation. Cold milk topped with two shots of espresso carefully floated on top—the beautiful froth is the "black hat" of its name—and a small dose of flavored syrup (vanilla, unless otherwise requested) at the bottom, giving a sweet hint when you down the elixir like a shot, which you may want to do, though there's no wrong way about about this: savor any-which-way you choose to disturb the equilibrium of coffee and milk, hot and silky cold, elegantly presented in a glass. That is the pleasure.
I tip my hat to this drink, which, in my opinion, is calibrated just right. That and a croissant and life is looking rosy.