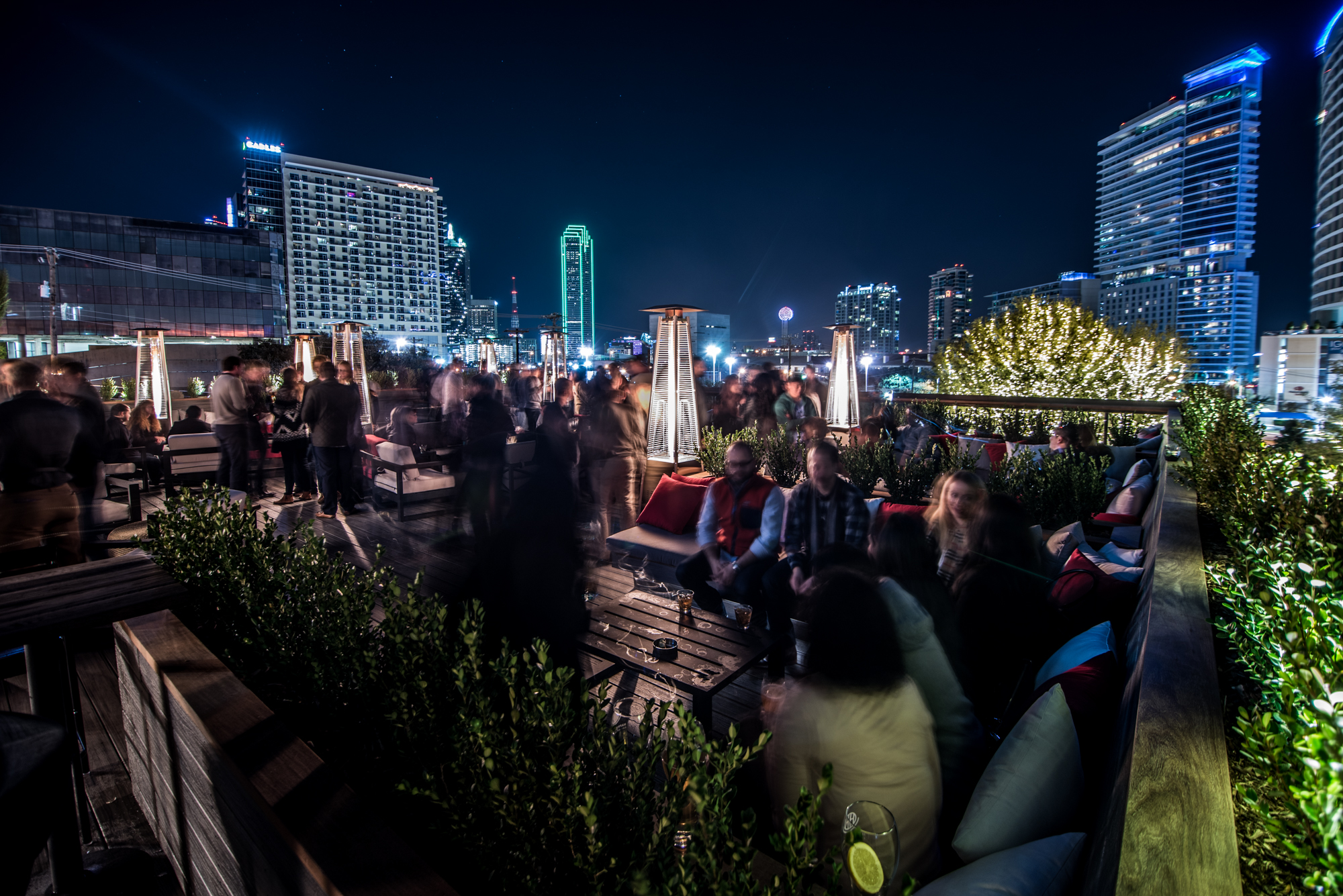 Keeping Tabs: Happiest Hour
A look at the newest addition to the Harwood district.
Happiest Hour (brought to us by the folks behind The Grove) is the newest addition to the Harwood District. The bar, which opened in October, is also kind of like a bar supercenter: There's a huge indoor space, a patio, a rooftop bar with a great view, and a fire pit-filled yard. There are crafty cocktails and a mile-long row of beer taps. Also, at 12,000 square feet, it's big enough to get lost in.
The Atmosphere: Happiest Hour is, as stated above, daunting in size. Yet somehow it's also so busy (especially on game days) that spots to sit are hard to come by. The interior is a palette of industrial neutral colors and wooden furniture. Dozens of lightbulbs hang over the bar; a crisp white wall behind it features the Happiest Hour logo in dark bold font. The patio has heaters, a smattering of seating, its own smaller bar, and smells like beer. The courtyard is, on a cold day, basically the only place you'll find a spot to sit. Fortunately, there are fire pits, light-wrapped trees, and a sign that reads: "Unattended children will be given an open tab at a candy store."
What to Order: A pretty bartender in bright red lipstick recommended the Mustang Morning Shooter (Cinco vodka, Marie Brizard Blackberry, lime juice, simple syrup, ginger beer) – a favorite of hers which, admittedly, looks delicious. Most of the cocktails feature sports-reference names like Aggie Pick Me Up and Stars Green Envy, and, by the bartender's own admission, are mostly on the saccharine side. If you prefer your alcohol unsweet, fear not: There are plenty of wines (both by the bottle and the glass) and an impressive 50 beers on tap.
Who's There: On a game day, expect to see a lot of sportswear, including ladies clad in oversized Dallas Stars jerseys and sexy stilettos. In general, the clientele tends to be clean-cut, attractive, and well-dressed: think puffy NorthFace vests, dress shirts, tunics, skirts, and guys in suits. As with most places, the crowd is a blend of all ages, though you'll largely see folks in their mid-20s to mid-30s. Due to its location, HH draws a blend of Uptown and Downtown crowds, and is just a short jaunt from the American Airlines Center (which makes it a good place for postgame partying).
What I Liked: I really enjoy fire pits. Besides that, I was entertained by how ubiquitous this bar's logo is. Seriously, you'll see "HH" on everything (even the aforementioned sign that threatens your kids with diabetes).
What I Didn't Like: If a bar is called "Happiest Hour," it needs really killer happy hour deals. A $1 discount on drinks does not cut it, HH.
Warning: You will smell like a campfire if you hang out near the fire pits. I understand that this should be wildly apparent, but just be aware. Later, other people will notice it and tell you that you smell like childhood camping trip nostalgia.
Happiest Hour was named one of Dallas' Best New Bars for 2015.