From the edge of the alps to the very tip of the boot heel, the wines of Italy go well beyond the jug of unnamed Chianti that rests on the checked tablecloth at your favorite neighborhood pizza joint. More than 300 different grape varieties are grown in Italy, each defining their specific place and terroir. I have tried an interesting assortment recently. Here are a few stand outs. (Some wines were sent for editorial consideration.)
When we think of sparkling wine in Italy Prosecco or Asti Spumante may come to mind. However traditional method (with the second fermentation taking place in the bottle as it is made in Champagne) sparklers are being made within the country in places like Franciacorta, with their stellar sparklers made from Chardonnay, Pinot Nero and Pinot Bianco, like the Bellavista Rose Brut made from 62% Chardonnay and 38% Pinot Nero that is aged a minimum of 5 years on the yeasts in the bottle prior to disgorgement. Wild strawberry and raspberry flavors meld with red delicious apple, fresh roses and a touch of toasted almonds for a rich and refined, yet very lively sparkler. $50, available at Jimmy's.
Fratelli Lunelli Ferrari has been producing sparkling wine in the traditional method in Trento D.O.C. near the base of the Italian Alps since 1902. The high elevation location of their Trento vineyards (ranging from 985-2300 feet above sea level) ensures their base fruit is filled with bright, fresh acidity and ripe fruit flavors. Ferrari Perle 2007 is a vintage Blanc de Blanc sparkler of 100% Chardonnay, aged a minimum of 5 years on native yeasts in the bottle. Elegant and refined, the bubbly is filled with flavors of golden apple, ripe pear and lemon meld with baked brioche and a touch of spice. $39, available here.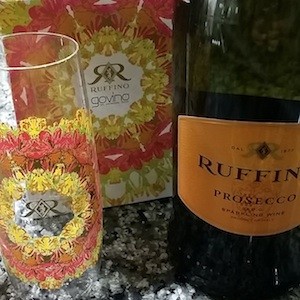 For an easy and refreshing bubbly, Ruffino is a leader in producing Prosecco. Fresh and juicy, filled with zippy lemon, green apple and juicy melon notes. The company recently partnered with govino to create their Ruffino al fresco outdoor flutes, ideal for picnics or poolside sipping. The Prosecco is available for $15 at Goody Goody stores; the flutes are available here for $20 for a package of 4.
In the northeast corner of Italy is the stunning region of Alto Adige, the once Austrian, still heavily German influenced, Italian region. I am such a huge fan of the wines of Alto Adige as the cool climate, high elevations and mineral rich soils elevate varieties, making memorable wines from grapes like Pinot Bianco, Pinot Grigio and Gewurtztraminer.
Alois Lageder 1823 has been producing high quality wine from the heart of Alto Adige for almost 200 years, adopting complete biodynamic farming in 2004, truly connecting their work to the earth and its well being. Utilizing two brands, Alois Lageder making wine from quality fruit sourced from select producers, and Tenutea Lageder from single vineyards on the winery estate. Of all varieties in the area Pinot Bianco truly thrives thanks to the terroir, taking on a layer of steely crushed stone, mineralic influence with the citrus and white grape flavors, as evident with the Alois Lageder Pinot Bianco Dolomiti, available for $14 at Pogo's. Tenutae Lageder Porer Pinot Grigio, from certified organic and biodynamic estate vineyards sitting at 750-790 feet above sea level with a high diurnal shift in temperatures from day to night, leaps from the glass with a mix of ripe honeydew melon, lemon and sweet spice with a medium-bodied texture enhanced by partial cask fermentation and aging of the wine for 5 months on the lees (yeasts.) $25, available at Jimmy's.
Started in 1928 in the 600 person village of Cortina, Peter Zemmer Winery prides itself on producing some of the highest quality, cool weather wines possible in the high altitude vineyards of Alto Adige. With ideal exposure to sunlight, cool breezes coming in off Lake Garda and well-aerated soils the winery is able to farm without herbicides in a sustainable way, with the use of completely organic fertilizers and cover crops. This makes for healthy vines that produce rich and lively wines. Peter Zemmer Pinot Grigio is a spicy, concentrated wine with richness not often found in the variety. Concentrated from low yielding vines, fermented in stainless steel, but then left on the lees for a period of time to add texture to the wine, the result is lush and juicy with bright notes of citrus, orchard and stone fruit, with zesty acidity and a touch of creaminess on the end. $16, available at Spec's.
The Augustinian Canons Regular monastery Abbazia di Novacella sustains themselves on growing grapes and making wine, making them completely independent from the state, following the path that the "main purpose for having come together is to live harmoniously in your house, intent upon God in oneness of mind and heart," as noted by the Rule of St. Augustine, guiding their path since the monastery was founded in the 12th Century. Their wines are vibrant, fresh and inviting. Though not the typical variety for Italy, the Novacella Gruner Veltliner is one of my favorites from the monastery, filled with soft herbs, ripe melon, green apple and pepper spice. Fragrant and inviting, a great food wine with fish, spiced poultry stews and stir fry. $24, available at La Cave Warehouse.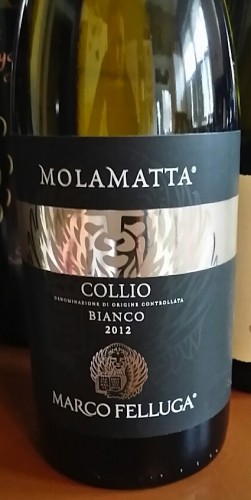 Not far from Alto Adige is the region of Collio, Friuli and the home of Marco Felluga and sister winery, Russiz Superiore. Started in the 1950's, is a leader Felluga in producing quality whites from the region. The Marco Felluga Molamatta is a blend of Tocai Friulano, Pinot Bianco and Ribolla Gialla that is filtered before fermentation then vinified and aged 6 months on the lees (yeasts) in oak, followed by several months in the bottle to create a wine with character, and history. Aromatic floral and spice notes lift from the glass, followed by Asian pear, citrus and spice flavors. $21, available at Spec's.
I have been a fan of Soave, from Italy's Veneto region, for some time and a constant favorite is from Inama. The Inama Vin Soave Classico of 100% Garganega fruit is somewhat of a cross between Chardonnay and Sauvignon Blanc. Fresh and light, yet also balanced and structured, filled with wild flowers, toasted almond and juicy citrus. $15 at Pogo's.
The heel of Italy is home to the Salento region, a part of Apulia and home to hearty native variates like Primitivo, Negroamaro and Verdeca. Li Veli Winery is dedicated to showcasing these native varieties and their their bold complexities in their lush, approachable wines. Li Veli "Askos" Verdeca Valle D'Itria ($20) adds a touch of Fianno Minutolo to the white Verdeca fruit to create a fruit filled wine layered with tropical guava, mango and lychee notes. Their Li Velli "Orion" Primitivo ($14) is a perfect barbecue red wine balancing sweet baking spice notes with ripe red fruit and pepper. Both have great acidity, making them perfect for food. Both are available at Pogo's.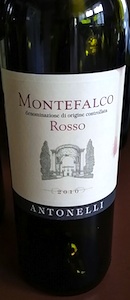 Almost in the center of the country in Umbria is Montefalco, growing Italian Sangiovese & Sagrantino, as well as Bordeaux Cabernet Sauvignon and Merlot. Antonelli Montefalco Rosso DOC blends all, though dominated by Sangiovese, for a light red wine that is perfect for summer. Juicy ripe cherry, plum and currant fill the wine, making it a perfect pair to anything from beef carpaccio or roasted pork belly. $23, available here. 
Though we may think of Sangiovese when we think of Tuscany, as with the wines of Chianti, however the Bordeaux varieties thrive in the region producing elegant, refined and very Old World wines.
Aia Vecchia was founded by the Pelligrini family in 1996 in Tuscany between Bolgheri and Castagneto Carducci. Longtime vintners, they started the winery to showcase these Bordeaux varieties that thrive in their sunshine filled vineyards. Aia Vecchia "Sor Ugo" Bolgheri Superiore DOC blends Cabernet Sauvignon with Merlot, Cabernet Fran and Petit Verdot for a very French style, with Italian character. Black fruit and black licorice fill the palate, with soft herbal and leathery notes. $35, available at Wine Therapist
The Frescobaldi family has been growing grapes in Tuscany for over 700 years. Though other professions were recorded for the family through the years, from bankers to musicians to politicians, making wine has always been a part of their history and culture since the 1300's with over 30 generations of winemakers based in and around Florence. This attachment to their history and tradition remains a guiding factor today, even with the introduction of modern techniques. Marchesi de'Frescobaldi Tenuta Frescobaldi di Castiglioni is a modern expression of their history. A blend of 50% Cabernet Sauvignon with 30% Merlot, 10% Cabernet Franc and 10% Sangiovese creating a ripe berry and wild flower filled wine, that layers sweet spice, dark chocolate, licorice and strawberry flavors to create a well integrated, luscious and inviting wine. $26, available at Total Wine & More.
Winemaker Pierre Seillan is a lover of great Cabernet Franc. The French born winemaker, who currently produces wines in Bordeaux for Château Lassègue, Sonoma for Vérité, and in the Tuscany hills of Chianti Classico for Arcanum, elevates the variety in each of his wines, showcasing the character and complexity of the grape, especially when blended with some of its Bordeaux siblings. Arcanum fruit is grown in sandy clay soils on the Arcanum estate in the commune of Castelnuovo Berardenga in the southeast corner of Chianti Classico. Great wine has always been a part of the culture here, with roots tracing back to pre-Roman times. By breaking up with 200 acre estate into 63 different blocks to isolate the best varieties for each of the 10 different mesoclimates and 12 distinct soil types, ensuring proper varietal selection for each block to create the best blends.
The current vintage, 2009 Acranum blends predominantly Cabernet Franc with 22% Merlot and 10% Cabernet Sauvignon for a wild rose, sweet spice and red fruit filled wine with a touch of orange peel and sweet spice, that is balanced, concentrated and dense, with a silky long finish that is softer than many wines produced in the country, making it incredibly welcoming. $100.
The winery also produces a Merlot dominant wine, Valadorna, from cooler blocks on the estate. The 2009 Valadorna blends 85% Merlot with 8% Cabernet Franc and 7% Cabernet Sauvignon to create a smooth, delicate wine with freshness, balance and complexity. $80. Dallas Fine Wine & Spirits carries the Arcanum.
For a more classic Tuscan Chianti, made from the celebrated Sangiovese vareity, Badia a Coltibuono consistently delivers. Produced from sustainably grown fruit, their Coltibuono RS Chianti Classico DOCG is rich and expressive, filled with ripe blackberry, mulberry, forest floor and leather notes. Bold, yet elegant, a good wine for serving with roast, hard cheese and any pasta dish. $18, available at Spec's.
Fattoria Selvapiana Chianti Rufina Riserva "Bucerchiale" DOCG defines the richness and longevity of the wines of Chianti. 100% Sangiovese, the wine is only made in exceptional years to showcase the rustic elegance and refined character that great Sangiovese can attain. Selvapiana, though, proves this quality while maintaining a modest price, about $37 a bottle. Rich and savory with layers of ripe cherry, dried berry, sundried tomato and spice. Available at Pogo's.
In the southern hills of Montalcino, in stony, chalk filled soils Castello Banfi produces their beloved Brunello di Montalcino DOCG. Made from 100% Sangiovese that is aged a minimum of 2 years in oak, and another 2 years in bottle, released in the 5th year after harvest, the rich, dense and robust wine shines with elegance and refinement. Filled with black licorice, sweet baking spice, savory umami notes and a touch of wildflowers and toasted vanilla, the wine is the ideal accompaniment to grilled meats and rich Italian pastas. $80, available at Sigel's.
Rosé is also made in Tuscany, with Santa Christina producing one of the first in the region from Sangiovese fruit.  Cipresseto Toscana IGT Rosato is filled with fresh berry flavors, like wild strawberry and raspberry, with orange peel and grapefruit notes layered with savory spices. Fresh and juicy, and named after the cypress trees that dot the landscape near the vineyards to keep the focus on their Tuscan home in this inviting wine. Santa Christina Campogrande Orvieto DOC Classico is a Tuscan white  made from a blend of Procanico, Grechetto, Verdello, Drupeggio and Malvasia, creating a tropical fruit and citrus filled wine that sings of summer. Thirst quenching, approachable and lively, a great wine to enjoy on the patio all summer long. Both wines retail around $14 a bottle, Total Wine and More carries the Campogrande Orvieto, Jimmy's the Cipresseto.
Piedmont is one of my favorite regions in Italy, known for their robust and divine Barolo wines, and the intoxicating white truffles of Alba that blanket the cuisine of the region from November through January. The wines of the region are not a part of this post as I will highlight a few of my favorites in a separate post on the region in the coming week.
If you are a true lover of Italian wines, and Italian products, every day of the week Jimmy's Food Store delivers on incredible wines and products straight from the beautiful country, from fresh meats and cheese, including shipments of fresh burrata flown in from Italy, to great pastas, truffle products and jars of just about anything you may need from capers to olive oil straight from Tuscany. They also have one of the best Italian wine selections I have seen in Dallas, or anywhere in the state, filled with selections from all over the country, always at great prices.
Also, from now until the 20th of June Sigel's wine stores are celebrating Italy by putting some stellar selections on sale, including 2009 Banfi Brunello di Montalcino on sale from $80 to $45, Banfi 2007 Brunello di Montalcino Riserva alla d'Oro on sale from $150 to $75, and a selection of older vintage (2002 and 2003) Acranum on sale as well. Quantities are limited though, so don't delay in checking them out.
Get the SideDish Newsletter
Dallas' hottest dining news, recipes, and reviews served up fresh to your inbox each week.