When we think of well-made Chardonnay our minds might take us to the steely wines of Chablis, creamy yet mineral rich wines of Montrachet, or juicy, lively wines of Napa and Sonoma. Including Oregon in this discussion may not have happened a handful of years ago, as the Chardonnay grown in Willamette Valley until recent years has been rather flabby, flat and uninteresting.
Thankfully, with the help of a handful of winemakers like David Adelsheim, Bill Stoller and Josh Bergstrom, this has changed. After identifying the problem, that Chardonnay vines brought in to the state early on were essentially the wrong clone, many coming from warm California climates with the much loved Wente clone or one of its hybrids, they were able to make some changes. Through testing and discovery, winemakers like David Adelsheim brought in Dijon clones from Burgundy, the cool-weather home of the variety, that adapted better to the climactic and soil conditions of Willamette Valley with cool climates, late ripening conditions, and volcanic soils.
Today this means the region has started producing stellar Chardonnay wines throughout Willamette. The region will hold their 4th annual Chardonnay symposium of growers, winemakers, media and guests in early March with the goal to teach, talk and discuss, learning about Chardonnay and how winemakers mange the variety. Today only about 5% of the total vineyard acreage in the region is planted to Chardonnay, but the hot topic buzzing around coffee shops, tasting rooms and development meetings in every AVA in the region is where to plant more Chardonnay. I have tried some stellar selections recently, both tasting at the wineries on a recent trip to Oregon as their guest, and through samples sent for editorial consideration.
If you ask other winemakers around Willamette who is the papa of quality Willamette Chardonnay they will say David Adelsheim of Adelsheim Winery. Though modest and always gracious, truly with the "if one of us succeeds, we all succeed" attitude, Adelsheim's work with Bugundian Chardonnay clones changed the path of the variety in Oregon. One of his finest selections is his Adelsheim Caitlin's Reserve Chardonnay. Hand picked, gently pressed in whole clusters, barrel fermented in small French oak, of which 26% are new each year, with 10 months of lees aging, with occasional stirring in the first 2 months, the lush, racy, elegant wine has complexity, refinement and balance. Creamy lemon pie, baked apple and baking spice meld with bright tropical fruit notes with fresh acidity, making it a wine that will age but can also be enjoyed now with roasted chicken, baked fish or pasta dishes. $45 available via their website.
Paul Durant of Durant Vineyards and Red Ridge Farms founded the Chardonnay Symposium with Erica Landon of Walter Scott Wines in 2011. His Durant vineyards, started by his parents in 1973, has primarily been a grower for wineries in the region since its start. His parents had moved up from California with a hope to find valley floor land to plant when the region was in the early years of development. Sadly, they found that the area they hoped for was simply too expensive, and were forced to move upward to higher elevations that were less expensive, finding a reasonably priced 15 acre piece of land high up in the Dundee Hills, acquiring more land over the years to achieve to their current size of 120 acres, of which 60 are planted to vines. Fast forward 40 years from their start and these vines on Dundee Hill are some of the most prized in the region filled with red volcanic, Jory soils that produce rich, earthy, black fruit filled Pinot Noir which command some of the highest prices in the region.
Durant began bottling their own wine under the Durant Vineyards label in 2003, keeping the production very low around 2500 cases per year, while still selling off most of their quality fruit. Their fresh, balanced and light 2013 Raven Chardonnay, celebrating their 40th anniversary, combines a variety of techniques to produce balanced, easy drinking Chardonnay. Stainless steel and oak barrel fermentation (only using a scant amount of new oak,) 10 month aging, while leaving the wine on the lees for 5 months, allows the wine to have depth, texture and interest without overwhelming the palate, harmoniously blending fruit and acidity. $25 via their website.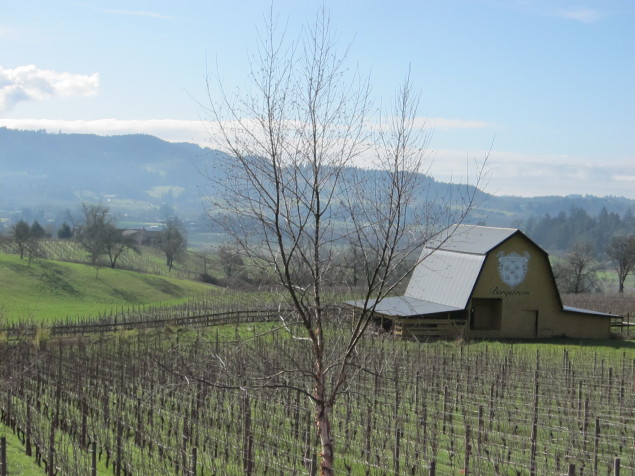 Josh Bergstrom is planting Chardonnay fruit anywhere he possibly can in his Chehalem AVA vineyards, as he believes it is the future of Willamette Valley wine. One of the most interesting is Sigrid, the ultra premium, boutique wines of Bergstrom Winery. Bergstrom Sigrid Chardonnay ($85) is created from the highest quality fruit from the 7 different vineyards Bergstrom farms. The very best barrels of French oak aged (34% new) Chardonnay from these 7 vineyards are used to produce Sigrid. Aged for 18 months in oak, then 4 months in stainless steel to add a punch of brightness to the wine, perkking it up a bit before bottling. The result, a complex wine with richness, balance and luscious texture filled with toasted hazelnut, tropical lychee and guava, golden apple, fresh citrus and spice. A beautiful wine available for $85 via their website.
Tiny production Walter Scott 2013 Cuvee Anne Chardonnay celebrates the art of native yeast fermentation, allowing yeasts that linger in wine cellars, on grapes and in the vineyards to start and carry the fermentation on the fruit. It can be difficult to produce a wine this way, as there is no set start or end date for your fermentation and the styles of the wines may change as native yeasts change in the air, but when done well, the wines are completely varietally correct and completely special. 160 cases of the Cuvee Anne were produced in 2013, available for $45 via their website.
Stoller Family Estate makes beautiful Pinot Noir, especially their Nancy's and Cathy's Reserve tier Pinot, but their Chardonnay fruit is what many growers in the region want to get their hands on. Wineries like Chehalem and Adelsheim have purchased quality Dundee Hills Chardonnay fruit from Stoller for years to produce their Willamette Valley Chardonnay blends and single vineyard designate wines. The 2012 Stoller Reserve Chardonnay, all farmed sustainably and produced in their LEED certified production facility, leaps from the glass with juicy, ripe fruit, while maintaining good acidity and balance. Golden apple, pear, lemongrass and spice meld in the aromas and flavors of the wine, with a long, lovely finish. $35, available via their website.
Tony Soter focused most of his efforts at his Soter Vineyards in Willamette on producing exceptional, earthy, wild strawberry, cherry and spice filled Pinot Noir, often using the Heirloom clone he discovered at the Grace Benoit vineyard while at his previous home in Carneros as owner/winemaker for Etude. However, in 2011 Soter began producing their Soter North Valley Reserve Chardonnay from sustainably managed fruit grown throughout the northern part of Willamette, celebrating the diversity of the basaltic and marine sedimentary soils of the area that each add different layers of minerality to the wine, combining tropical notes with tree fruit and citrus for a well rounded wine. $45 available via their website.
Get the SideDish Newsletter
Dallas' hottest dining news, recipes, and reviews served up fresh to your inbox each week.