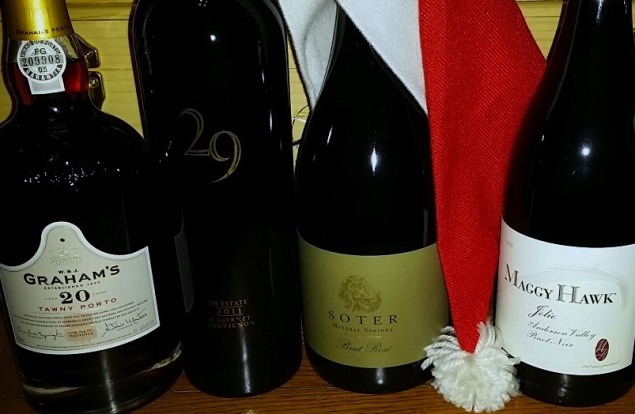 If you are in need of a few special, and very tasty, gifts for your wine loving friends and family this holiday, consider one of these festive options, sure to please any lucky recipient. I will have a selection of spirits gift ideas up shortly as well. A few selections were sent for editorial consideration.

Port is all the rage this season, as Wine Spectator ranked the famed 2011 Dow's Vintage Port as the number 1 wine in the world, praising the fortified wine from steep terraced vineyards up from the Douro River, as one of the best vintages in the past 50 years and giving the wine a 99 point score. Ruby red, robust and luscious from the Symington family who has been producing Port since 1882. Available here for $269.
I am personally more of a fan of a Tawny than a Ruby or LBV Port, appreciating the caramel, toffee and toasted qualities barrel aging gives the indigenous varieties of Portugal, adding depth, richness and character. One of my favorites is Warre's Otima 10 year, displaying a balance of fruit and oak, filling the palate with toasted almond, caramel and coffee characteristics. $18 at Total Wine and More.
The older I get the more I believe that with age brings depth, complexity and character, as is evident in Graham's 20 year old Tawny. Elegant and smooth, with layers of dried orange, toasted nut, toffee and sweet spice, a perfect Port to finish a night of celebration with. $55 at Pogo's.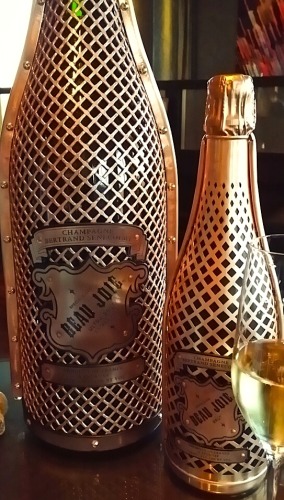 One of the prettiest presentations comes in an appropriately named Champagne, Beau Joie Brut (beautiful joy in French.) The 40% Chardonnay/60% Pinot Noir blend create a Brut sparkler with structure and finesse. This is taken it to the next level with the packaging, a copper cage encasing the premium sparkler, resembling a suit of Armour and inspired by knights that protected kingdoms long ago. The effect creates a bottle as pretty to look at as it is tasty to drink, with an added bonus, the copper helps insulate the bottle keeping it chilled. White flowers, toasted brioche and fresh apple fill the palate of this completely zero dosage Champagne for a very dry, yet balanced palate. I enjoyed a glass the other night at SER Steak and Spirits in the Hilton Anatole, one of the few places in Dallas pouring it right now. You can also find it at Spec's for $100 a bottle.
I am such a fan of Tony Soter and his Soter Wines from Willamette Valley. Soter Mineral Springs Ranch Pinot Noir just ranked #17 on the Wine Specator top 100 list, available for $60 through his website, but my true love from the winery is their very small production, very high quality, strawberry, marzipan and citrus filled Soter Rose Brut Sparkling Wine. If you visit the winery at the perfect time of year you can pick up a bottle, but outside of physically being there it is tough to acquire. However, it is available now on their website for $65 or in magnum $150.
Napa Valley Cabernet Sauvignon is some of the finest in the world, many would say the finest, with the true character of the Valley coming through in each distinct area in the region. Whether it be valley floor or mountain fruit, each part of the 20 mile region is completely different. A few favorites that should be on your holiday table or gift list include Vineyard 29 Estate Cabernet Sauvignon. Carefully selected from estate grown St. Helena fruit, nestled at the base of the Mayacamas Mountains, and produced with delicate care in their completely modern, highly advanced winery, the robust yet refined wine highlights the elegance, subtly and charm of St. Helena. $200 at Pogo's
For mountain fruit Cabernet lovers Cardinale Cabernet Sauvignon will elate any recipient. Created from carefully selected vineyards on Mt. Veeder, Spring Mountain, Howell Mountain and Diamond Mountain, artistically blended to display the true character of Napa Valley in a robust, concentrated, full-bodied, yet refined wine. $250 at Total Wine and More.
Meander Wines wraps winemaker/owner Amy Aiken's wine passions in a bottle. Her Napa Valley Cabernet Sauvignon, from a blend of both St. Helena and Rutherford fruit elevates the grape, showing layers of red cherry, blackberry, licorice, dusty earth and dark chocolate. Aged 22 months in 70% new French oak, the rich wine balances ripe fruit with well-structured tannins for a beautiful wine with a soft, silky finish. $75 available via her website.
Earthy, intense and bold define the wines produced in the Stag's Leap AVA, as is most evident with The Leap Cabernet Sauvignon from Stags' Leap Winery. Made with 76% Cabernet Sauvignon and 24% Petit Sirah the powerful wine is filled with ripe black fruit, black cherry, black plum, with heady dried herbs and earthiness the wine is expressive, robust and dense, yet balanced showing an ability to age for many years with ease. $90 available via their website.

For every Napa Cabernet lover, there is one that loves Sonoma the best, producing complex wines with character. Laurel Glenn Vineyard, rising on the slopes of Sonoma Mountain is one of the best for growing distinct Cabernet Sauvignon. Dating back to the 1880's, but replanted completely to the Laurel Glen UC Davis designated Cabernet clone in the 1960's and 70's the small production winery has set the standard for quality, age-worthy Cabernet from Sonoma. Aged 2 years in partially new French oak, the wine is ripe, well-rounded and luscious. $65 available via their website.
Sonoma is known for producing some of the most refined Pinot Noir wines in the state, with those from Anderson Valley gaining more notoriety in recent  years.  Maggy Hawk is both a celebrated Anderson Valley Pinot Noir and a championship racehorse, with the wine created in honor of the thoroughbred. With vineyards sitting just off of the Pacific Coast, the Pinot Noir grapes are ideally situated to benefit from morning fog, warm days and cool nights, and ocean breezes to keep temperamental grapes dry and free of disease. Maggy Hawk Jolie Pinot Noir, named for one of her colts, is one of the smoothest in the winery's portfolio, filled with black tea, blueberry and raspberry with bright, balanced acidity and tannin structure. The small production wine is available for $66 via their website.
Charles R. Meeker, Jr. was an artistic force in Dallas, first running what has become the Dallas Summer Musicals at Fair Park, then known as the Starlight Operettas then the State Fair Musicals. He left Fair Park, taking a young assistant and now head of the Dallas Summer Musicals, Michael Jenkins, with him to Six Flags to help open the first amusement park of its kind. In the midst of this, Charles' young son, Charlie Meeker was growing up in Dallas, learning about wine thanks to his father's passion and dreaming of going into the movie business. He did so, successfully working his way up to become the President of MGM, and meeting his wife, Molly. Then, as often happens for those of us who love wine, his passions transitioned to a dream of making wine in one of their favorite places, Sonoma. They bought a vineyard in Alexander Valley, known for their prized Cabernet and Merlot vines, opening Meeker Vineyard in 1984, but couldn't make it full time until 1999. Today, with son Lucas working with his dad as Assistant Winemaker, Meeker wine is known for producing expressive, varietally correct wines with a story. Meeker Handprint Merlot is a prime example as it is a robust, full-bodied wine filled with black cherry, toffee and spice notes, made extra special by Charlie's handprints decorating each bottle, making each its own special work of art. $40 at Goody-Goody

Numanthia Termes and Termanthia, two incredible wines for either the special gift or the more affordable. From the Toro region of Spain, a region that specializes in robust Tinto de Toro, their version of Spain's favorite Tempranillo grape. Often, in Toro, the variety can be very tannic, needing extended time in the bottle to age and soften. Numanthia, however, has a welcoming approachability, with a wonderful elegance. This is helped by some of the finest vineyards in the region, averaging in age from 70-100 years old, and the delicate, respectful touch of winemaker Manuel Louzada. Numanthia Termes is filled with black cherry, dried plum and toasted spice, a perfect wine for serving with grilled meat or game. Very limited production Numanthia Termanthia comes from vines averaging 120 years old creating a highly concentrated wine with coffee, dried cherry and toasted almond notes. Big and expressive, yet still refined. The Termes retails for $32, the Termanthia for $235, both available at Pogo's.
For a Tempranillo grown a little bit closer to home, Pedernales Tempranillo is a consistently impressive wine that will show any wine lover how special wines from Texas can be. From fruit grown in both the Texas Hill Country and High Plains creating a wine filled with black cherry, dried herbs and toasted cedar notes. The Kuhlken Estate Reserve, from fruit grown in the family vineyards, blends a touch of Merlot and Cabernet Sauvignon into their estate grown Tempranillo to help round out the wine a bit, adding an additional layer of structure and interest. Pedernales Tempranillo is available at Spec's for $19; the Kuhlken Reserve via their website for $70.
We love our barbeque and we love our wine in Texas, so Tumbleweed TexStyles has created two adorable products to help share our affection for both. Wine Texas T-Shirt ($25), Prophets of Smoked Meat Texas T-Shirt ($25) both are the creation of Art and Marketing teachers in Frisco who started Tumbleweed TexStyles in 2011. Today these two Texas educators, Brian Wysong and Jeb Matulich, replicate their love for Texas music, art, design and fashion in apparel and home decor products available via their website, or carried in boutiques throughout the state like at Curated on McKinney Ave.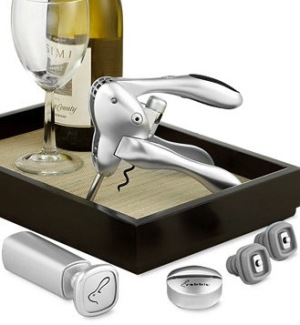 The one wine gadget that is always a welcome gift is a great wine opener, and one of the best is from Metrokane with their Rabbit wine openers. Quick and easy to use, with a stylish presentation. Macy's has an exclusive Rabbit Wine Preservation gift set that includes the opener, a foil cutter, and a vacuum pump preserver for $60.
Robert Mondavi Private Selections partnered with Crawford Denim for a unique, and extremely comfortable, wine dyed denim shirt that as perfect for wearing in the garden or working the vineyards, as it is for running daytime errands or relaxing for a cozy night by the fire. The super-soft denim is hand dyed with Robert Mondavi Private Selections Heritage Red blend, making it also the first shirt you don't have to worry about staining if you spill your evening glass of red. $135 available here.
Get the SideDish Newsletter
Dallas' hottest dining news, recipes, and reviews served up fresh to your inbox each week.