Warm and comforting, robust yet refined, fresh and flavorful describes both authentic Italian cuisine, as well as some of the finest Italian wines from the country. As temperatures cool a hearty Italian wine can be the ideal wine to open any night, with the bonus being the food friendly wines are great with a wide array of flavors, so consider one of these wines to pair with your favorite Italian inspired, or truly American, dish. A few selections were sent for editorial consideration.
Any day is a day for bubbles, yet Italy's favorite bubbly, Prosecco, can often be a little bit too fruity for me. Happily, Adami makes an incredible array of Prosecco sparkling wines that are crisp, light and fresh without being too fruit forward. Adami Bosco di Gica has just the right amount of citrus, melon and stone fruit notes balanced with bright acidity to make a nicely rounded and refreshing bubbly, perfect the start an evening. $20, available at Pogo's.
I am a big fan of Franciacorta, the sparkling wine region located an hour north of Milan that is destined to give Champagne a run for its money. One of the best is from BellaVista with their traditional method Brut, and their sister winery, Contadi Castaldi with their Brut Rose, also made in the the traditional method from Chardonnay and Pinot Noir grapes, creating a lively sparkler filled with red rose, wild berry and spice. Both retail for around $30 and are available at Jimmy's Food Store.
I had the incredible opportunity recently to visit one of the most beautiful places in the world, the Alto Adige region. With vineyards climbing to upwards of 7000 and 8000 feet above sea level, growing cool weather white varieties like Müller-Thurgau, Gruner Veltliner and their beloved Pinot Blanc and Pinot Grigio the whites of the region prove that great wine can be produced in even the most challenging circumstances. Tieffenbruner Pinot Grigio is one such wine that shows the delicate nuances of a variety that can often be over-processed in other parts of the country. Mineral and herbal notes fill the steely fresh wine, leading into ripe stone fruit notes of white peach with just the right balance of citrus. $15 at Pogo's.
Müller-Thurgau is traditionally thought to be a wine of Germany, but the Alto Adige proves that their cool Northwestern Italian climate and high elevations are perfect conditions for the variety. Producer Alois Lageder, one of the oldest wineries in the region dating back to 1823, produces a honey, white flower, sweet spice and stone fruit filled Müller-Thurgau, that balances freshness with elegance for a perfect wine to sip on its own or with creamy pasta. $15 at Pogo's.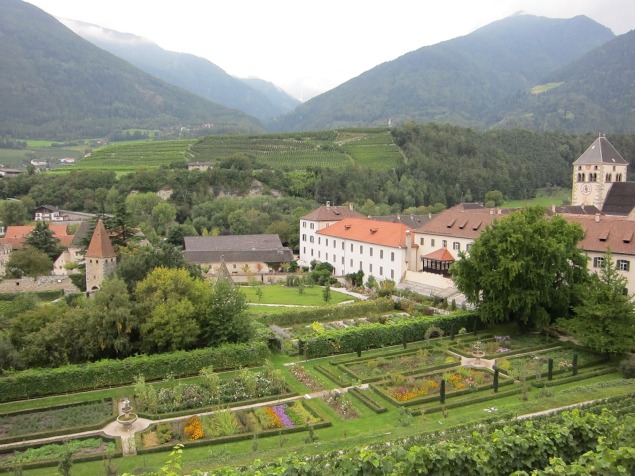 White wines aren't the only thing grown in Alto Adige, at lower elevations, where red fruit can ripen fresh and vibrant Pinot Noir, light and fruit Schiava, and earthy Lagrein grow, often trained on pergolas to ensure maximum exposure to sunlight, creating juicy, fruit filled wines with bright acidity. The Lagrein variety has been grown in the region for generations, often by villagers in vines on their property for personal consumption. Abbazia di Novacella, an active Augustinian Canons Regular monastery of Neustift that dates back to the 12th Century, maintains itself economically through the cultivation and sales of agricultural products. Their Abbazia di Novacella Lagrein is bold and concentrated, layered with blackberry, black cherry, balsamic, and earthy, wild flower notes. An interesting wine showing the broad range of flavors available in the region. $28 at Spec's.
Chianti is one of the most recognized wines of Italy, showcasing the Sangiovese variety. One of the oldest and most respected producers of Chianti and Chianti Classico is Antinori, dating back 28 generations of vine growers and winemakers. 2011 Antinori Villa Rosso Chianti Classico DOCG ($35) shows the power of the variety with ripe red fruit notes with sweet and savory spices, enhanced by both French and Hungarian oak aging for 12 months. Antinori Badia a Passignano DOCG ($60,) from an 800 acre estate surrounding the Abbey of Vallombrosian monks, shows one of the finest and most true expressions of Sangiovesse in the region. The wine opens with red and blackberry aromas with licorice, spice and toasted oak. The wine subtle, elegant and refined, with a smooth, silky finish highlighting the expressive characteristics of the variety. Both perfect wines for serving with braised short ribs, grilled meat or hearty stews. Both wine are available at Jimmy's.
One of Italy's most interesting white wines is the Soave. Made from the Garganega variety in the Veneto region of Italy, Soave was one of the first regions in Italy to achieve the quality DOC (Denominazione di origine controllata or controlled designation of origin) status. The wine combines both creamy, fruit filled notes with bright acidity and minerality, often with great texture and concentration, making it a perfect wine to start an evening, or pair with anything from roasted chicken and fish, to your Thanksgiving turkey. Monte Tondo Soave Classico fills the palate with juicy fresh citrus, tree fruit and steely minerality with a creamy texture and rich finish. $17 at Spec's.
Though the Sagrantino variety may not be as familiar, it certainly comes with the same distinguished history of many of the other noble Italian varieties, like Nebbiolo, Sangiovese and Barbera. With history that dates back to 1549, the varietal is considered to be indigenous to Montefalco in Umbria. Stemming from the word Sacrament (from the Latin "Sacer"- Sacred) the variety was cultivated originally by monks to produce wine for religious ceremonies. The wine had almost become extinct by the 1960's when a select number of producers revived it in the Umbrian region, including Arnaldo-Caprai. Today almost 2000 acres of Sagrantino are grown in Montefalco, elevating it to DOCG classification. Arnaldo-Caprai Sagrantino di Montefalco Collepiano celebrates the "renaissance" of the region and the rebirth of Sagrantino. Aged for 22 months in French oak, the complex, full bodied wine fills the palate with ripe black fruit, vanilla and spice with slightly bitter tannins. Arnaldo-Caprai Sagrantino di Montefalco 25 Anni celebrates the 25th Anniversary of the winery in 1993. The current vintage, 2007, continues to show the power and concentration of the variety, as well as its elegance. Aged for 24 months in French oak, then another 8 months in bottle, the wine is filled with blackberry, leather, earth and cedar notes. A full bodied, powerful wine that will soften with continued age, which can easily be upwards of 20 years, allowing bitter tannins to soften, displaying more dark fruit, chocolate and spice notes.
Amarone is one of my favorite types of wine from Italy. The dedication and time it takes to create each bottle shows how seriously the italians take their wine. Produced in the Veneto region from a selection of grapes, including Corvina, Rondinella and Molinara, that are picked at optimal ripeness that are then dried for several months on racks to concentrate the flavor while slightly drying the fruit, loosing upwards of 35% of their weight. Masi Agricola takes this a step further with their Costasera Amarone della Valpolicella Classico DOCG, an intense version of the variety made from fruit grown on sunset-facing slopes near Lake Garda, where direct sunlight reflects off the fruit throughout the day, creating very ripe flavors, yet cool breezes and lower temperatures in the evenings keep acidity bright and balanced. After the grapes have dried for 3-4 months the fruit is pressed, fermented then aged for upwards of 2 years in both new and used Slavonian and Allier oak barrels and neutral Slavonian barriques, then an additional four months in bottle, creating dense, dried flavors of dried cherry, dried plum and chocolate with licorice, spice and umami notes of soy and balsamic. Though perfect with grilled meat, game and even hard cheese, this is a wine that can simply be enjoyed, slowly, on its own. $63, available at Goody-Goody and Total Wine & More stores.
Get the SideDish Newsletter
Dallas' hottest dining news, recipes, and reviews served up fresh to your inbox each week.