Let's face it Dallas: its time to say goodbye to bikinis, sunscreen, and poolside cocktails. Just kidding. This is Texas, so rest assured, you probably have another month before you need to pull out the leggings and oversized sweaters. But fall is right around the corner, and with the imminent release of pumpkin-flavored everything, I felt it necessary to celebrate.
I am a pumpkin fanatic through and through. I once bought every kind of pumpkin ice cream at the grocery store because 1.) Did I mention I love pumpkin? 2.) I could. 3.) It is my civic duty to know which reigns supreme. As restaurants begin to roll out their new fall menus I feel it best to compile a listing of every possible way and place to get our pumpkin on.
Here's a listing of Dallas pumpkin everything to come and things that may have already hit the streets. Surely, I cannot find every source of pumpkin indulgence in town, so feel free to let me know what I missed.
Pumpkin Lattes
Yes, you can stay inside your Starbucks bubble and keep paying for that overpriced cup that I too find myself enjoying from time to time, but there are far better local options out there. My personal favorite: White Rock Coffee. Others include Pearl Cup, Buzzbrews Kitchen, Oak Lawn Coffee, and Sip Stir Café, to name a handful.
Pumpkin Bread and Other Pastry-Type Things
What's better to go with your pumpkin-spiked coffee than a warm loaf of pumpkin bread? It's hard to beat grandma's version, but some stops I've found that do the job are Empire Baking Company, Bread Winners (theirs usually has a ginger twist), Society Bakery and Village Baking Company. Additionally, Rise No. 1 added their pumpkin soufflé with nutmeg and crème anglaise sauce to the menu early this month. Swiss Pastry Shop is whipping up a pumpkin cannoli for a mere $1.75 each. Trailer Cakes just added the Pumpkin Spice Cake to their shelves with a cinnamon cream cheese filling and marshmallow cream cheese frosting.
Pumpkin Pancakes
I know this must be a sin, but I'm just not really a pancake person. But, when I dig into the offerings of Café Brazil and Oddfellows I become a believer. When Café Brazil rolls out their cinnamon pumpkin flapjack stack with its cinnamon butter, I know autumn has arrived. Release comes in early October.
Chocolate Pumpkin
I think I'm just going to go trick-or-treating by local artisans Katherine Clapner and Kate Weiser this year. Dude, Sweet Chocolate stocks a Fungus Amongus Toffee made with local cream, butter, porcini mushroom powder and toasted pumpkin seeds. Kate Weiser Chocolate just let us in on her plans for chocolate pumpkins that look almost too good to eat…almost. Excuse me as I overdose on my daily recommended amount of sugar.
Pumpkin Pie
It's hard for me to turn to anyone else for my pie fixing than the hands of Emporium Pies. Their Drop Dead Gorgeous combines spicy pumpkin custard with gingerbread crust and the best thing about it? It's already available to enjoy. Another option is the long-running pie palace Norma's Café.
Frozen Pumpkin
Take a pumpkin cupcake with a seasonal Candy Corn ice cream or pumpkin ice cream and add Sprinkles. As in the shop Sprinkles Ice Cream. Last fall they delivered just that, so we can expect nothing less this season. Henry's Homemade Ice Cream will deliver their pumpkin cashew in the next couple weeks along with Paciugo's pumpkin gelato. I have an inside scoop that Pop Star Popsicles whips up a mean pumpkin spice creation and I have dibs on the first batch.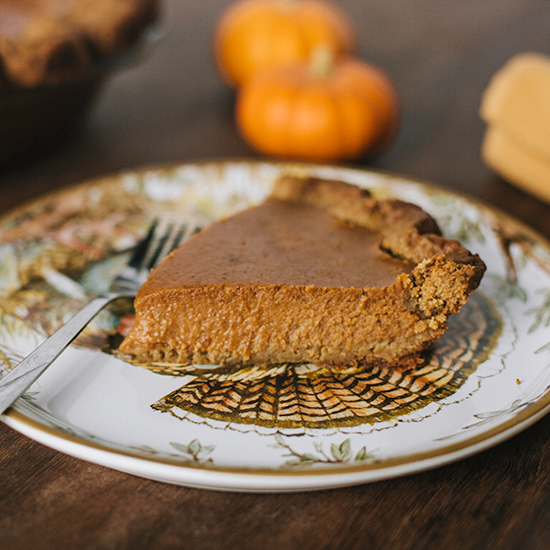 Pumpkin Donuts
New to town, Top Pot Donuts brought back their Pumpkin Old Fashioned, and no, I'm not referring to the whiskey kind. This doughnut offers a doughy inside with a slight crunch to the exterior. On that same note, Glazed Donut Works added a Pumpkin Cream Cheese Old Fashioned to their ever-changing daily lineup last week. Of course there's always a solid rendition at Hypnotic Donuts you can get sometime in October.
Pumpkin Dinner
Afghan restaurant and bar Nora offers their version of traditional Kadu with sautéed pumpkin, garlic yogurt and meat sauce. La Popular Tamale House will bring out their seasonal tamales around the first week of October and Society Bakery just so happens to whip up some pumpkin empanadas each year in addition to their other sugary items.
Spiked Pumpkin
Because we like our pumpkin with a little booze, right? Deep Ellum Brewing Co. brought us the Gourdazilla, an English brown ale with notes of smoked pumpkin, sweet potatoes, maple syrup, and spices last year. This year's may not include pumpkin, but deserves a try. The Oak Cliff Coffee Ale brings a light body with roasted Oak Cliff Coffee beans and is quietly on draft at a few local bars, with cans for sale next month. Then there's the Lakewood Brewing Co.'s Punkel. It's a "Pumpkin Pie Spiced Dunkel" with flavors of nutmeg, cinnamon, allspice and ginger. Okay, so there's no actual pumpkin, but the brew masters say they prefer a beer that compliments a slice of pie rather than feels like drinking a slice of pie.
Get the SideDish Newsletter
Dallas' hottest dining news, recipes, and reviews served up fresh to your inbox each week.