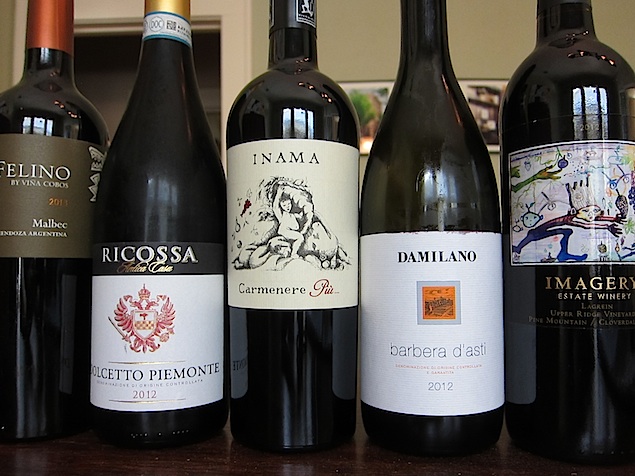 I recently had a chance to get out of town to a ranch that sits at about 8,000 feet above sea level in the cool state of Wyoming, with chilly nights where I had to bundle up in blankets around the fire pit to keep warm. Then we landed back in Dallas to our 101 degree days.
Summertime in Texas is hot, no news there, but a cool glass of wine is ready to refresh you, this time of the red varieties. Yes, a super chilled glass of Pinot Grigio is always great to cool you off, but if you are looking for something with a bit more complexity, that is also refreshing, try one of these reds and serve slightly chilled. A few selections were sent for editorial consideration.
Keep in mind, serving these wines chilled can mean just serving them at the proper room temperature. When our room temps in Texas can be in the 70's or higher, a wine pulled from your wine cellar and served at 55-60 degrees may feel chilled, but this is actually the perfect temperature for serving wines. If you don't have a cellar just pop your bottle into the refrigerator for 30 minutes before serving. It will add just the right amount of coolness to the wine, without chilling it completely to ice-cold.

Many of the Italian reds are perfect served slightly chilled, especially the lighter reds from the Piemonte region like Barbera and Dolcetto.  Barbera is the ideal wine to sip with roasted chicked, grilled pork chops or stuffed pasta dishes, as it has a nice light body but doesn't sacrifice character. Damilano Barbera d'Asti highlights notes of blackberry, licorice, mocha and violets with a touch of sweet spice, nicely balancing acidity with ripe tannins. $16, available at Goody-Goody stores.
Ricossa Piemonte DOC Dolcetto is filled with juicy red cherry and berry with light floral notes mingling with fresh herbaceous earthy notes. A perfect wine for light pasta dishes or for serving with hard cheese and charcuterie. And retails for an approachable price, about $12, available at various Whole Foods stores.
A little known Italian variety named Lagrein has popped up in the vineyards of Northern California and is highlighted in the wines of Imagery Estate in Sonoma. With very few acres of the variety planted in the Pine Mountain-Cloverdale Peak AVA Joe Benziger, the mind behind Imagery, set out to showcase the variety, as well as a slew of other lesser-known varieties, in his Imagery Estate Winery. Lagrein, a Northern Italian red variety grown in Imagery's Upper Ridge Vineyard sitting at the highest point of elevation in Sonoma County (2600 feet above sea level,) shows elegant layers of raspberry, plum and black cherry with subtle tannin and good acidity making it a great food wine especially when served slightly chilled. $45, available via their website.
In every part of France there are red grapes growing that can make light and refreshing wines from the limestone, flint and clay filled soils of the Loire to the granite and schist filled Beaujolais terrain. The Gamay grape, dominant in Beaujolais, comes to mind as the perfect Thanksgiving variety without too much complexity. Served slightly chilled this variety takes on layers of spice and ripe jammy notes making it ideal of serving on its own before your summer picnic or throughout your evening barbecues.
Similarly the early ripening Cabernet Franc wines of Chinon, from a region better known for their white wines, stand out in cool Loire producing wines that when enjoyed young fill the palate with juicy, ripe red fruit with subtle earthiness and light tannins.  Unlike in Bordeaux, where Cab Franc is mainly used for blending, Loire allows the variety to shine as the wine for summer as it is refreshing when served chilled, but can also handle the bold flavors of grilled meats and hearty barbecue.

For Chinon head over to Spec's where they have a nice selection of both wines meant to be enjoyed young, of just a few years after bottling, as well as those that can age nicely. One to look for that should be enjoyed now is from La Verrene with their Chinon Tradition Cuvee, about $14 at Spec's, filled with ripe blackberry and cherry fruit with a balanced mix of spice, earthiness and a touch of smoke making it a great wine for grilled meats, and for serving slightly chilled to keep you cool all summer.
For Beaujolais you can always count on the wines of Georges DuBoeuf, though I prefer the single village Beaujolais like those from Morgan, Brouilly and Fleurie to the popular Thanksgiving wine, Beaujolais Nouveau.  I think they have a bit more depth and distinction, while still being light and fresh. Total Wine and More has a great selection of Beaujolais wines ranging in price from $8-$20.
Fruit filled California Pinot Noir is perfect for serving slightly chilled, especially alongside smokey cedar plank grilled salmon.  The cool Carneros region is ideal for growing fruit forward Pinot Noir. Benefiting from constant breezes from The Bay, allowing morning fog to blow off, and very hot days and cool nights, allwing grapes to ripen but cool at night to maintain bright acidity. These are great food wines. Waterstone Carneros Pinot Noir is an easy drinking option filled with strawberry, cherry and cola. $22, at Goody-Goody stores.
You may think a hearty red like Malbec or Carmenere would be too big and bold to be served chilled. But, as some of these big red wines continue to creep up in alcohol content serving them on the warmer side can actually add to the "hot" or overly alcoholic aroma and palate that big, bold wines can have. Just cooling them a touch can soften the wine and increase the overall enjoyment, especially with food. When we think of Carmenere we usually think of Chile, as it has become one of the signature grapes of the country, but Italians have been growing Carmenere for centuries in France and arrived in Italy in the 1800's, where it has thrived in the Veneto region making intensely colored wine filled with cherry, tobacco and chocolate notes with smoky spiciness, with very subtle tannins. Inama Carmenere Piu is the prefect example of Italian Carmenere highlighting black fruit, leather, smoke and mocha layered with an earthy, umami note of soy and balsamic. $23 at Pogo's.
Though Malbec is quite a bold variety, in the hands of winemaker Paul Hobbs the robust fruit is tamed to create a balanced wine with character and complexity.  Paul Hobbs Felino Malbec proves this with layers of juicy morello cherry blended with fresh violets and earthy herbal notes, with vanilla and toasted spices. However you serve this weinn it will be good, especially with grilled lamb or beef, but chilling it just a touch will help the bright acidity and freshness of the juicy wine, making it great for summer. $18 at Pogo's.

The Rhone variety Grenache also works nicely with a slight chill. Carlo Trinchero and Josh Phelps, the team behind Taken Wine Co. has created their Complicated Red Blend of predominately red cherry filled Grenache, blended with spicy Syrah and a touch of Carignane, all from California Central Coast vineyards, for a complex yet approachable wine filled with black tea, spice, ripe fruit and licorice. $20 via their website.
Get the SideDish Newsletter
Dallas' hottest dining news, recipes, and reviews served up fresh to your inbox each week.